Upcoming Event: The Annual Spring Program
At Home with H. H. Richardson
Sunday, March 21, 2021, 7:00 PM
Where
: Zoom online meeting
Registration Required
: online at
Zoom registration
The Brookline home of famous architect H. H. Richardson, along with two noteworthy adjacent properties, is under threat of demolition. William Tyre, the executive director and curator of the Richardson-designed Glessner House in Chicago, will talk about Richardson, his Brookline years, and the significance of the houses and the Green Hill neighborhood.
This is a free and timely program provided by the Brookline Historical Society. To register and reserve a spot, please fill out the online form with your name and email address. We will send you a link to join the program. We look forward to having you join us on Sunday, March 21st.
President Ken Liss Blogs on Brookline Past & Present
Crowdsourcing a 19th Century Brookline Diary
Would you like to help bring the story of a 19th century Brookline woman and her family to life? About five years ago I photographed the 1851-1865 diary of Mary Johanna Wild at the John J. Burns Library at Boston College. Wild lived with her family in a Brookline house that she and her husband, Dr....
See the full blog at brooklinehistory.blogspot.com
Welcome to the Brookline Historical Society
The Brookline Historical Society is a non-profit community organization dedicated to the preservation and interpretation of Brookline's diverse history. The society's headquarters are located in the heart of Coolidge Corner at the Edward Devotion House, one of Brookline's oldest colonial period structures. The Society also maintains the circa 1780 Widow Harris House as well as the Putterham School located in Larz Anderson Park. Our membership program is active and volunteers are welcome.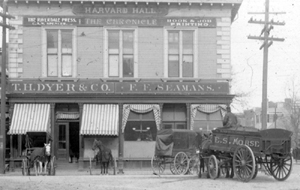 We invite you to browse our growing online collection of over 700
historic photos
,
postcards
,
atlases
and more.
Virtual Walking Tour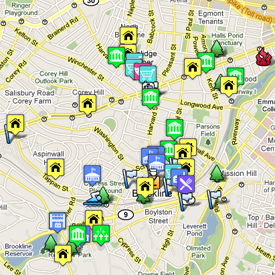 Brookline's rich history can now take a virtual walking tour of the town via our new online map. The map presents pictures and descriptions (with links for more information) about homes, commercial buildings, churches and synagogues, schools, neighborhoods, parks, and other parts of the town.

Most of the sites marked on the map are in Brookline Village, Coolidge Corner, Longwood, and the area around the First Parish Church and the old Village Green. Other sites and other areas of Brookline are being added, helping to bring to light stories behind familiar and not-so-familiar places in town.