President Ken Liss Blogs on Brookline Past & Present
What's in a Name? Zanthus Street
Some of my favorite Brookline research projects originate when someone asks me a question that I don't know the answer to. One recent example was a question about the origin of the name Zanthus Road for a small South Brookline street. Zanthus Road is one of the shortest streets in town. It runs...
Blog: This Week in Brookline
December 3rd - December 9th
December 7, 1939
December 6, 1686 - A measure of local governance
December 3, 1860 - Town Meeting rejects purchase of land for park
December 7. 1939 - Disappearance of Barbara Newhall Follett
December 4, 2010 - Ice rink named for hockey star Jack Kirrane

December 6, 1686
A measure of local governance
Muddy River, a hamlet of Boston, requested and was granted release fro...
Our Latest Archive Additions
Virtual Walking Tour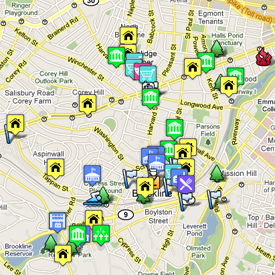 Brookline's rich history can now take a virtual walking tour of the town via our new online map. The map presents pictures and descriptions (with links for more information) about homes, commercial buildings, churches and synagogues, schools, neighborhoods, parks, and other parts of the town.

Most of the sites marked on the map are in Brookline Village, Coolidge Corner, Longwood, and the area around the First Parish Church and the old Village Green. Other sites and other areas of Brookline are being added, helping to bring to light stories behind familiar and not-so-familiar places in town.