See Our New Display at the Library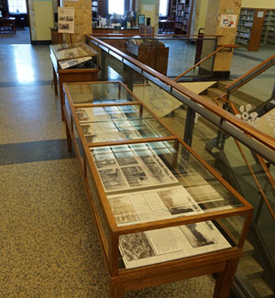 Throughout January and February,
Places & Faces of Brookline Village
will be featured in the display cases of the main branch of the Brookline Public Library (361 Washington St.). Eight posters of historic photos with accompanying stories show the evolution of the people and businesses of Brookline Village. There are several views and accounts of the Irish tenements on Brookline Ave. and the businesses of lower Washington St. that were entirely eliminated in the 1960s urban renewal project. Other photos show the evolution of the apex of Harvard St. and Washington St., "Harvard Square", from 1865 to today. Also detailed are close-ups of several former stores of the Village and their buildings as they exist today. Please drop by and go back in time!
Welcome to the Brookline Historical Society
The Brookline Historical Society is a non-profit community organization dedicated to the preservation and interpretation of Brookline's diverse history. The society's headquarters are located in the heart of Coolidge Corner at the Edward Devotion House, one of Brookline's oldest colonial period structures. The Society also maintains the circa 1780 Widow Harris House as well as the Putterham School located in Larz Anderson Park. Our membership program is active and volunteers are welcome.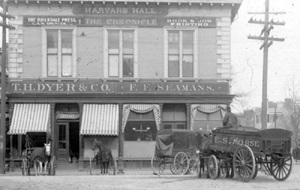 We invite you to browse our growing online collection of over 700
historic photos
,
postcards
,
atlases
and more.
Virtual Walking Tour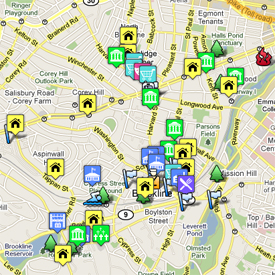 Brookline's rich history can now take a virtual walking tour of the town via our new online map. The map presents pictures and descriptions (with links for more information) about homes, commercial buildings, churches and synagogues, schools, neighborhoods, parks, and other parts of the town.

Most of the sites marked on the map are in Brookline Village, Coolidge Corner, Longwood, and the area around the First Parish Church and the old Village Green. Other sites and other areas of Brookline are being added, helping to bring to light stories behind familiar and not-so-familiar places in town.
President Ken Liss Blogs on Brookline Past & Present
Billboards of Brookline
The new movie Three Billboards Outside Ebbing, Missouri opens today at the Coolidge Corner Theatre. But did you know there were once billboards right outside the Coolidge Corner Theatre? In fa...
full blog at brooklinehistory.blogspot.com