Upcoming Event
Remembering Brookline's Civil War Dead
"
Even To Hell Itself
"
By Donna J. Neary
Lt. Col. Charles L. Chandler of Brookline, center, in the action at the North Anna River in Virginia where he was mortally wounded. It was made for the North Anna Battlefield Park. Used by permission of the artist.
Brookline's 1884 memorial to its Civil War dead - restored, reinstalled, and rededicated in the lobby of Town Hall on Memorial Day 2011 - lists the names of 72 soldiers and sailors who died at such places as Antietam, Gettysburg, Fredericksburg, Chancellorsville, the Wilderness, and the notorious Confederate prison at Andersonville, Georgia.
Among them were officers and members of prominent families as well as working men - carpenters, blacksmiths, laborers, shoemakers, and clerks, including several Irish immigrants and sons of immigrants.
Join Brookline Historical Society President Ken Liss for a look at the lives and deaths of some of the Brookline men who gave their lives a century and a half ago in defense of the Union.
Welcome to the Brookline Historical Society
The Brookline Historical Society is a non-profit community organization dedicated to the preservation and interpretation of Brookline's diverse history. The society's headquarters are located in the heart of Coolidge Corner at the Edward Devotion House, one of Brookline's oldest colonial period structures. The Society also maintains the circa 1780 Widow Harris House as well as the Putterham School located in Larz Anderson Park. Our membership program is active and volunteers are welcome.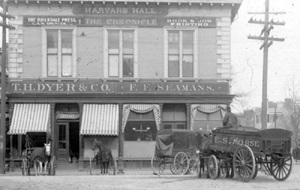 We invite you to browse our growing online collection of over 350
historic photos
,
postcards
,
atlases
and more.
Virtual Walking Tour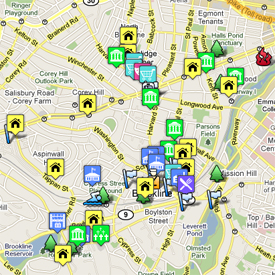 Brookline's rich history can now take a virtual walking tour of the town via our new online map. The map presents pictures and descriptions (with links for more information) about homes, commercial buildings, churches and synagogues, schools, neighborhoods, parks, and other parts of the town.

Most of the sites marked on the map are in Brookline Village, Coolidge Corner, Longwood, and the area around the First Parish Church and the old Village Green. Other sites and other areas of Brookline are being added, helping to bring to light stories behind familiar and not-so-familiar places in town.
President Ken Liss Blogs on Brookline Past & Present
Brookline Bikes: Sites to See on Beacon Street
The annual Brookline Bikes bicycle parade takes place this Sunday, May 19th. It's a great event and an opportunity to ride the entire length of the historic Beacon Street boulevard in Brookline unimpeded by automobiles. The Broo...
full blog at brooklinehistory.blogspot.com