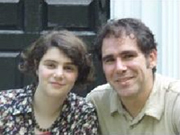 Camille Arbogast & Jesus MacLean
Camille Arbogast and Jesus MacLean work and live at the Devotion House as curators and caretakers. They help with the Society's programs and publications, care for its collection, and are tour guides for the Devotion house.
Camille is a museum professional who works for Historic New England and the Trustees of the Reservations. She has worked for Gore Place in Waltham, the Newton Historical Society, and as an American History teacher for Newton Community Development Foundation. She wrote and leads walking tours of the old Norumbega Amusement park in Newton. Her current research topics include the Codman family and Colonial era Indentured Servants in Concord.
Jesus, who was raised in Brookline, currently works for the Boston University library system. In addition to his interest in architectural history, he is dedicated to the field of library and information science. Previously, he worked for Historic New England, at the 1938 Walter Gropius House in Lincoln.

The Edward Devotion House
One of the oldest colonial structures in Brookline, dating back to 1680.
More info
...

The Putterham School
Built in 1768 at the junction of Grove and Newton Streets, now in Larz Anderson Park.
More info
...
The Widow Harris House
Located in Larz Anderson Park, it was built between 1772 and 1796.
More info
...