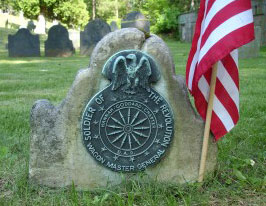 courtesy Tom Elwertowski, highstreethill.org
It is not surprising that there are several Revolutionary War soldiers in the Old Burying Ground given that it was the only burial ground of the Town from 1717 to 1875, when Walnut Hills Cemetery was opened.

This is the gravestone for Captain Samuel Aspinwall who lived 1662 - 1727 and was a forebear to members of the Aspinwall family who served with distinction in the Revolution --

Col. Thomas Aspinwall, was in command of the fort at Sewall's Point, and his brother, Dr. William Aspinwall, was a surgeon in the war - their mother was Johanna Gardner Aspinwall, for whom the Johanna Aspinwall Chapter of the D.A.R. was named.

Perhaps the most famous of the Revolutionary War heroes to be interred in our Old Burying Ground was John Goddard, for a time Wagon Master General to General George Washington.