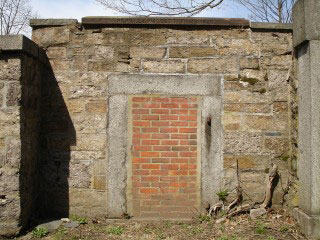 courtesy Tom Elwertowski, highstreethill.org
This is the tomb of the Sewall family, another of the founding families. The most famous member of this distinguished family, Judge Samuel Sewall (1652 - 1730), is buried in the family tomb in the Granary Burying Ground in Boston, but several generations of Sewall descendants are here, as are the Sewall family slaves.

Judge Sewall is best known as one of the presiding magistrates involved in the Salem Witch trials of 1692, a sort of Puritan mass hysteria that resulted in the execution of 20 of the accused, and two dogs, according to sources. Judge Sewall was, however, the only magistrate who later expressed public regret for his role and called for a public day of prayer, fasting, and reparations. In spite of his participation in the witch trials, he held some liberal views; he came out strongly against slavery, making him one of the earliest colonial abolitionists.

Judge Sewall's reputation did not suffer as a result of the witch trials. In 1717, he was appointed chief justice of Massachusetts. And the family continued to be successful and influential. We have descendants of Judge Sewall living and working in Brookline today:

The owner of Lineage Restaurant in Coolidge Corner, Jeremy Sewall, and Eve LaPlante whose biography of Judge Sewall was awarded the Massachusetts Book Award in Nonfiction in 2008.