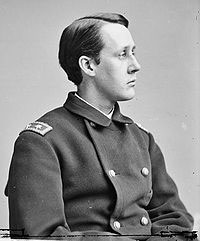 courtesy Library of Congress
And this is Francis Channing Barlow, of boyish face.

His wife, serving as an Army nurse, died of typhus in the summer of 1864. After the war, he married Ellen Shaw of Brookline, sister of Col. Robert Gould Shaw. Descendants of Col. Shaw still live in Brookline.

Later, Barlow was New York State Attorney General, prosecuting the Boss Tweed ring before he returned to his law practice. He was a founder of the American Bar Association and active in Republican politics. As Barlow had lived in Brookline as a boy after his father died -- his mother was a Penniman from Brookline, after his death he was laid to rest in the Penniman family tomb in Brookline.

Francis Channing Barlow is featured in Winslow Homer's painting "Prisoners from the Front", depicting a scene from a June 21, 1864 engagement at Petersburg, Virginia. The painting is in the collection of The Metropolitan Museum of Art.