Winthrop Path
by Linda Olson Pehlke
Linda Olson Pehlke is an author and urban planner living in Brookline. Her book, Exploring the Paths of Brookline, is available at Brookline Booksmith and other locations. The series "In Step: Brookline's Paths" was published in Our Town Brookline magazine in 2005 and appears here with the permission of its publisher and the author.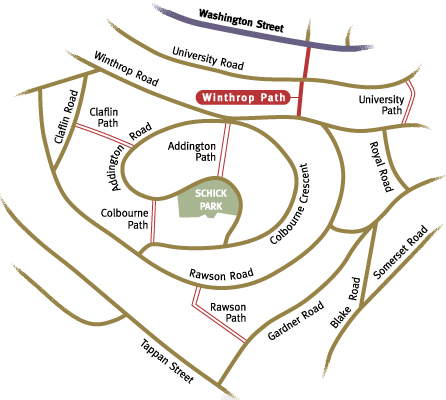 Descending Aspinwall Hill's steep north slope, Winthrop Path is mostly a collection of stairs. It's a quick trip from Winthrop Road down to Washington Street, where the path brings you out right across from Fairbanks Street. Traveling the path, you are crossing land that once belonged to Boston University. At a special October 10, 1893 meeting of Brookline's Selectmen, both Winthrop Path and University Road were accepted as public ways, and an appropriation ($950) for a plank (wood) walk and crossing at Winthrop Path was made. These new features were part of the ongoing development of the hill. The transformation of Aspinwall Hill began in earnest in 1883 when Boston University and the Aspinwall Hill Land Company joined together and asked F.L. Olmsted to draw up a joint development plan. Olmsted's plan was eventually altered by Ernest Bowditch, who revamped the design to be more sensitive to existing property lines. The curvilinear street plan Olmsted designed was implemented, but University Road and Claflin Road were added. The path system became an integral part of the hill's layout, making pedestrian travel convenient, efficient, and pleasant, despite the winding roadways.
Winthrop Path, at 379 feet, is the third longest of Brookline's 17 paths, only Summit and Rawson are longer. At its beginning on Winthrop Road, you are a bit more than halfway down Aspinwall Hill. If you wanted to travel up from here via Addington Path, you would eventually reach Addington Road near Schick Park. Many of the original homes built during the hill's development in the 1890s remain graceful examples of popular house styles of the era, such as Queen Anne, Colonial Revival, and Shingle Style.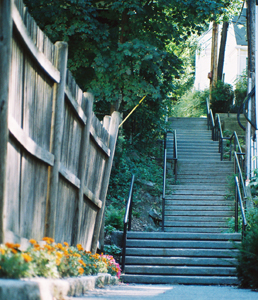 A unique lollipop-shaped, green-painted cable marker that reads "City Underground Cables The Gamewell Co." graces the top of Winthrop Path, making a visual punctuation point. This end of the path is marked with a 1937 cast aluminum sign, and newer painted metal handrails guide you down. The path alternates between short sets of stairs and sloped slabs of concrete. Descending, you pass between the backyards and porches of homes on Winthrop; to your right, a tall hedge hides a chain link fence, and on your left is a stucco wall, followed by a wood fence and then a stonewall.
University Road divides the path into two sections. As you reach University, a substantial stone retaining wall surrounds the stairs and supports well-anchored iron handrails. The steep slope makes stairways and retaining walls a necessary prerequisite for home building. The weathered stones evoke durability and longevity. Homes on University are a mix of single-family, two-, and three-family homes, as well as some townhouse apartment blocks. After crossing University, the second section of Winthrop Path is once again marked with an historic cast aluminum sign. Here, homes are close to the path's edge, but softened with plantings. Nearing Washington Street, a wooden fence on your right is backdrop to some well-tended annuals adding a welcome splash of color. A cluster of pedestrian amenities have been strategically located here, including a bench and a crosswalk to help you negotiate the Washington Street traffic on your way to the bus stop or mailbox across the street.