PUBLICATION OF THE BROOKLINE HISTORICAL SOCIETY
1903, NO. 2.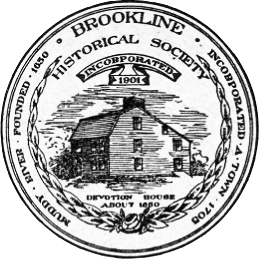 ELHANAN WINCHESTER
By John Emory Hoar
The best men, the purest patriots, are not they who with Decatur say, my country right or wrong; the best citizens, the profoundest statesmen, are not they who sacrifice to party what belongs to mankind; rectitude is not always a synonym for expediency, nor duty for policy.
These reflections are suggested by the life of Rev. Elhanan Winchester, a native of Brookline, born Sept. 30, 1751, who died at Hartford, Conn., April 18, 1797. He was born in the old Sheafe house on Heath street, near where this street connects with Boylston street or the old Worcester turnpike. The place once belonged to Joshua Stedman, then to Joseph White, then to Deacon Elhanan Winchester, who was the father of the Rev. Elhanan Winchester, the subject of this paper; it afterwards was the well-known Richards Hotel; then it belonged to Mr. Petters, and later to Mark Wentworth Sheafe, whom some of us remember, and whose son Mark was a colonel in the late war for the Union, and was made general from South Dakota by President McKinley in the late Cuban War.
Rev. Elhanan Winchester was the eldest of fifteen children of Deacon Elhanan and Sarah Winchester, and was great great-grandson of John Winchester
2
, who, when nineteen years old, came from England to Boston in 1635 in the same ship with Sir Henry Vane, who we all know the next year was elected the fourth governor of Massachusetts. Vane was admitted to the Church in Boston, Nov. 1, 1635; and Alexander Winchester
3
, who was brother of John Winchester and servant to Sir Henry, was admitted to the same church with Vane on the eighth of the same month.
Alexander died without male issue, and John, therefore, became the ancestor of all the Winchesters in this country; and some claim that there are more of this name in the country than of any other name, not excepting Smith and Jones.
The Winchesters settled in Brookline in 1650, about fifteen years after they came to this country. John Winchester was the first representative from Brookline to the General Court. His house was on Harvard street, nearly opposite the Devotion House, on the site where William J. Griggs' house now stands. His land extended from Harvard street to the top of "the Great Hill," now called Corey Hill. Nearly through the middle of that land now runs Winchester street, with great propriety so named. Nathan Winchester, a grandson of John Winchester, built the house standing a little way beyond William J. Griggs', usually called the David Coolidge house, which, though altered and much enlarged, still retains much of its original character. On that memorable nineteenth of April, some of the British troops on their march to Lexington stopped at this house for water to drink. The frightened inmates gave the water, but rejoiced with trembling to see the hated redcoats pass on.
The Winchester family also owned land on the west side of Corey Hill, even to Brighton line. Isaac Winchester had a house on Washington street on the site where is now the Corey stone house, occupied by the Misses Frye. As already stated the Winchesters also owned land on Heath street where lived Deacon Elhanan Winchester, the father of Rev. Elhanan; the latter was born in the old Sheafe house, just about one hundred years after his ancestor John came to Brookline. He was a remarkable child, if we can credit all that is said of him. At five years of age he was regarded a good reader; yet his opportunities for school were limited, for he went only a little while each winter till he was sixteen years old. His father had a family of fifteen children to support from his farm and a shoemaker's bench. Such, however, was the boy's ambition to learn, that, in addition to the studies taught in his school, he acquired some knowledge of Latin, and later a useful knowledge of Greek and Hebrew. His teachers were astonished at the facility with which he learned, and at his wonderful memory. Anecdotes are preserved to illustrate his remarkable memory.
Every accessible book he read with avidity. He began to preach and lecture when he was eighteen years old. Being brought up near. the borders of Newton, he preached there, and is said to have been the father of the Baptist church in Newton. Nearly all its first members were baptized by him. Barry, in his "History of Framingham," makes the Winchesters the founders of the Baptist Church of Brookline.
At this time there was only one church in Brookline, the First Church, now called the Unitarian. The Baptist Church was organized about 1828, and the Congregational in 1844. There were a few families in the upper part of the town who were called "New Lights,"
4
and held their meetings at private houses. Among these families of "New Lights" was that of Elhanan's father. The enthusiasm to which his temperament was predisposed was naturally cherished and increased by the "New Lights." He became a remarkably eloquent and successful preacher. We shall find him a great traveler. Soon after he began to preach he visited Canterbury, Conn. This was in 1771. There he was baptized and admitted to the Baptist church. Multitudes came to hear his eloquence and be magnetized by his zeal. From Canterbury he went to Rehoboth and there gathered a church of about seventy members. Here he adopted the plan of close communion. This divided his church, and he deemed it best to take a journey into New Hampshire and Vermont; then he went to Grafton, Mass., and preached. In due time he returned to Rehoboth; but as he found the trouble there had not subsided, he called a Council to mediate between him and the church. The Council decided "he had left an error to embrace the truth," but the people decided otherwise.
From Rehoboth he went to Bellingham, and soon became a thorough Calvinist preacher. In I772, he went to Grafton and gathered audiences from Grafton, Upton and Northbridge. He next removed to Hull and preached nearly two years, - I773 and I774. During this time, he repeatedly visited his native place and preached with marked success in Brookline and Newton.
The latter part of I774, by invitation he took charge of a Baptist Society in a town on the great Pec Dec river in South Carolina. In a few months, he returned to New England for his wife, to take her with him to Carolina. They reached Virginia, where the wife was taken ill and died. After some months, more in Carolina, in which he is said greatly to have benefited both the whites and the negroes, he came to Boston and supplied the First Baptist Church there while the pastor, Dr. Stillman, was in Philadelphia. Again he went to South Carolina, preaching on his way through Virginia. Within a short time, he added to his church on the Pec Dec one hundred and forty whites; he also baptized one hundred slaves. His opposition to slavery was well-known and this recommended him to the favorable attention of the slaves, while it did not make him offensive to the whites, as the feeling of the South then toward slavery was very different from what it became in the next century. Again, he returned to New England, where he preached with applause and success for nine months. He was soon requested to preach to the Baptist church in Philadelphia. He consented, and such excitement was produced by his labors that his congregation grew too large for the meeting house, and St. Paul's, the Episcopal church, the largest in the city, was procured, and was filled to overflowing; and most of the clergy of all denominations embraced every opportunity to hear him. It was at this time, when he was about thirty years old, that he embraced the doctrine of Universal Restoration, and to his death continued a devoted advocate of the doctrine.
Winchester's sincerity was never questioned. His nearest relatives fully believed in and trusted him. By his eloquence and reasoning, his father joined the "New Lights"; and later under his son's preaching he became a Universal Restorationist, and died in this belief. But by embracing and openly avowing this doctrine of Universal Restoration, the son Winchester divided his church in Philadelphia; a majority opposed him. The minority, however, with others who were continually joining him, formed another church and built a new meeting house in Lombard street, in which the First Universalist church of Philadelphia still worships. The famous Dr. Rush and other eminent men were not afraid to indorse and join him. Under his ministry this new society prospered six years. Then his brother Moses engaged to supply his pulpit while Elhanan, always exceedingly fond of travel, determined to visit England. He reached London in 1787, and for some years preached in Worship street Sunday mornings, and in the evening at Glass House Yard, till his friends engaged the chapel in Parliament Court. Here he held meetings while he stayed in England, making excursions from London to Chatham, Birmingham, Wisebeach and Fleet, and preached in nearly every Baptist meeting house in the county of Kent. Among his many followers in London was the distinguished Rev. William Vidler, who later supplied Winchester's pulpit in London.
Winchester returned to Boston again July 12, 1794, and immediately came here to Brookline, his native town. There was no Baptist society in Brookline at that time. But during the remainder of the summer and the following autumn he was constantly preaching in the vicinity of Boston and other parts of New England. A general convention of Universalists in September of that year met at Oxford, Massachusetts, in which Winchester was moderator.
About this time, writing to London, he says, "I have the greatest door open that I ever saw, insomuch that I am surprised at the alteration since I was last here. I have preached in a great many meeting houses of different denominations, and to great numbers of people, as often as eight or nine times a week, with greater acceptance than I ever did."
It was in the midst of this activity in 1794 that he was writing his answer to Tom Paine's" Age of Reason," published for him in Boston, in December of that year. Remarkable too, it is, how he continued to gratify his love for travel. And we should recall the facilities, or rather, the want or lack of facilities for travel which existed at that time. In the following year, 1795, he traveled extensively in almost all parts of the country, particularly in the South. With his former society in Philadelphia, he met the celebrated Dr. Priestly, who was delivering a series of lectures there. He told Mr. Winchester's society there that he agreed with their minister in his doctrine of Universal Restoration.
From Philadelphia, he went to Hartford, Connecticut, where on April I, 1797, he delivered his last sermon. An increasing asthma had foretold. a fatal termination; he died on the 18th of April, 1797, aged forty-six years and five months. He was a man of unquestioned honesty and honor, of uniform, cheerful serenity, of unconquerable benevolence and charity.
In his matrimonial relations he was unfortunate and deeply bereft. For his first wife he married Alice Rogers, of Rowley, in 1770, she died in 1776; for his second wife he married Sarah Peck, of Rehoboth, in 1776, she died in 1777; he then married Sarah Luke, of South Carolina, in 1778, she died in 1779; in 1781 he married Mary Morgan, she died in 1783; for his fifth wife he married Maria Knowles in 1784, who survived him. Though he had eight children not one survived him, and Rev. Elhanan Winchester has no descendant. He was the author of the following publications:
New Book of Poems on Several Occasions, 1773. I vol.
Hymns, 1776. 1 vol.
The Universal Restoration; Exhibited in a Series of Dialogues, London, 1778. 1 vol.
Course of Lectures on the Prophesies that remain to be Fulfilled, 1789. 4 vols.
An Oration on the Discovery of America, 1792. 1 vol.
The Three Woe Trumpets, 1793. 1 vol.
Plain Political Catechism for Schools.
Progress and Empire of Christ, 1793. 1 vol.
He also published a number of single sermons.