PUBLICATION OF THE BROOKLINE HISTORICAL SOCIETY
1903, NO. 1.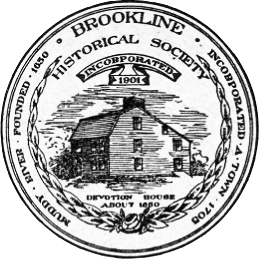 JEREMY GRIDLEY
PAPER READ BEFORE THE SOCIETY, OCTOBER 23, 1902
R. G. F. CANDAGE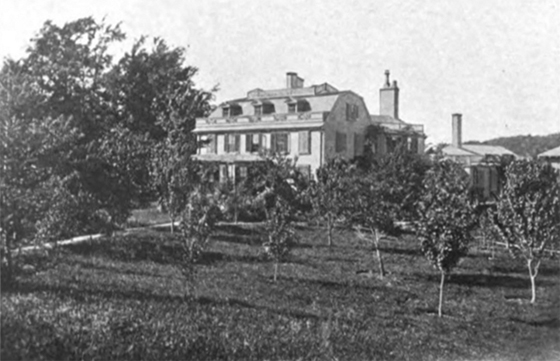 The Jeremy Gridley House, Brookline
THE GRIDLEY HOUSE, BROOKLINE, AND JEREMY GRIDLEY
Houses as well as towns have histories, and some houses have exceedingly interesting histories, and by their study much can be learned of what transpired in and about them in regard to the character and lives of their owners and occupants, which give interest to the place where they have been located. The Jeremy Gridley house, so called, of Brookline, is one old house with a history, and is the subject of this paper.
This house was gambrel roofed, built in 1740, on the site of another house destroyed by fire the same year, opposite the present First Parish meeting-house, by Nathaniel Gardner, of Brookline, who was a merchant, with his place of business in Boston. The house existed from that date to 1886, a period of a hundred and forty-six years, during which the country passed through the most interesting stages of its development.
Mr. Gardner belonged to the family of that name, well known in the earlier history of the town, whose kinsman, Isaac Gardner, was killed at the battle of Lexington. He occupied the house until his death, some five or six years after its erection. His &quotheirs conveyed the Mansion House, Barn and Smith's shop with piece of land containing 5 acres more or less, bounded Westerly and Southwesterly on County Road, Northeasterly on land of Benjamin Gardner, Southeasterly on land of Rev. Jos. Allen in part, and in part by meeting house on Town land; In consideration of £1000 in Bills of Credit, to Joseph and Moses White, September 19, 1746." The consideration included land not contained in the five acres mentioned. Deacon Benjamin White, of the First Parish church, was the occupant of the house during this ownership according to Miss Woods' statement in &quotHistorical Sketches of Brookline."
The property next passed into the hands and occupancy of Jeremy Gridley, Esq., but his deed is not found in the Suffolk Registry, probably was never recorded. He came to Brookline from Boston prior to 1755, but the precise date is not known. He was born in Boston March 10, 1701, graduated from Harvard College in 1725, studied law and was admitted to the bar, where he won the distinction of being called "The Father of the Boston Bar." He held many town and public offices during his residence in the town, an account of which is given elsewhere. He died September 10, 1767.
His brother, Richard Gridley, was administrator of his estate, which on December 29, 1768, he deeded to Walter Logan, of Roxbury, as appears by papers in Suffolk Probate Registry, but not found on the Registry of Deeds, and probably was never recorded.
The next owner and occupant was Henry Hulton, Esq., one of the five Royal Commissioners of Customs appointed in 1767 by the British Government for the collection of the revenue at Boston. He arrived in this country from England in December, 1767, and took up his residence at the Gridley house in Brookline.
He was an ostentatious person, fond of pomp and show, and often entertained parties of British officers at his house, who rode through the town, to and from Boston, attired in uniforms, with nodding plumes and gay trappings.
It was a time of unrest in the public mind, and those scenes in connection with Hulton, who was looked upon by the quiet, sober people of the town as a disturber of their peace and a hated collector of &quotunjust taxes," further inflamed the smothered fire within, until endurance by them had lost its virtue, and the result was that the windows of his house were smashed and he fled to Boston. But even that town became too warm for the Royal Commissioners, who for further security retired to the Castle, and later Hulton returned to England, to be heard of no more as a Royal Commissioner in this country.
His Brookline property was confiscated and sold under an Act of the General Court, in which he and others similarly situated were designated &quotconspirators and absentees." The deed recorded in the Suffolk Registry conveying the property under that Act bears date of May II, 1781, and is as follows:
"Know all men by these presence
"Whereas by an act of the General Court of the Commonwealth of Massachusetts in the Year of Our Lord One thousand Seven hundred and Eighty One ' An Act to provide for the payment of debts due from the Conspirators and Absentees and for the recovery of Debts due to them and by another Act in addition to said Act We Richard Craunch of Braintree Samuel Henshaw of Milton and Samuel Barrett of Boston are in the County of Suffolk Esqrs are authorized and empowered to Sell the Estate of said Conspirators and Absentees lying in the County of Suffolk and to give good and sufficient deeds in fee to the purchaser in the Name and behalf of the Commonwealth.
"Now know Ye that we, the said Richard Craunch, Samuel Henshaw and Samuel Barrett by virtue of the power and continues to mark time authority to us given in said Act and by these presence Do Sell, Convey and Confirm unto David Cook of Roxbury in the County of Suffolk Gent his Heirs and Assigns forever all the real estate of Henry Hulton late of Brookline in the County of Suffolk Esqr. now conspirator for the sum of 1220;£ in gold and silver Value to us in hand paid before the delivery hereof by the said David Cook which sum was the most it would fetch and the Estate in the town of Brook- line is bounded as follows: -
"One piece of land containing about 5 acres more or less bounded Southerly and Westerly on the County road Northerly and Northeasterly on land in possession now or late of Elisha Gardner Easterly and Northeasterly on Town land by the meeting house together with the dwelling house barn and outhouses. Also other land in Brookline, etc."
Prior to the sale Rev. Joseph Jackson, of the First Parish Church, occupied the house for four or five years, as appears from a petition to the General Court on file in the archives at the State House, also Diary of Thomas Hutchinson.
Whether David Cook ever occupied the premises himself there is no evidence to show, and probably he did not.
On July 29, 1785, David Cook deeded the property to John Lucas, of Boston, Gentleman, for the "consideration of £597 10 Lawful money."
John Lucas held the property for nearly five years. He gave four hundred dollars towards furnishing the meeting- house built in 1806, apparently after he had left the town, which stamps him a generous man. Part of the money given by him was spent in the purchase of a clock, which remained in the meeting-house until it was demolished, and then was removed to the Town Hall, and from that to the present Town Hall in 1873. Some seven or eight years ago, by vote of the town, it was restored to the custody of the First Parish, and now, although nearly a century old, with regularity in the new meetinghouse, its rightful place and home.
John Lucas and his wife Hannah conveyed their property in Brookline to William Knight and his wife Anna, March 17, 1790, for £800, and they by deed of even date conveyed it to William Hyslop, of Brookline, "in consideration of 5 shillings."
William Hyslop was a wealthy man, who owned and resided on the Boylston estate, afterwards the property of Henry Lee, Esq., father of our late townsman, Henry Lee, Esq.
Mr. Hyslop donated to the town the triangular lot of land in the fork of the roads west of the First Parish meetinghouse, in 1793, upon which was erected the brick schoolhouse. His estate included land on Warren street later owned by the Murdocks, but now included in the Sargent estate.
William Hyslop so far as appears never lived in the old house, but his son of the same name did. In 1796 William Hyslop, Sr., died, and on February 14,1797, his heirs, Increase Sumner, of Roxbury, and his wife Elizabeth, "as heirs of their father William Hyslop,&quot deeded the property to David Hyslop, of Brookline, "the five acre lot with buildings thereon&quot and other lands in Brookline, "in consideration of $10,000."
Increase Sumner was governor of Massachusetts, 1797 to 1799, dying in office. His wife was daughter of William and Mehitable Hyslop, of Brookline; his mother was Sarah, daughter of Robert Sharp, of Brookline; his sister, Sarah Sumner, married Ebenezer Davis, of Brookline, whose son, Thomas Aspinwall Davis, built the house in the centre of Linden place, and who was mayor of Boston at the time of his death in 1845. David Hyslop, who bought the property of Governor Sumner, was a brother of Mrs. Sumner, and it was he who gave the baptismal font, costing forty dollars, to the First Parish Church.
April 15, 1800, David Hyslop sold and conveyed the old house, outbuildings, and five-acre lot to Mr. John Carnes, of Boston, &quotin consideration of $4,066.67."
Mr. Carnes owned the hill in rear of the present First Parish meeting-house, and of him the town and parish bought the lot in 1805 upon which the meeting-house was built in 1806.
He owned "the homestead lot and buildings thereon," some eight years, and presumably occupied them, although no incidents worth recording have been found in connection therewith.
On March 23, 1808, he deeded them to Elizabeth Partridge of Boston, widow, in consideration of $6,000, he being described in that instrument as "John Carnes of Boston, Gentleman."
Mrs. Elizabeth Partridge's deed describes the premises as follows:
"A parcel of land and messuage in Brookline bounded by a stone wall, beginning at a corner near where the meeting house formerly stood, thence running Westerly and Northwesterly by the County road to land of John Goddard and Sons to the Worcester Turnpike road, Easterly on said Turnpike Road to land of Thomas Walley, thence Easterly and Southeasterly by said Walley's land to the Town land, and thence Southerly by said Town land to the bounds first mentioned, together with the dwelling house and out houses thereon standing. Containing about 8 acres more or less."
The widow Partridge was said to be wealthy, but she lived a quiet, unostentatious life, so far as appears, in the old house, and died under its roof June 6, 1814, aged 86, six years after her purchase of it.
She left a will naming her devisees "William Gooch and Deborah his wife, Stephen Bean and Susanna his wife of Boston, Thomas T. Hubbard and Joseph Hubbard by Peter Brooks their guardian," who conveyed the property to Thomas W. Sumner and Elizabeth his wife, of Boston, on April 1, 1816, for the &quotconsideration of $1.00." "All right, title, and interest in and to a parcel of land in Brookline, which was conveyed to Elizabeth Partridge by John Carnes of Boston, Gentleman, by his deed of March 23, 1808, and recorded in Norfolk Registry, Lib. 29, Fol. 246. Reference is made to said deed for description of said premises."
Mr. Sumner came to Brookline from Boston, where he resided on Chambers street, and his occupation having been a house carpenter, in these days he would probably be called a builder and contractor. He had been a selectman of Boston, had represented that town in the General Court for seven years, 1805-1811, and was highly respected.
He was of a generous and kindly nature, and he won the friendship and regard of the school children of the brick school-house by giving fruit from his orchard and by assigning the fruit of several trees to their especial use.
This affable gentleman lived in the old house for thirty- odd years, and died under its roof May 29, 1849, aged eighty years, regretted by many persons, his wife having preceded him to her final rest.
After Mr. Sumner's death a plan of the land was made by T. & J. Doane, dated May 6, 1850, and it was divided into lots, and his heirs, &quotEmily P. Sumner, of Boston, Eliza P. Sumner, William H. Allen, and Caroline H. Allen, ux. William, of New Bedford, and Alice E. Sumner, of Walpole, on July 9, 1850, conveyed a part of the same to James T. Fisher, of Boston, in consideration of $6,112.51."
The deed described the property transferred as follows:
"6/7 of a parcel of land in Brookline and the mansion house thereon, being lots numbered 9 and 10 on T. & J. Doane's plan dated May 6, 1850. Bounded south by Walnut street 119.57 feet; southwest by the same on a curve, with a radius of 32 feet, 33 feet; southwest again on said street 256.92 feet; north by lot 11 said plan 81.73 feet; northwest by the same 121.15 feet; northeast by land of Hutchins 64.16 feet; and east by lots 6, 7 and 8, 370.7 feet; containing by estimation 61,565 feet. The mansion house of the late Thomas W. Sumner stands on lot 10."
On June 18, 1851, James T. Fisher, of Boston, deeded to Nathaniel G. Chapin, of Brookline, "in consideration of $7,750, a parcel of land in Brookline with buildings thereon. Being lots 9 and 10 and part of 11 on T. & J. Doane's plan of the Sumner estate, containing by estimation 71,429 square feet. Being the same premises conveyed to me by deeds recorded with Norfolk Deeds, Lib. 195, fol. 141, and Lib. 197, fol. 74."
Mr. Chapin was a merchant of Boston and a well-known resident of Brookline for many years. He was a selectman of Brookline for the years 1861 and 1862, trustee of the cemetery for 1875 and 1876, and an auditor for 1877 and 1878.
He occupied the old mansion until 1876, when he conveyed the property to Henry G. Rice and Charles L. Thayer, trustees, and they in consideration of $4,050, on June 25, 1877, deeded it to Moses Williams, Jr. Mr. Williams' deed included land not of Mr. Chapin's grant, the whole containing 130,997 square feet by estimation, and buildings.
Mr. Williams graduated from the Brookline High School, Harvard University, Harvard Law School, and was admitted to the bar, where he has won distinction.
He represented the town in the General Court for the years 1873, 1874, and 1875; was a selectman for the year 1878, but declined a re-election; has been, with his brother Charles A. Williams, town counsel for twenty years or more, and is now a trustee of the Public Library and a member of this Society.
He owned and occupied the old mansion house until 1886, when he took it down and erected upon its site the fine modern house now standing, and which he owned and occupied until 1899, when he sold it to its present owner, Mrs. Frances E. Hunt, wife of William D. Hunt, Esq.
For nearly a hundred and fifty years the old house was a landmark in the town. If its walls could have given a recital of events which transpired within them much that is now lost would have been added to the history of our town concerning those who were its owners and occupants. Of that long list all but one have passed away, and we simply catch glimpses of their lives and characters through this fragmentary and imperfect account of their connection with "an old house with an history."
JEREMY GRIDLEY
There came to Massachusetts, probably from Essex County, England, about 1630, three brothers, Richard, Samuel, and Thomas Gridley. Samuel died shortly after their arrival, Thomas settled at Hartford, Conn., where he died, leaving a numerous posterity.
Richard, the elder brother, settled in Boston, where he was made a freeman in 1634. "In 1656 Richard Gridley with other citizens of ye Towne of Boston signed a subscription paper towards the Building of a town house." Gridley's subscription being "£2, the same as Gov. Jo. Endicott." That was a wooden house built on the site of the present Old State House destroyed by fire.
He was a mason by trade and owned a house and lot, &quotthe eastern boundary of which was washed by the waters of the bay."
He was appointed a surveyor in 1647, and was a member of the Honorable Artillery Company. He died in the fall of 1674, will probated in Boston.
His wife's name was Grace, who bore him a son, Joseph, probably previous to arrival in this country, and also a daughter, Mary, April 10, 1631, and thereafter down to 1642 four other daughters and two sons, eight in all. The names of the sons were Believe and Tremble, old-style Puritan names.
Believe married Anne, and they had four daughters born 1664 to 1672, namely, Mary, Bethiah, Susanna, and Hannah, no sons being mentioned in the Boston records.
On August 16, 1684, Richard Gridley, son of Richard and Abigail, was born, and then follow Joseph- Abigail, Abigail, 2d, and Lydia, the latter born December 21, 1691.
On February 27, 1694, Richard Gridley married Hannah Dawes, whose children were John, born November 23, 1694, and Samuel, born January 5, 1696.
Hannah Gridley died January 15, 1696, and we infer she was wife of Richard, and mother of John and Samuel, and that Richard later married Rebecca, the mother of Jeremiah, born March 10, 1701; Isaac, June 28, 1703; Rebecca, November 2, 1708; and Richard, January 3, 1710.
Jeremiah Gridley was descended from Richard the immigrant and Grace his wife, Joseph and Lydia Flood, Captain Richard and Rebecca. Jeremiah married - no date - Abigail Lewis, daughter of Hon. Ezekiel Lewis, born June 10, 1706, and to them were born Abigail, August 8, 1731; Sarah, April 4, 1736; and Rebecca, April 25, 1741, died in 1816.
Abigail married first, Joseph Dudley; second, John Gray on August 16, 1768; Sarah married Moses Scott, and removed to Yarmouth, N.S.; and Rebecca married Edward Bridge, of Roxbury, and her descendants are now living in Boston and Brookline. Hon. Ezekiel Lewis was a prominent citizen of Boston, had been a school teacher, a selectman, representative to the General Court, councillor, and merchant. He was twice married, first to Mary Breaden, by Rev. Samuel Willard, May 18, 1702, by whom he had a daughter Mary, born January 21, 1703.
He married second, Abigail Kilcup, widow of Roger Kilcup, October 11, 1704, Rev. Samuel Willard officiating. By the latter marriage there were six children, viz.: Abigail, born June 2, 1706; William, November 28, 1707; Sarah, May 10, 1710; Eliza, August 12, 1712; Hannah, September 14, 1714; and Ezekiel, April 17, 1717. After Gridley'sdeath the Masonic Grand Lodge, of which he had been Grand Master, sent a committee, of whom James Otis was one, to confer with "Mrs. Dudley, Gridley's eldest daughter, and Mr. Ezekiel Lewis, his brother-in-law," in regard to the funeral.
Isaac Gridley married Sarah Porter, January 28, 1728, whose children were Benjamin, born January 28, 1732, and Pollard, born March 23, 1735.
Rebecca Gridley, the sister, married Edward Cabot, July 11, 1732.
Richard Gridley married Hannah Deming, February 25, 1730, and their children were Richard, born July 12, 1731; Hannah, June 1, 1732; Samuel, June 14, 1734; Joseph, November 5, 1736; Jane, July 7, 1738; Scarborough, October 9, 1739.
Richard Gridley, brother of Jeremiah and Isaac, was a famed engineer and artillerist of Colonial and Revolutionary times.
He planned the fortifications at Governor's Island and the modern works at Castle Island in the harbor, fortifications at Gloucester, the Kennebec, and at Halifax. He was at Louisburg with Pepperell, and was entrusted by him with the plan for the reduction of those works, which were surrendered in 1745.
He was made engineer of the army in 1755 and was with General Winslow at Crown Point in 1756, and planned the fortifications around Lake George; he was with Wolfe on the Plains of Abraham aiding in the capture of Quebec in 1759.
He laid out the defences at Bunker Hill the night before the battle of June 17, 1775, was wounded in the foot at that battle, and narrowly escaped capture.
He aided in the plan and construction of the fortifications around Boston and at Dorchester Heights, which caused the British forces to evacuate the town on March 17, 1776.
He was commissioned major-general of the army, and made commander of the artillery by the Provincial Congress, September 20, 1775, but when his commission expired the following December, he was superseded by Gen. Henry Knox, "owing to age and infirmities,&quot as a biographer put it. But notwithstanding &quotage and infirmities," he continued to serve his country with patriotic zeal and fervor until 1781, when he retired to his country home at Canton, Mass., where he died June 20, 1796, aged 86 years 5 months and 17 days.
But the intolerance of the age was such that this battle- scarred veteran of three wars was not allowed to be buried in the public burying-ground, because he had been a convert to the teachings of Rev. John Murray on universal salvation, and his body was buried on what had been his own private grounds. A few years since, the Grand Army Post at Canton raised funds and erected a monument to Gen. Richard Gridley, the friend of Washington, Warren, Revere, and other Revolutionary patriots, which was appropriately inscribed to his memory and publicly dedicated.
Jeremiah Gridley, commonly called Jeremy, the older brother, graduated from Harvard College in 1725. For some years thereafter he was usher in a Boston grammar school; studied theology and occasionally preached. He studied law and was admitted to the bar, but while waiting for a clientage, started a weekly paper called the "Rehearsal," the first number of which made its appearance September 27, 1731.
As editor of the &quotRehearsal" his writings were praised for clearness of expression and for their literary style. A critic said, "He gave proof that he was one of the most elegant and classical writers of his time."
But journalism was not destined to be his lifework, and after a year's trial he severed his connection with the &quotRehearsal" to devote his time and energy to the practice of the law. He wrote thereafter occasionally for the press, as a pastime, or upon topics of practical interest.
At the bar he won a distinguished position, and was held in high esteem by his associates, who called him &quotFather of the Boston Bar." It is said that his influence, aided by that of Edmund Trowbridge, gave the first impetus to profound legal learning and high professional spirit in Massachusetts.
"Pursue the study of law,&quot said he, "rather than its gain. Pursue its gain enough to keep out of the briers, but give main attention to its study." And his life attests to the fact that he carried out in practice what he taught others. He made a study of the law, and attained fame, but was indifferent to the acquisition of wealth, which his abilities would have given him power to accumulate. But he was content with moderate fees from those able to pay, and often served the poor without fee. As a consequence he died leaving an incumbered and insolvent estate. His fondness for official position was not for its emolument, but that without selfishness he might be better able to serve the public. That spirit led him to become a Freemason, and also a member of the Marine Society, both being charitable organizations.
Gridley's office became a resort for students, and some of the most distinguished lawyers of Massachusetts received their professional education under his instruction, among whom were Benjamin Prat, afterwards chief justice of New York, Oxenbridge Thatcher, William Cushing, and James Otis. Samuel Quincy and John Adams were examined by him and admitted to the bar on his motion.
Adams in his Diary notes the event as follows: "When the day for admission came Gridley rose up and bowed to his right hand and said, ' Mr. Quincy,' when Quincy rose up: then he turned to Mr. Adams, and he walked out. Mr. Gridley made a little speech in commendation of the accomplishments of the two young men; Mr. Prat followed with a few words; the oath was administered, the neophytes shook hands with the members of the Bar, received their congratulations, and invited them over to Stone's to drink some punch, where most of us resorted, and had a very cheerful chat."
John Adams entertained a high opinion of Gridley's ability, valued his friendship, and called him his master in the law. Gridley entertained like sentiments for Adams and Otis, and one day jokingly made the remark to his associates that he "had raised up two young eagles who would one day pick his eyes out." The allusion was understood to be to Adams and Otis.
Gridley was a representative to the General Court for the years 1755, 1756, and 1757, in which he was an able debater and an influential member, whose known ability and integrity made him the agent in the performance of beneficial legislation for the advancement of knowledge, the comfort, and prosperity of the Province. It is stated in Washburne's "Judicial History of Massachusetts" that he was attorney general for the year 1742, but the Council records of the Province do not confirm it. Probably he was assistant, and he was attorney general for 1767, the year of his death.
That authority also states that "as a representative he was ranked with the Whig party of that day, but his connection with the famous ' Writs of Assistance ' lost him the confidence of his political friends."
In our investigation of the records of that period we fail to find proper evidence of such a fact - certainly the records of Brookline do not confirm it, but do show that he was held in that town in the highest esteem to the date of his death.
Gridley's manner in addressing courts and juries was said to be lofty and his opinions were pronounced with an air of authority and in the consciousness of his own power. But he never condescended to instruct a client in the law, nor to point out the course he should pursue in a cause. The following anecdote of him illustrates that point:
About 1760 a Mr. Lombard, a minister of education at Gorham, Me., had a disagreement with the people of his parish, and it was agreed that the connection should be dissolved. The parsonage and land belonging to it under cultivation, were valuable. Lombard had given a bond for three thousand pounds to two deacons, Morton and Phinney, that upon the settlement of another minister he would give up the parsonage.
An illiterate person was invited to preach as a candidate for settlement, and to the surprise of Lombard and others he received and accepted the call to become the minister. The neighboring churches and ministers refused to assist in his ordination, whereupon the church ordained him by laying on of hands of Morton and Phinney, according to the Cambridge platform, and then brought suit in the Falmouth (now Portland) Court of Common Pleas against Lombard to compel him to give up the parsonage.
The case was argued by counsel, and Lombard was allowed to show that the man ordained was not the minister meant, or intended by the bond given, and he read from a Greek Testament the qualifications of a minister, the original of which he translated, but the jury found for the plaintiff.
Lombard appealed to the Supreme Court at York and employed Gridley as his counsel. The jury again found for the plaintiff. Gridley then moved in arrest of judgment, that there was no issue joined, which being apparent judgment was arrested on a repleader and the case was continued to the next term of the court, when Gridley introduced a plea in bar, and recited the grant of the township from the General Court, and the erection of the parsonage for the use of &quota pious, learned, orthodox minister," etc., and then averred that the town had not settled another "pious, learned, orthodox minister."
The counsel for the plaintiff replied that they had settled another pious, orthodox minister, omitting "learned," as he said he was unwilling to put that in issue, and put themselves on the country.
Gridley demurred for a departure in the replication, to which there was a joinder in demurrer. A short argument followed, the replication was determined to be insufficient, and the court gave judgment in favor of Lombard.
He was out of the court-room at the time, but hastened back on being informed he had won his case, and asked Gridley how it was done.
Gridley answered him, "How it was done, sir, you can never know until you get to heaven."
In the year 1761 Charles Paxton, an officer of the customs at Boston, applied to the Superior Court to grant him "Writs of Assistance," so called, in his search for smuggled goods. An ordinary "Writ of Assistance" was a search-warrant, empowering an officer to whom it was issued to enter by force, when necessary, any building to search for contraband goods supposed to be stored or hidden therein.
The Writs of Assistance asked were special search-warrants made out in blank, in which the officer serving them might fill in names at his discretion of persons and descriptions of buildings and goods, and in the hands of unscrupulous partisans of the government would have become instruments of tyranny to which the people would not tamely submit. The case was tried in the Council Chamber of the Old State House before five judges of the Superior Court, Chief Justice Hutchinson presiding.
Gridley, who had been appointed government counsel for the purpose, argued in favor of granting the writs, in a speech of great power, citing the statutes of Charles II. and William III. unrepealed, that they were legal unless the authority of Parliament to make laws for the colonies was to be denied. His plea was made in a calm and dignified manner, and his conclusions have been shared by able jurists of that and of later times.
Oxenbridge Thatcher followed him in opposition, and took the ground that issuance of the writs would be an unwarrantable stretch of Parliamentary authority applied to the colonies. James Otis argued on the same line in a speech of five hours' length, said to have been the greatest speech of modern times. He went beyond the legality of the question at issue, and took up the question of constitutional relations between the colonies and the mother country. His presentation was accompanied by masterly oratory which swayed his hearers and inflamed their minds with patriotic ardor, but not a word of the speech has been handed down to us in print.
John Adams, who was present, afterwards said of it "that on that day the child Independence was born."
Otis received an ovation from the people whose liberties and rights he had so ably and earnestly championed, in which, it has been said, Gridley, his teacher in the law, undemonstratively, but none the less true and heartfelt, joined.
The court withheld its decision until advice was received from the law officers of the crown in London, when at the next term it was ordered to grant the writs.
The customs officers, thus armed, broke into warehouses and seized goods said to have been smuggled, and in that manner confiscated private property valued at many thousands of pounds. Those acts, with others that followed, led to the war of the Revolution and the final separation of the colonies from British rule.
Gridley, for arguing in favor of those writs, has been, we think unjustly, called a Tory and blamed for his calm and dignified presentation of the legal side of the case. No good reason has been shown, however, why he did not do so as a jurist of high legal attainments and well-known integrity, without prejudice to his country or loss of honor to himself.
Later, when the Stamp Act had been passed, and in consequence of the disturbed state of the people, the courts were closed, the people of Boston in town meeting voted that Jeremiah Gridley, James Otis, and John Adams be applied to as counsel for the town to present a petition to His Excellency the Governor and the Council, praying "that the courts of law in this province be opened."
That would not have been done if Gridley had been a hated Tory, or had lost the confidence of the people. The gentlemen were privately and politely heard by the governor and Council, and civilly bowed out of their presence without having accomplished the object sought.
They continued, however, counsel for the town, at a time when to render legal service to patriots was not only a matter of professional difficulty, but of political and possible personal danger.
Had Gridley lived to see the Revolution inaugurated, we have no doubt but what, instead of siding with the Tories, his lot would have been cast with that of his brothers and nephews and with patriotic ardor for the rights of the country of his birth which his life had honored.
THE GRIDLEY HOUSE, BROOKLINE, AND JEREMY GRIDLEY
Gridley, in order to advance the interests of his country, and to give facility to trade, made a study of maritime law, and advised the merchants and shipmasters to insure their merchandise and ships at home instead of in England. To assist them he became interested in the Fellowship Club, composed of shipmasters, organized in June, 1742, as a charitable body, and which was chartered February 2, 1754, as the Marine Society at Boston in New England.
He was then at the height of his fame as a lawyer, when his opinions bore the weight of authority, and he drew the draft of the Society's charter, as we learn by the following extracts from the records:
"At a meeting of the Society held December 5, 1752, Voted That the Bill Exhibited by Jeremiah Gridley Esqr. this Evening and filed be presented to the General Court for the Society's Incorporation be accepted by the Society and preferred accordingly to the General Court for the obtaining a charter from this government."
"On February 2, 1754 the Charter was granted," and at a meeting of the Society held February 5, 1754, it was read to the members present when it was &quotVoted That Jeremiah Gridley, Esqr. be presented with the freedom of the Society for his Good Offices to the Society."
From that date he was recorded on the Society's books as a member. At that same meeting Jeremiah Gridley, Esq., and four others were appointed a committee "To Devise a Seal for the Society and make a Report to ye Society ye next Tuesday Ensuing."
The record of the next meeting was on February 26, 1754, when it was "Voted - the Laws,&quot evidently the By-laws, "presented this day by Jeremiah Gridley Esqr. be accepted." At that meeting it was also "Voted, That The Silver Seal cut by Mr. Nathaniel Hurd and now presented to the Society by the Committee for that purpose, representing a Ship arriving at the light House from a Storm and the Sun breaking through the Clouds with the Inscription Marine Society at Boston in New England A.D. 1754 be the Seal of this Society." And such has been the seal from that date to the present.
At a meeting of the Society held January 1, 1765, "Voted That A Craige J Prince W D Cheever J Homer be a Commit- tee to wait on Jeremiah Gridley Esqr to present a petition to the Gen Court to obtain Liberty to erect a Light House on Nantuckett."
This is the last record concerning Gridley's connection with the Society, but enough is shown to prove his interest in and influence with its members to deserve the vote presenting him "with the freedom of the Society for his Good Offices to the Society."
But he was never its president, as has been stated elsewhere, nor could he have been, as he had not been a shipmaster, as the laws and usages of the Society require to make one eligible for that office.
A score or more of the members of the Marine Society were also Masons. The meetings of the Society were often held at the places where the Grand Lodge met, but on different dates as a matter of course. Their aims and objects in a certain sense were charitable and the same spirit of fraternity prevailed among the members of both Societies.
JEREMY GRIDLEY AS A RESIDENT OF BROOKLINE.
The exact date in which Jeremy Gridley took up his residence in Brookline is not known, but it was some time prior to May 19, 1755, as on that date "At a Meeting of the Inhabitants Legally called The Selectmen Moderating Voted To Send a Representative to ye Great & General Court this year Voted Jeremiah Gridley, Esqr. Chosen Representative." And for the years 1756 and 1758 "Voted Jeremiah Gridley Esqr. Chosen Representative."
At a meeting of the town held May 22, 1758, "Voted not to Send a Representative This Year Voted That Jeremiah Gridley Esqr Henry Sewall Esqr Adjoin the Com'tee yt hath ye Care of the Estate of Edward Devotion Deceased."
At the town meeting held March 5, 1759, "Voted Jeremy Gridley Esqr Chosen Moderator" as he had been at two previous meetings, and "Voted Jeremiah Gridley Esqr Surveyor of highways for the Middle Part Sworn." Gridley was chosen moderator at the meeting of the town held "May ye 24th 1759," when it was "Voted that yt Jeremy Gridley Esqr & the Select Men be a Com'ty to Inform the Rev'd Mr. Potter of Votes Pas'd Relative to him" (which were in regard to his salary and settlement).
"Jeremy Gridley Esqr Chosen Moderator" at the meetings "June ye 13th 1759," and on "Octr ye 17 1759;" also on "December ye 19th 1759." The latter meeting was "Adjourned to Monday the 24th Instant at two of ye clock in ye afternoon." At the "Adjourned meeting at ye two of the Clock in ye afternoon P.M. Voted Jeremy Gridley Henry Sewall Esqrs Capt Craft, Deacon White, Deacon Davis, & Isaac Gardner be a Commity to wait on Mr. Joseph Jackson and acquaint him with these Votes."
The votes were in regard to his salary and settlement, "as ye Gospel Minister in this Town Provided he accepts the choice and be Ordained Accordingly." That meeting appears to have been held to consider the subject of the settlement of Rev. Joseph Jackson.
Here follows in the town records a report of a committee's transaction in the year 1756, regarding the disposition of "spaces or spots" in the meeting-house:
"Accordingly. We have Disposed of the spaces or spots on the Middle Side Next the Middle Ally to Jer Gridley Esqr He Paying to the Town Five Pounds Six Shillings & Eight p" - and other "spaces or spots" were disposed of to the other persons named in said report with prices paid for same. Gridlcy at that time was a communicant of Trinity Church, Boston.
At the March meeting held in 1760, "Jeremy Gridley Esqr moderator Voted To Choose Five Select Men Voted Jeremy Gridley Henry Sewall Esqrs Deacon Ebenezer Davis Isaac Gardner Jun'rand Mr. John Harris Jun'r Select Men & Assessors Sworn."
At town meetings held on May 18, 1761, July 3, 1761, November 19, 1761, "Jeremy Gridley Esqr Chosen Moderator."
Here follows in the town records a copy of a deed of a wood lot in Needham estimated to contain twenty acres "to supply the Minister that may be settled in said Town of Brookline from time to time, given by Samuel White of Brooklyn, to the Select Men for the Consideration of the Sum of Forty pounds
"(Signed) SAMUEL WHITE.
"Signed Sealed and Delivered In Presence of us
"Jer. Gridley
"William Dav1s
"Suffolk ss. March 12, 1759.
"The within named Samuel White acknowledged this Instrument to be his act and deed
"Before me
"Jer. Gridley,
"Just, of Peace."
At a meeting of the town held "May ye 13, 1763," it was "Voted That the Attornies of Mrs. Mary Gatcomb be desired to receive the money which she as Executrix of Mr. Edward Devotion has Recovered against Mr. Solomon Hill on his Mortgage to said Devotion and pay what is the Town's due of it to the School Committee," etc. The attorneys were "Jer. Gridley, Isaac Gardner, Robert Sharp & Thomas Aspinwall, who paid over "One hundred & twelve pounds one shilling Lawful money in full of all dues & Demands which Samuel White Esqr late of sd Brookline Deceased or us as Executors had on the Estate of sd Devotion or against his said Executrix.
"May 24 1762 (Receipted by) Henry Sewall,
"Ebenz'r Craft."
The same date - "Rec'd of Jer Gridley, et als the Attornies paid Twenty Six pounds eighteen shillings & Eight pence for ye Payment of the Principal & Interest of my Bond to Edward Ruggles of Cambridge which I entered into on acc't of said Devotion Legacy to the Town of Brookline
"May 24 1762 (signed) ROBERT SHARP."
The same date - "Rec'd of Jer. Gridley et als fifteen Pounds & four pence Lawful money for purchase of a Silver Tankard for the Church of ye Town of Brookline according to ye will of Mr. Edward Devotion Dec'd.
"May 24 1762 (signed) ROBERT SHARP."
Jeremy Gridley was chosen moderator of the following town meetings: March 7, 1763; May 19, 1763; May 24, 1764; March 3, 1766; May21, 1766; and March 2, 1767. At the last mentioned he was chosen a selectman and assessor.
At a meeting held May 25, 1767, he was chosen moderator, and after disposing of a part of the business the meeting "was adjourned to June ye 12th at 2 o'clock, A.M." (?) Probably P.M. was meant, but 2 A.M. on the record.
On June the 12th, "On account of Jer. Gridley Esqrs In disposition Voted that this Meeting be Adjourned to Monday the 29th Instant June at five of the Clock A.M." (?)
June 29th, "Voted that this meeting shall be further Adjourned for the above Reason Viz Jeremiah Gridley Esqrs Indisposition to ye July ye 13th Day at 4 of the Clock in the afternoon."
On "July ye 13th Day" Jeremiah Gridley, Esq., was present, acted as moderator, and the business of that much adjourned meeting was completed.
"At a Meeting of the Inhabitants of the Town of Brookline Legally Warned" (no date given) "Jeremy Gridley was Unanimously Chosen Moderator," and here end the town records and the silence of death and the grave has ever since brooded over them concerning him.
It seems strange to us that he, who had been so prominent in town affairs, who had been representative to the Great and General Court for three years, a selectman at the time of his death, had served on many town committees and moderator of twenty-one town meetings, one of which had been three times adjourned on account of his illness, should lay down his gavel for the last time without a word being recorded in regard to his death.
Of his family and social life in Brookline no record has been found other than has already been noticed. It has been stated, however, that he was a bachelor. That could not have been the case, as the Boston and other records prove that he had daughters, Abigail, Sarah, and Rebecca, children "of Jeremiah Gridley and his wife Abigail." But of the date of their marriage and of his wife's death no record has been found, and it is likely that he was a widower while a resident of Brookline, which gave rise to the statement that he was a bachelor.
Jeremy Gridley was made a Freemason, May II, 1748, in the First Lodge, now St. John's. He was Senior Warden of that Lodge in 1753 and Master in 1754. He represented that Lodge at the Grand Lodge meetings in 1753, 1754, and 1755-
October 11, 1754, he was present at the Grand Lodge meeting in Concert Hall, at which meeting Bro. Benjamin Franklin was a visiting member. Thomas Oxnard, the Grand Master, having died, Past Grand Master Henry Price presided, and at that meeting "a petition was drawn and signed to the Grand Master of Great Britain for the appointment of Wor. Bro. Jeremy Gridley to be Grand Master of Masons for North America."
August 21, 1755, at a meeting of the Grand Lodge, held at the Royal Exchange Tavern, "Jeremy Gridley informed the Lodge that he had received a Deputation from Right Honourable and Right Worshipful James Brydges, Marquis of Carnavon, Grand Master of Masons, appointing him Grand Master of North America where no Grand Master is at present appointed,' and delivered Our Right Wor. Bro. Price, his Deputation, who ordered it to be read and recorded in the Grand Lodge book."
Gridley was installed Grand Master of Masons, with due ceremony, at a Grand Lodge meeting in Concert Hall, October 1, 1755.
"The three Lodges in .the Town, and the Master and Wardens of Portsmouth, N.H., Lodge, with a great Number of Brethren were present Cloathed with white Aprons and Gloves, and after the Installation accompanied the Grand Master, in Procession to Trinity Church, where Rev'd Mr. Hooper read Prayers, and Rev'd Mr. Brown (of Portsmouth) Preached an Excellent Sermon on the occasion to a numerous and Polite audience."
"After Service the procession was reformed and marched back to Concert Hall, where an Elegant Dinner was prepared, and the afternoon was Spent in Harmony and Mirth. The whole Ceremony and attendance was with the greatest Decency and made a Genteel appearance."
Gridley was an able and beloved Grand Master, and devoted much time to the improvement and extension of Freemasonry within his jurisdiction, then embracing North America, in which the records show he was successful. At the beginning of his administration there were but sixteen chartered Lodges: 4 in Massachusetts, Connecticut, 3, and in New Hampshire, Pennsylvania, Rhode Island, Maryland, South Carolina, St. John, N.F., Annapolis, N.S., Halifax, N.S., and Antigua, W.I., one each.
At his death, twelve years thereafter, he had issued Warrants and Charters for twenty-two new Lodges: 5 in Massachusetts; Connecticut, 3; New York, 3; Rhode Island, 2; New Jersey, 2; and one each in Virginia, North Carolina, Louisburg, C.B., Quebec, Can., St. Christopher, W.I., Barbadoes, W.I., and Surinam, Dutch Guiana.
From his death to the close of the Revolution twenty-odd others were formed, all of which had an influence in mitigating the rigors of war not clearly understood nor fully realized by the public.
Jeremy Gridley died in Boston September 10, 1767, aged 66 years and 6 months. His death carried sorrow to the hearts of thousands of those who had known him through domestic, fraternal, and social ties, or had shared his friendship in other walks in life.
His abilities, magnetic influence, manly character, and generous nature won the praise of all, as was pictured, framed, and set forth in a unique obituary, which was printed in the Boston papers at the time of his death. And although appearing in the several papers, and with little change spread upon the Grand Lodge records, was evidently written by one who must have known him well, and leads to the belief that it was the product of the brain and pen of his friend and former pupil, James Otis.
It is here given as printed in the "Boston Gazette" of Monday, September 14, 1767:
"On Thursday last died here, Jeremy Gridley Esqr Attorney-General of the Province, and a Member of the General Court: His Funeral was attended on Saturday with the Respect due to his Memory by the Members of the Council and the Judges of the Superior Court in Town, the Gentlemen of the Bar, the Brethren of the Society of Free Masons, of which he was Grand Master, the officers of the First Regiment, of which he was Colonel, the Members of the Marine Society, of which he was President, and a great Number of the Gentlemen of the Town: -
"Strength of Understanding, Clearness of Apprehension, and Solidity of Judgment were cultivated in him by a liberal Education, and close thinking:
"His extensive Acquaintance with Classical, and almost every other part of Literature, gave him the first Rank among Men of Learning:
"His thorough knowledge of the Civil and Common law, which he had studied as a Science, founded in the Principles of Government, and the Nature of Man, justly placed him at the Head of his Proffession:
"His tender Feelings relative to his natural and civil Ties; his exquisite Sensibility and generous Effusion of Soul for his Friends, were Proofs that his Heart was as Good as his Head was sound, and well qualified him to preside over that antient Society, whose Benevolent Constitutions do Honor to Mankind:
"He sustained the painful Attacks of Death with a Philosophical Calmness and Fortitude, that resulted from the steady Principles of his Religion. He died in the 626 year of his Age." (It should read 67th year of his age.) It was appropriate that the funeral services of this distinguished man should be held in the Representatives' Chamber of the General Court House, in the place where he had won honor as a debater, and near the Council Room where his voice had been heard in forensic speech, and that it should also have been attended by the most august body of men the Province could produce, or had been gathered on such an occasion in its history.
The place of his sepulchre is tomb No. 9, Granary Burying Ground, erected by his father-in-law, Ezekiel Lewes, and unmarked with his name, but his name and fame will outlast, doubtless, bronze tablet or granite shaft, and be handed down to future generations as an example of what an American may become who possesses ability, honesty, generosity, and virtue.
If ever a monument should be raised to his memory, no more fitting inscription could be placed upon it than the words written (extempore) at the time of his death and printed with his obituary, which were:
"JEREMIAH GRIDLEY BARRISTER-AT-LAW.
"Of Parts and Learning, Wit and Worth possess'd, Gridley shone forth conspicuous o'er the rest; In native Powers robust, and smit with Fame, The Genius brighten'd and the Spark took Flame; Nature and Science wove the laurel Crown, Ambitious, each alike, conferr'd Renown. - High in the Dignity and Strength of Thought, The Maze of Knowledge sedulous he sought, With Mind Superior Studied and retain'd And Life and Property by Law sustain'd. — Generous and free, his lib'ral Hand he spread, Th' Oppress'd relieved, and for the Needy Plead; Awake to Friendship, with the ties of Blood His Heart expanded and his Soul o'erflow'd. - Social in Converse, in the Senate brave, Gay e'en in Dignity, with Wisdom grave; Long to his Country and to Courts endear'd, The Judges honor'd and the Bar rever'd. - Rest! Peaceful Shade! innoxious as thy Walk May slander babble and may censure talk. Ne'er on thy Mera'ry Envy cast a Blot — But human Frailties in thy Worth forgot."