Contents
BERTRAM K. LITTLE
J. FRANCIS DRISCOLL
ALBERT P. BRIGGS, 187 Walnut Street
GORHAM DANA, 44 Edge Hill Road
Dr. Harold Bowditch, Miss Elizabeth Burrage, Miss Elizabeth Butcher, Mrs. Harrison G. Bridge, Daniel G. Lacy and Officers ex-officio.
FINANCE
Albert P. Briggs, Chairman Edward Dane, President, ex-officio. ROOMS-Mrs. Bertram K. Little, Chairman J. Francis .Driscoll, Mrs. George C. Houser, Daniel Tyler, Jr.
LIBRARY
Miss Elizabeth Butcher, Chairman Miss Elizabeth Burrage. J. Francis Driscoll, Daniel G. Lacy.
MEETINGS AND PUBLICATIONS
Dr. Harold Bowditch, Chairman Charles B. Blanchard, Samuel Cabot, Francis A. Caswell, John P. Cotton, J. Francis Driscoll, James M. Driscoll, Miss Mary Lee. President and Clerk, ex- officio.
MEMBERSHIP
Gorham Dana, Chairman Charles B. Blanchard, J. Francis Driscoll, Miss Margaret A. Fish, Mrs. Bertram K. Little, Mrs. Samuel Mixter, Mrs. John A. Reidy, Miss Julia Shepley.
DELEGATES TO THE BAY STATE HISTORICAL LEAGUE
Miss Mary Davis Bush, Miss Margaret A. Fish, Miss Mary Lee. Alternates: Miss Grace A. White, Clerk ex- officio.
The forty-eighth annual meeting of the Society was held in the meeting room of the Brookline Public Library on Sunday, March 20, 1949 at 3 P. M. There were about fifty members present. President Little called the meeting to order and presided.
The reading of the minutes of the last meeting was waived, as they had been printed in the Annual Proceedings and sent to all members. President Little welcomed the new members and thanked the Trustees and Miss Butcher for providing the meeting place and Miss Butcher and her staff for arranging the very complete exhibit of Aspinwall documents and pictures in the two show cases in the room.
There was no report from the delegates to the Bay State Historical League. The Treasurer's report was not available, but will be printed in the Proceedings.
Mrs. Bertram K. Little read the report of the Committee on Rooms, which was accepted.
Mr. Little read the annual report of the president, which was accepted.
The report of the Nominating Committee was read by the chairman, Mr. John Page Cotton, and was as follows : for Treasurer, Albert P. Briggs; Clerk, Gorham Dana; Trustees, Dr. Harold Bowditch, Mrs. Harrison G. Bridge, Miss Elizabeth Burrage, Miss Elizabeth Butcher, J. Francis Driscoll, Daniel G. Lacy, and Bertram K. Little. On motion duly seconded, it was voted that the Clerk cast one ballot for the nominees. This was done, and they were declared elected. Mr. Dana for the Nominating Committee presented the following names for election : Marcien Jenckes, Mrs. James Dean, Samuel G. Atkinson, Kingsbury Brown, George V. Brown, Jr., Mr. and Mrs. Lawrence Hanson, William J. Hickey, Jr., Reuben L. Lurie, Dean Arthur B. Lamb, Franklin King, William T. Reid, Jr., Mrs. Winthrop Wetherbee, Dr. Samuel C. Prescott, Mrs. Florence P. Peabody, S. Morton Vose, Mrs. W. M. Parker Mitchell, Mrs. Carl M. Goodspeed, Mrs. John P. Cotton, Miss Alice Seaver. On motion duly seconded, the above were elected members.
The President then introduced Mrs. Edvard Lindstrom, a great, great grand-daughter of Susanna Aspinwall, who read an extremely interesting paper entitled, "The Aspinwalls and Lewis Tappan." This gave some highlights in the lives of certain members of the Aspinwall family previous to 1814, including Lewis Tappan's "Little Journal", a diary that described his marriage to Susanna Aspinwall in Brookline and their wedding journey to New York with horse and chaise.
President Little called attention to the flue collection of Aspinwall documents on display in the two show cases in the room. He urged members of the Society to write papers on Brookline historical matters, even if they were short, and stated that Mrs. Lindstrom was one who had done this on her own initiative.
The President explained the proposed changes in the bylaws, and it was voted that these be adopted at the next meeting.
The meeting adjourned at 4:30 P. M.
Members of the Brookline Historical Society and Friends
: -
Our membership stands as follows:
We welcome to new membership: Mrs. Joseph A. Hall, Mrs. Parker Hayden and Mrs. Charles W. Ward.
The following members have died since the last Annual Meeting: Mr. Harold C. Sears in July, 1948; Dr. Francis P. Denny in September, 1948; Mr. Walter H. Kilham also in September, 1948; Mrs. Larz Anderson in November, 1948; Miss Constance Morse in January, 1949; Mr. Gordon Marsh in January, 1949, and Mr. Frank S. Waterman also in January, 1949.
The resignation of Dr. John A. Reidy has been received with regret.
Since a full account of the 47th Annual Meeting, held last May, was set forth in the recently issued volume of Proceedings, a copy of which each member has in hand, I need no more than mention it here.
Your Trustees have met twice since then to carry on the business of the Society, and their activities, assisted by several committee members, have been or will soon be apparent to all.
Largely through the single-handed efforts of our Secretary, Mr. Dana, publication of the Proceedings of the Society was revived. The 1948 issue, first since 1931, will long be useful for its reference list of papers read before the Society and the tabulation of the Milestones and Tablets in the Town.
In February, the Publications Committee delivered to the printers the finally completed material for the book, "Some Old Brookline Houses", by Nina Fletcher Little, publication of which was authorized by the Trustees some time ago.
This survey of the houses built before 1825 and still standing in the Town in 1948 not only gives many details and anecdotes of their historical background but also comments fully on their style, construction and finish. The work is lavishly illustrated with 'hitherto unpublished exterior and interior pictures and floor plans.
It is one of the functions of an historical society to use some of its funds for publications, but this 'book under present day conditions is too costly to be included in the regular membership fee. Members will, therefore, soon be given the opportunity to subscribe for it at a figure markedly lower than it will be sold to non-members, but announcement of publication price cannot be made until all factors affecting it can be accurately gauged.
Already interest in this publication has been widely expressed and Mr. Paine has asked to have it on sale at his store. The suggestion has also been made by the committee of graduates in charge, that it be on commission sale at one of the houses to be opened in June for the benefit of Radcliffe College. Incidentally, the author furnished the information on the four old houses which will be included in the Open House folders.
Certain suggestions which have been made at recent Trustees' meetings should be brought to the attention of all members. Miss Butcher hopes one or more members will volunteer to sort and list the Society's manuscript and photographic material kept here in the Library. It has also been urged that an attempt be made to collect some form of a picture of all former Town officers, and that a member or a committee of members volunteer to forward this project.
With such an interest in picture taking as there seems to be now, some member or members should find it possible to plan a detailed photographic survey of the streets and structures of the whole Town and then interest amateur photographers in completing the project. Resulting pictures could be exhibited here and then filed for reference and comparison say ten years from today when another such survey should be made both to reveal any important changes and to record another facet in the history of the Town.
And finally, it has often been pointed out but apparently needs emphasizing again that unless members undertake to prepare papers, we cannot have the pleasure and inspiration from this Society that we all desire. If anyone is too busy to prepare a full-length study, several brief papers could often make up a program, and if writers of them wish it, I am sure some officer could easily be found to read them.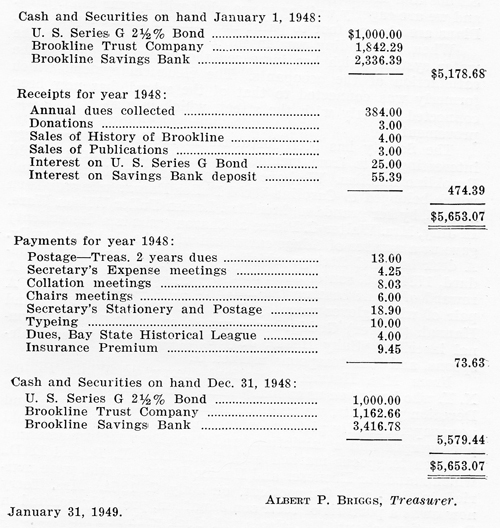 FOR THE YEAR ENDING MARCH, 1949
During the past year the Town has continued to improve the Devotion House property. The land immediately surrounding the house has been graded, fenced, and landscaped. This is not only a great improvement in looks, but is a protection to the property, and a source of enjoyment to Mr. and Mrs. Nelson. Shrubs and flowers have been planted in front of the building and we are eagerly waiting to see what will appear this spring. Plans are also on foot to paint the exterior before April 19th.
When the grading was in process work was done on the water system which has increased the pressure, much to the satisfaction of the occupants. The electrical system, which formerly was connected to that of the school, has now been, connected directly with the street, which is also a great improvement.
The Society has been fortunate in receiving several very interesting gifts from members who are descendants of old Brookline families. We have been given a fine old shell comb which belonged to Caroline Weld Fuller Farrar who was born in 1815, by her granddaughter Mrs. Louisa Fuller Wilson Ware. In July, Mrs. Walter C. Pierce of Sharon (who is a descendent) gave us a number of things connected with the Goddard family. A desk box and fittings which belonged to John Heath Goddard, 1784-1876, son of John and Susannah Heath Goddard. A reward of merit bearing the name of Miss S. H. Goddard. A pair of white gloves worn by John Goddard, son of John and Hannah (Seaver) Goddard who were married in 1756. A hymnal inscribed "Suky Heath, July 4, 1772," Two silver tablespoons, and four teaspoons marked G.
From Mrs. Harriet (Devotion) Terry, of White Plains, N. Y. who has given us so many famly heirlooms, including the Devotion portraits, we received family letters, documents and newspapers, family pictures which include daguerreotypes, old photographs and a miniature, and five silver tablespoons and fourteen teaspoons marked with the initials M. D. and E. D., which stand for Ebenezer and Eunice Devotion, who were married in Scotland, Connecticut, on July 7, 1864. Mrs. Terry now owns a portrait of their son Jonathan, probably painted in Connecticut about 1800, also a tall clock with red lacquer case which originally stood in the old Devotion home in Scotland. These items she wishes to give to the Society to be placed in the Devotion house, and I am now trying to complete arrangements to have them transported to Brookline from White Plains.
JANET LINDSTROM
It is with some hesitation that the present writer begins an article on the Aspinwall Family. Every Brookline history contains a chapter about these early settlers; not only their births, deaths, and marriages were considered of genealogical importance, but also their characters, their occupations and travels, even their houses and their trees. Entire books and manuscripts have been written about them covering, over and over, the important events of their lives. Undoubtedly this paper would never have been written, were it not for a small blue-covered pamphlet privately printed by a member of my family who came into possession of a short journal describing the wedding journey of Lewis Tappan and Susanna Aspinwall, my great-great-grandfather and grandmother. This wedding and subsequent journey belong to Brookline history and should have a place in it, just as surely as do stories about Peter Aspinwall and his house of 1660. Therefore, this writer has consented to gather together some facts and anecdotes about the Aspinwalls preparatory to the little journal itself.
If anyone should desire a, complete account of the Aspinwall family, an entire book, (1) and an unpublished manuscript (2) have been written and are available to the genealogical student. In this_paper, no attempt is being made to cover all descendants of Peter, the first Brookline settler; but rather, some highlights will be touched upon, the stories and recollections which point up these people as human beings, and may make them live again for us today.
The first of the Aspinwalls to settle in Muddy River, now Brookline, was Peter. He was said to be one of four thousand who came from England to Massachusetts Bay Colony in 1630. We know that Peter came from Toxteth Park, a suburb of Liverpool, and was born about 1612, but little is actually known about his ancestry. Towards the end of the last century Edward A. Bowen, Genealogist and descendant of the Aspinwalls, apparently attempted to trace Peter's birth, while travelling in England, but was willing to say only that Edward Aspinwall, living in Toxteth Park about 1630 "may have been the father of Peter". This statement seems to be based on the fact that a teacher in Toxteth Park, Reverend Richard Mather, who lodged with Edward Aspinwall, and had three sons, named them Samuel, Nathaniel and Eleazer. Later, in Muddy River, Peter Aspinwall gave three of his sons these same names.
In 1645, Peter was living in Dorchester, but bought a farm in Muddy River with one Robert Sharp, the deed to the property being dated 14 (9) 1650, and being in the handwriting of William Aspinwall, recorder of deeds. The Aspinwall house was not built until 1660.
In regard to Peter, he was a farmer, and the inventory of his estate indicates that he was also a tanner. He held several town offices, "surveyor 1651-2, constable 1667, appointed April 1676 with two others a committee for the 'prevention of excessive drinkage and disorder in private houses', and 1677-8 'to oversee and regulate the fences about the common field at Muddy River'." Peter's first marriage about 1645 was to Alice Sharp, who died childless about 1661. His second wife, Remember Palfrey, of Reading, Massachusetts, was the mother of his eleven children, Samuel, Peter, Nathaniel, Thomas, Mehitable, Elizabeth, Eleazer, Joseph, Job, Mary and Timothy.
The Aspinwall house on Aspinwall Avenue, built by Peter in 1660, sheltered many generations of this family, and if we could reconstruct the lives of those who dwelt there we would find that all the human joys and sorrows known to man then as well as now were experienced in the old house which stood for more than two centuries. Many of the Aspinwalls were born and died within its four walls. Peter must have been more like a grandfather than a father to his children, being fifty years of age when his first child was born, and an old man when his last two sons came into the world. Perhaps Samuel, then a young man, acted as father to the little ones, as he remained at home while his brothers Peter, Nathaniel and Thomas roamed far a field. It would appear that Samuel, a Captain of Militia, was a man of great strength and courage. "There is an anecdote related to him showing the presence and firmness of his mind. At the Tavern on Boston Neck, there was a lion kept which was tamed for exhibition. Some persons thought they might frighten Captain Aspinwall with the animal. He had never seen a lion, and was conducted to his apartment, when, at the management of his keeper, the animal sprang upon him, putting his fore paws upon his breast, making a tremendous roaring. Captain Aspinwall merely said, 'What is the matter with the beast?'"
It was Samuel Aspinwall who planted the great tree known as the Aspinwall Elm, in front of the old home. Samuel Clarke, who spent his boyhood in the Aspinwall family, remembered how Captain Aspinwall carried the little young tree and planted it, about 1700. This tree became tremendous in size, measuring twenty feet in circumference near the ground, and at five feet above the ground, sixteen feet, eight inches. At least six generations matured in the shade of its branches, while the giant elm brought forth its countless leaf-buds again and again, flowering, and fading, and losing its leaves to the autumn winds. In 1844, a part of the tree was blown down, and in 1870 a storm caused a large portion of the elm to fall against the house, breaking the roof.
At the dedication of the Town hall in Brookline, February 22, 1873, the Honorable Robert C. Winthrop spoke of the Aspinwall house which was still standing, or "trying to stand" at that time, and said "Of the venerable elm, which over-shadowed it certainly for more than a hundred and fifty years - nothing remains but the antique roots, and a few feet of massive but mutilated trunk. They are almost the last relics of the old Muddy River Hamlet, and I wish they could be enclosed and inscribed as a monument of the remote past. What an inspiring stump that, would be for an open-air speech, on some historical anniversary! If nothing else can toe done, I trust that enough of it may be secured as a desk for this very platform. If it were here at this moment, my manuscript would have a most congenial resting place."
In this same speech Mr. Winthrop referred to the fact that Brookline had never been without a bearer of the Aspinwall "name and blood." Of the first generation born in this country, brief mention should be made.
Samuel was drowned in the '"Cambridge" River near Elliot's Island, in 1727. He went out in a canoe with three others to gather oyster shells. Leaving the others, he attempted to come ashore alone, and in so doing caught his paddle, fell out of the canoe, and was drowned.
His brother Peter left Muddy River in 1686, and was one of thirteen men "to spy out Woodstock." . He settled on land which later became part of Connecticut, and eventually his brother Nathaniel followed him.
Thomas went in 1690 on the expedition of Sir William Phips against Canada. While there Thomas was "castaway on a vessell on Barn Island and perished."
Mehitable was said to be a "doctress" and never married. She died at the Brookline home, date unknown. Elizabeth married twice, and was the second wife of her second husband. Daniel Draper of Dedham. In these early days, it may be noted that even the most devoted husbands or wives, when widowed, married another partner without much delay. Was this because the struggle for existence made such demands upon all members of the family unit that a husband or wife could scarcely function alone?
Of the five younger children, Job and Timothy died young, and Mary married in the conventional way. Joseph and Eleazer were twins, but were apparently of very different temperament. Eleazer was a brick manufacturer. A quotation from the Journal of Dr. William Aspinwall tells us that Eleazer Was "a passionate man, a hard laborer, apparently religious, but wilful and too much governed by a bad wife-a strong man at argument. He died in the field, with his hoe in his hand."
The twin, Joseph, was certainly the unconventional member of the family, and perhaps the least stable in character and disposition. His story may be found to be more Interesting if it is explained at this point that Joseph is the Aspinwall from whom Franklin Delano Roosevelt is descended.
Probably a head-strong youth, Joseph went to sea before he was of age. He was married three times, was imprisoned for debts, had two sons and possibly other children, travelled widely, at one time owning a vessel for foreign trade. Late in life, he returned to the old home in Brookline, and died here at about seventy years of age. "He was of middling stature, well proportioned and very genteel and something handsome; he was very passionate, very gay, facetious, good company and always loose and exceedingly careless of his own and children's affairs."
Joseph was an Episcopalian. He subscribed one pound, two shillings toward the completion of the steeple of Trinity Church in New York City. It was said that he kept a shop in Seabrook, Connecticut in 1711, and later was burnt out. Whether this misfortune is in any way connected with his eighteen months imprisonment for debt can only be conjectured.
In the next generation, Thomas, son of Samuel, concerns us here. Not much has been written about him, save that he was a lieutenant in the company commanded by his father. He lived and died on the farm. However, he had the distinction of being the father of Dr. William Aspinwall, a distinction which anyone would proudly claim. Since undertaking this study, the writer has been thrilled to be the great-great-great-granddaughter of so noble a character, so upright and devout a man.
Much has been written about William, born in 1743 in the old house, -- later Doctor Aspinwall, so important to Brookline citizens of the eighteenth century. He entered Harvard in 1760, then went to Killingworth, Connecticut to study medicine under a Dr. Benjamin Gale.
The young man attended medical lectures in Philadelphia, and after completing his course, visited his relative, John Aspinwall at Flushing, New York. John wrote the following to Thomas Aspinwall in Brookline: "I have now the pleasure of writing to you by your dear son, who returned from Philadelphia to my house yesterday, by whom I received a letter from Dr. Bond, of his great ability, and the great pains he had taken in his studies while there; he is of opinion that he will be an honor to the profession, and to the family, from which he is descended."
When William was twenty-six years of age he started to practice medicine in his native village, no physician having settled in Brookline before him. His practice was not confined to the town, however, for he sometimes covered forty miles in a day, riding on horseback and carrying his medicines in saddle bags. Picture him administering to the sick, a man of six feet, "strongly built, and without any tendency to corpulency even in his latter days." In childhood, be had lost the sight of one eye through an accident with a bow and arrow. He took part in the Battle of Lexington, where, it is said that he bad to fire from the left shoulder because of his eyesight, but was nevertheless a good shot. He soon turned his efforts to medical work, saying that he would rather save Yankees than kill British!
He established two hospitals for the inoculation of small pox, a great plague in those days. Patients came from distant points to be inoculated and to remain in the hospital until the illness had passed, to go forth immune and safe. Dr. Aspinwall was loved by children as well as adults.
Mr. William Allen, when a grown man, recalled his experiences in the hospital as a child, and told how the kind doctor carried him around the farm showing him the farm animals, and telling him stories. "In short" he wrote, "I became so fond of him that 1 asked my mother to say to him that he might inoculate me as often as he had a mind to, and when at last the time for our departure arrived, and we had been smoked all around, and he kissed me as he put me into the carriage, I bawled out loud; and I truly believe the good old gentleman was gratified by this unmistakable evidence of my affection."
Religion was of great importance to the doctor, although his religious life was not dependent on forms and ceremonies. He lived and worked for the comfort and betterment of humanity.
September 25, 1814, he writes, "Informed Thomas (his son) was wounded ye 17th, and lost an arm. October 12th received a letter from Thomas, giving an account of the battle, and of ye loss of his left arm, dated October 3rd." Immediately below this entry, on the same day, and without any comment upon; this important event, are the words: "Buried Dido." Dido was a favorite dog, whose illness and death are recorded elsewhere in his diary.
Sorrows afflicted him from time to time, and late in life he lost his sight completely as a result of a cataract on his good eye. When blind, he was said to exercise by walking back and forth in his main hall, using cords attached to the East and West doors as guides. He must have had wonderful memories to sustain him during this time, for his life certainly contained deeper satisfaction than that of the average man. His wife, Susanna was said to be "a woman of marked individuality, of dignity and refinement, of fortitude and sensibility."
The early part of their married life was spent on the Aspinwall Farm, in the second house, built later than the original dwelling. All the children were born there except Augustus and Susanna who were born in the old house. Early in the 19th century the doctor built a house on Gardner Road, Aspinwall Hill, and it was in this house that his, youngest daughter, Susanna, was married to Lewis Tappen. In regard to the doctor's children, they were Juliana, who remained single all her life, and to whom Lewis Tappan's letters were addressed; William Augustus, who lived less than one year; William; a physician like his father, who died in the prime of life; Thomas, who lost his arm at Fort Erie in 1814, and later was appointed U. S. Consul at London for a period of thirty-seven years; Augustus, who occupied the doctor's house on Aspinwall Hill, and cultivated roses as a hobby. He was a merchant dealing in teas and spices with an office on State Street, and often carried roses to friends on his way downtown with horse and chaise. The next child, Samuel, lived a short life, and passed from this world when less than four years old. Susanna was the last of William Aspinwall's children, and her wedding to Lewis Tappan of Northhampton took place on September 7, 1813. Fortunately for their descendants, Lewis Tappan described this marriage, and his wedding journey in a few informal letters to his sister-in-law, Julia. Happily, for us, these letters have been preserved, and excerpts from them are given here. He apparently wrote the events of each day, and later sent these notes to Julia at the suggestion of his wife. Forty years later he added a postscript, describing the actual wedding day, and parts of the trip not recorded in the earlier letters. Here is his first entry:
Tuesday, 7 September, 1813
. Left our friends at Brookline, in Horse and chaise with mingled emotions of fond regret, and cautious anticipation-friends dear to our hearts-and entering on a new and interesting portion of life. We can say with St. Paul, "I thank God, and take courage." The afternoon was sufficient in length for us to arrive at Framingham, where we arrived at 5 o'clock, and stopped at Eaton's (late Wheeler's). This Inn, once so noted for neatness and comfort, we must needs say has changed its character with its landlord. Sour bread, offensive cheese, and slovenly attendance! but "I says say I", King Solomon judged accurately of the human heart, when he remarked, "better is a dinner of herbs where love is than a stalled ox and hatred therewith." We read in our brother Pierce's Journal, which lie sent to my father for perusal-and Tuesday evening's reflections and prayer from a small work called "Devotional Exercises" presented to us by our good brother and pastor. I played backgammon for the first time.
8 September
. After breakfast we took leave at 8 o'clock this charming morning, and rode to Worcester on the old road, thro' Marlboro, and Southboro. Read in D. Exercises, and "Paradise Lost." We dined at Col. Sike's inn at Worcester, where I met some friends en passant in the stage. At '2, we left Worcester to ascend to Leicester. That pretty village, situated almost oil the clouds, was an object of much interest to S. as her brothers were formerly at the Academy. Two companies of militia were on the common training as it is called. We stopped but a moment, owing to the throng around the tavern. Soon we came to Prospect Hill, as a tine seat is called a mile this side the village. We were now on the most elevated ground between Boston and Connecticut River, and the prospect was distant on all sides. At 5 1/2 o'clock we arrived at Jenk's inn at Spencer-having rode this day 35 miles. This was the place where L. slept first from his parent's house on his visit to Boston in 1803, and in the same chamber.
9 September
. The weather appeared lowering, we did not start till 10 o'clock. The ride from Brookfield was new to us both-and although considerably hilly, very pleasant. We dined at Brimfield, a handsomely built town-and an excellent hotel. In the afternoon we were caught in the rain, which was severe, but we arrived at Stafford Springs before dark, having rode today 31 miles. The hotel at the springs is a large and showy edifice, and appears in a valley from a high hill we descended, quarter of a mile distance. We found the hotel filled, and poor accommodations; and after much difficulty and time we took up with such as were offered. At supper there were about 40 persons, all healthy and genteel people. They looked at us with inquisitiveness, and agreed, as it afterwards appeared, to adopt us into their sociable family.
10 September
. Mr. Jos. Coolidge and wife, of Boston, arrived. S. got acquainted with Mrs. C. and we were delighted with such a happy and respectable old couple. They reminded us of such people as Addison's Sir Roger de Coverley. As Mr. C. brought a Boston newspaper, containing our marriage, it was soon buzzed among the boarders; who till then had supposed us to be brother and sister. Mr. C. and wife were very attentive to us, as were the rest of the visitors. The prinicipal part of the visitors appeared to belong to the same party, and were as we were told, quakers; although their dress did not indicate it. They were dressy, and free-what are called "wet quakers". The party went to ride in the afternoon, while we took a short excursion, up one hill, and down another-and returned heartily fatigued with our attempt to "take a ride". Towards evening the gentlemen and ladies returned, and made many apologies for not inviting us to accompany them, in their ride to the "furnaces", a miserable place they went to see. They had made arrangements for a ball in the evening, and had brought home a fiddler with them. We were politely requested to join, and consented. We had a charming dance, and S. led the first with a jolly young quaker. Some of the quakers declined dancing, but drummed with their feet to show their hearts were taking a "Pidgeon wing". S. took the palm in dancing and many were the encomiums bestowed upon her after she had returned. There was a Mr. Minturn of New York, who made much amusement,, by his drollery and sport; we both saw in him a strong resemblance to Mr. Hall of Boston. Mrs. Minturn had been a quaker, but was "read out of meeting" for wearing earrings-pink ribbons-and curling her hair. She is a charming woman. Mr. Professor Williard of Cambridge was there, a solitary man, who appeared to take no interest in anything but sat dreaming of algebra and greek. The hotel is a well constructed house, but the rooms intensely warm. The first spring was a short distance from the house, and near the bathing houses. The waters are chalybeate, very cool and refreshing. In bathing they tinge the skin; which should be avoided by washing the face and hands afterwards with fresh water. There is another spring of sulpherite waters; and as my horse "Bob" had been a long time afflicted with the horse distemper I ordered three pails of this water each day for him. Over the ladies' bathing room is painted "Procul abeste profani."
*
September 11
. We joined the principal part of the visitors in bowling at a place near the house; at which S. beat all the ladies. In the afternoon we all took a ride 3 1/2 miles to a place called "Diamond Rock". After arriving at the woods we fastened our horses, and walked quarter of a mile to the rock. It is a romantic spot, and takes its name from a shelvy rock, in which are stones resembling diamonds. Winding down this rock we came to a fall of water, very fanciful. Here we partook of some wine, brought from the hotel by a servant. We all held our heads under the fall, and it was refreshing this warm afternoon. Afterward we took a walk on the margin of the little river, and returning to our horses, gathered some diamonds. After tea walked to the sulpherite spring. S. and Miss Minturn had a race, in which S. gained the victory, though Miss M. ran with: spirit. Returning found Mr. Jos. Hall jr. and Dr. Bartlett of Boston, had arrived. Had an agreeable chit-chat this delightful evening in the party, and some of the ladies sang some songs. Read a Boston newspaper, which was a treat to me.
September 13
. Had a merry breakfast, and we set off first. Rode to Munson, a very pretty town in Hampden County, Mass. The road was quite pleasant; the day warm, but good air. The cake and fruit put up by our good mother were delicious, and very apropos. Our ride to Belchertown was very fatiguing to Bob, owing to the heat. Rode slowly, and stopped often. Gave Bob a piece of wedding cake, disguised in some chestnut leaves. At Belchertown had good dinner. We were now on the old road again from Boston to Connecticut river. Had a pleasant ride to Northhampton. On approaching my native town my heart thrilled with rapture; and S. thought the views and scenery beyond anything she had before seen. Just: at entering the town put chaise top down, touched with a spice of pride, at gallanting my wife into old Hampden. On stopping at my father's venerable old mansion our friends ran to receive and welcome us, which they did in the most cordial manner. Our sister Stoddard and husband came down, in evening, to see us. Also Dr. Hunt called to see us and Mr. Whitney, my good friend-arrived at 5 o'clock, 39 miles ride. Wrote few lines to sister Julia.
September 14
. After breakfast took a walk with S. and Eliza on "Round-hill", whence there is an extensive view of the meadows, Connecticut river, and especially the mountains, far famed. Called at Sister Edwards, who brought forward her choice things to feast us. In afternoon our sisters and Mr. Stoddard took tea with us, and past evening. Mrs. Stoors and Miss Hunt called to see S. My little nephews all came to see their new aunt.
September 19
. Went to meeting. Mr. Williams preached a funeral sermon on the deaths of several persons. S. never looked so well, "thinks I to myself". In afternoon we heard Mr. Wright preach. Sister E. and husband called in, also D. I. Whitney. S. called to see Mrs. Stoor's. Packed up our baggage.
September 20
. Thick fog this morning. Rose early; but did not leave till 9 o'clock, when it began to clear, called at our sister's house en passant. Sister E. put up some fruit for us. S. rode in my great coat first 5 miles. Took an affectionate leave of our friends. Ascended to Chesterfield. Dined at Worthington. Such hills S. never before saw. Dined with a couple whom we took to be lovers; and were much amused with their manners. S. walked up several of the long hills. Stopped at Peru, a town touching the clouds. There was a "training", and the place "all alive". Rode to Hinsdale, where we stopped, 30 miles ride this clay. Intended going to Pittsfield, but the injunction of Dr. A. "not to ride evenings," darted across my mind.
September 21
. After breakfast we rode to Pittsfield-a delightful morning. Took a walk to see the barracks, where Thomas A. was stationed. Met William Sumner. Tarried an hour. Ascended a hill 4 miles long; and descended Lebanon hill 3 miles over. The prospect from this hill highly romantick and extensive. S. walked quite down the hill. Stopped at the hotel at L. Springs-entirely deserted by company. The bathing quite luxurious; waters milk warm. After dinner took the landlord's horse in our chaise, and rode to Canaan, the village of the Shaking quakers-a neat place. At the "office" we purchased several articles, particularly a nest of boxes and pinball for Mrs. Helyer.
September 22
. The waters here are very enervating. At 10 o'clock we left Lebanon, and rode 10 miles to dinner.' We tarried two hours. In riding today I read Cumberland's play "Wheel of Fortune". Had a charming ride. Just east of the Hudson river came to Greenbush, the place of encampment for the army. The barracks are situated on an immense hill, and make a showy appearance. Albany appeared to great advantage as we came in sight of it from the hill near the river. At the ferry we waited some time for the return of the ferry boat, and amused ourselves viewing the scenery and steam boat, etc. etc. Arrived at Gregory's Hotel at Sunset and took a very pleasant room, in view of the noble river, Met Mr. Tracy, particular friend of bro. Arthur and wife.
September 23
. Have this moment returned from a most delightful ride to the falls. Rode up the river and passed the princely mansion of General Van Rensellear, who is called the "Patroon"-the road is on the bank of the Hudson, and is very pleasant. Ten miles ride brought us to the falls which are on the Mohawk River, just above its mouths. The falls are about 35 feet, over a ridge of rocks which run directly across the river. The appearance to us was novel, and to all,, grand indeed. Returning we passed the Mohawk on an arched bridge and took tea at a town called Waterford, as large as Charlestown. We then crossed another bridge over the Hudson River, and rode thro' the town of Lansingburgh, a pretty place,, also rode through the city of Troy, a neat and handsome town. Here we crossed the ferry by starlight, and came to our lodgings-after a highly gratifying ride. It was accident, our being out so late; but S. has not taken any cold, and I put down the late hour of our return thru' a principle of honor.
Albany, 23 September 1813
Dear Julia,
Susan compliments all this parcel of nonsense by saying it will amuse her friends, and that I must send it to you. It has been written as is apparent enough, in great haste, and consequently there are gross errors. We take the steamboat for New York on Saturday, it is 160 miles from this City-and 24 hours' sail. You may expect to see us by the 15th October; and we think it will be impossible to be at home before that day. 8. has enjoyed excellent health, and I am very much flattered to hear her say that she is gratified with the tour, and not "home sick".
Finally, Lewis Tappan wrote this entry in the little journal:
FORTY YEARS LATER
Lake View Water Cure, Rochester, N. Y. September 7/53
Forty years ago (Sept. 7/13) was my wedding day. I was, boarding with my brother John, who occupied the old Lucas house, near the present Reservoir, Brookline, Mass. My room was on the lower floor, the east end of the house. The day was clear, and moderately cool. Very early I was up and seeing, to my horse and chaise. I had a strong black horse called "Bob", and intended performing my wedding journey with him. In due time I took leave of my brother and his wife, and rode over to "Mount P-" as we called Dr. Aspinwall's place. I was dressed in a blue broadcloth coat, with brass buttons- white jean pentaloons-white marseilles vest-a white cravat -white silk stockings-and shoes, I took over my black leather travelling trunk, half filled, for my wife to put her clothes in. Twelve o'clock, noon, was the hour fixed upon for the marriage service. Between 11 and 12 I went, in my chaise, for my brother in law, Rev. John Pierce, and told him he must put on his silk gown and bands, which he did and I took him to Dr. A's. At 12, the family and near relatives assembled in the S. E. parlour. S. A. T. and myself were seated on a sofa at the N. side of the room. She was dressed in her travelling dress, of India nankeen, white kid gloves, etc.
After the ceremony we received the congratulations of the friends present. Soon all but the family left us.
We dined in the back room, now used as a passage way.
At 2 o'clock we bade adieu to our friends. Mrs. Aspinwall looked at us with deep emotion. T said, "I hope your daughter will never have occasion to regret taking this step." She replied, with her eyes full of tears, "She has been a dear daughter to me."
We stopt at the Parsonage to bid adieu to Mr. and Mrs. Pierce. He gave us a small manual of devotions, with his parting blessing.
At Albany, I put "Bob" on board a sloop for New York. We went in a steam boat, commanded by Capt, Bunker, afterwards so well known as a leading captain of Steamboats on the Sound. Our passage money was |7 each. At New York we stopt at a boarding house kept by Mrs. Keese, at the corner of Wall Street and Broadway. A bank now stands on the site. The Old Trinity Church, built the year I was born, since taken, down to make room for the present magnificent structure,, was nearly opposite. "Bob" arrived at New York before us, tho we left Albany the next morning. We staid here three weeks.
During this time S. A. T.'s miniature was painted by Brown,, an artist in John St. He was recommended to me by Luther Bradish, who then boarded at Mrs. Reese's, and has since been Lieut. Gov. of the State. He pronounced it a good likeness-Brown's charge was $70.
We at length left New York, and went to New Haven,, Hartford by the turnpike, and then took the Hartford and Boston turnpike, arriving at my house in Pearl Street, October 10/13. My house where Scudder & Co's, hardware store now is, about 30 Pearl St. Here sister Julia and brother Augustus, were waiting to receive us. Part of the furniture had been put into the house before we left Brookline, and the rest during our absence. Dr. A. gave his daughter furniture to the amount of, $1100 and I purchased furniture to about the same amount. Being war time furniture was very high priced.
Soon after our return we had a little party, at which my parents were present-my mother's sister Webb and 'her aunt Waters, then upwards of 90 years old. And now, on this 40th anniversary, I have written down these particulars, which may be interesting to my children. My dear wife, the principal person present Sept. 7/13 is not here to unite with me in commemorating this day, but I am thankful that she was spared to enter the 40th year of our married life, and that God made her so rich a blessing to me and our children.
I am here today, with my daughters Julia and Georgiana. Forty years have gone! How full of events prosperous and afflictive. God in judgment has remembered mercy. He has not dealt with me, or mine, according to our sins. He is a God of love. Blessed be His holy name. "Lord, thou hast been our dwelling place in all generations. Thou turnest man to destruction, and sayest, Return, ye children of men-So teach us to remember our days, that we may apply our hearts unto wisdom-Make us glad according to the days, wherein thou has afflicted us, and the years wherein we have seen evil. Let thy work appear unto thy servants, and thy glory unto their children. And let the beauty of the Lord our God be upon us, and establish thou the work of our hands upon us-yea, the work of our hands establish thou it," Amen!
LEWIS TAPPAN
REFERENCES
Original letters in the possession of Lewis Tappan Holt, Winter Park, Florida.
Aspinwall Genealogy-Algernon Aiken Aspinwall.
Aspinwall Records-Edward A. Bowen-MSS-(New England Historical Genealogical Society).
Sargent, Lucius Manlius-series of articles on Dr. Aspinwall, Boston Transcript, 1857.
American Medical Biography-James Thacher, M. D.-1828.
Held at the home of Dr. and Mrs. Walter S. Bunage, 182 Walnut St., on May 17, at 4 P.M. About 75 persons were present. Pres. Little presided and welcomed the members to the famous Philbrick House.
On recommendation of the Membership Committee the following new members were elected: Mr. Robert I. Hunneman, Mrs. Roger Preston. The amendments of the By-laws, explained at the last meeting, were duly approved. It was voted to approve the expenditure of foO for the erection of a bronze marker on the site of the famous Punch Bowl Tavern if the special committee appointed for the purpose could make the necessary arrangements. Notice was given of the next meeting of the Bay State Historical League at Hingham June 11 and of the new book on old houses in Brookline by Mrs. Little, which will be ready for distribution next month.
The President introduced the following speakers: Mr. Gorham Dana who read a short paper on Land Ownership Oil Walnut St. 1636 to 1855; Mr. Henry Ware who spoke on Reminiscences of Walnut St. and Dr. Walter S. Burrage who gave the story of the Philbrick House.
The meeting adjourned at 5:30 after expressing thanks to the host and hostess.
by GORHAM DANA
In 1921 the Brookline Historical Society published an article on "Land Ownership in Brookline from the First Settlement." This contained ten maps dated 1636-41, 1667, 1693, 174.6, 1786, 1822, 1844, 1855, 1888 and 1916. The list of owners of land on Walnut Street taken from the older maps may be of interest.
1636-41
. No streets were shown on this map, but the Walnut Street area was apparently all owned by Thomas Oliver and Thomas Leverett. The Roxbury boundary followed along what is now High Street to the Village, instead of along Muddy River.
1667
. Sherborn Road, now Walnut Street, was shown on this map, the laud on the south side of it was owned by John White and that on the north side by Thomas Gardner.
1693
. On this map, the land on the south side of Sherborn Road from the Village up to about Cypress Street was owned by Benjamin White, and that above by John White. On the north side Joshua Gardner owned the land from the Village to near Kennard Road, and that above belonged to Thomas Gardner.
1746
. The Benjamin White land on the south side was then owned by Edward White, and the John White property above by Samuel Clark. On the north side Edward White owned land from the village to about half way to Cypress Street. Rev. James Allen, the first minister of the First Parish, organized in 1717, owned a strip of land from there to about Kennard Road. Cypress Street shows on this plan for the first time.
1786
. The Edward White land on the south side was then owned by Benjamin White, and the Clark land remained in the family. On the north side Benjamin White had the Edward White lot, and Benjamin Davis owned the land to Cypress Street, while that above was owned by Edward Kitchen Wolcott and John Lucas.
1822
. On this map Boylston Street is shown for the first time, and the land had been divided into smaller lots. On the south side, starting from the Village, we find three lots ending at Cypress Street, namely, Oliver S. Whyte, John Tappan, and Rev. Henry Column. Beyond this the land nearly to Warren Street was mostly owned by heirs of Samuel Clark. On the north side the ownership starts with the Estate of Thomas White, then Heirs of Samuel Clark and Mrs. S. Clark up to Cypress Street. Above this Timothy Walley owned to about Kennard Road and T. W. Sumner owned to Warren Street.
1844
. The town line was shown along the present boundary of Muddy River instead of down High Street. The ownerships along Walnut Street, beginning at the village, south side, were O. Whyte, Philbrick, Guild and Atkinson; on west side of Walnut Place, Kendall, Clark, and Pierce. On the north side: White, Brewer, Ewing, Emerson, Carr. Beyond Cypress Street were Bird and Dr. Pierce.
1855
. The Brookline Branch Railroad is shown on this plan. Walnut Place is extended with houses of Slocum, Amos Atkinson and G. Atkinson shown on the extension. The Guild house is about where Dr. Newell's house now stands. Along Walnut Street the houses are labeled Ward, Wm. Dearborn and Kendall. The extension of Cypress Street is shown not quite in line with the old section. West of this is the old Clark property, and a Perrin house at the corner of a short street now Perrin Road. On the north side of Walnut Street are many houses not all labeled. Beyond Cypress Street the houses are labeled John Bird, Jesse Bird, Knapp, J. M. Howe, George Bacon. The reservoir shows for the first time.
The Church of Christ, later known as the First Parish in Brookline, was built between 1714 and 1717 on the north side of Walnut Street opposite the present Pierce Hall on land now partly in the parsonage grounds and partly on land to the west. The land was purchased by the Town from Caleb Gardner. This building survived until 1806 when it was replaced by a much larger edifice across the street on the site of the present edifice. The architect was Peter Banner, an Englishman, and it was described as "an elegant meeting house said by many to be the handsomest in the state." It had 74 pews on the floor, 14 in the gallery with a little pew for negroes over the singers' gallery "in which sat 'Black Susy', a well known servant in Captain Crofts family, and other dark-skinned outcasts." It cost $18,000.
The third meeting-house with a tall steeple, on the same site but facing down the street, was built in 1848, and the present beautiful stone edifice in 1893.
The original second school was located in the triangle on, the corner of Walnut Street and Warren Street. This was replaced in 1825 by the present stone Pierce Hall, used originally as the Town Hall and public school.
The early ministers of the First Parish occupied a house on the south side of Walnut Street, about where Cypress Street is at present. This house was damaged by fire in 1781.
The two tablets in the triangle at Walnut and Warren Streets commemorate the 200th anniversary of the setting apart of the Town and the planting of the Heath Elm.
by HENRY WARE
To such a learned group of historians, it is unnecessary to state that the very earliest maps of Brookline which showed any roads at all showed that when the road from Roxbury reached Brookline Village it forked. If you took the right hand fork, you would follow the road that now goes up over the railroad bridge and on, through our Harvard Square, either to Cambridge or to Watertown. If you took the left hand fork, you would be on the old Sherborn Road, which is our Walnut St. Thus, as Walnut St. was in existence before the first such maps were made, we might well say that, speaking topographically, the old road was prehistoric.
The Sherborn Road runs along the side of a hill. High Street Hill slopes down to the valley where the railroad track runs, and the road, instead of following the valley, struck off more to the left and skirted along the hillside. If you try to build a road along the side of a sloping surface, you will, of course, have to cut into the bank on the upper side, in order to make your roadway level. And that is why you will find either stone retaining walls or sloping high banks on the left hand side of Walnut Street almost all the way to Cypress Street, with a corresponding absence of walls on the right hand side. An exception is the wall on the right opposite the end of Walnut Place, where a spur from the hill strikes off to the north and ends in that high mass of rock on Boylston Street, just beyond the Lincoln School.
Others are more competent than I to take Walnut Street from prehistoric days, and show it to you through its period of over two centuries. But it might be of interest to get a glimpse of it in the early 80's, as it comes back to the recollection of one who was then a boy getting into his teens.
If you wanted to talk to some really old timers who have seen Walnut Street for a good many more years than I have, I would refer you to those two old oak trees on the edge of the sidewalk in front of Mr. Albert Brigg's house, just west of Walnut Path. I do not know how far back they go, but when I first knew them, they looked about as big as they do now. There was another big oak tree just beyond them, apparently of the same vintage, but that had to come down in the interests of public travel. However its child still lives. In the early 70's it dropped one of its acorns near our little brick house, where Mr. Daniel Snow lives now, and that little acorn began to grow at about the same time with a baby boy in that little brick house. That baby boy has grown to rather more than average height, but he is far behind in the race with the little oak tree, in spite of the fact that our horse post was near by, and the little oak tree had its head eaten off more than once. If you are interested to see how an oak will grow in seventy odd years, take a look the next time you pass Mr. Snow's house.
Other old trees which used to line Walnut Street when I was a boy, but which have since been taken down, include a row in front of the Chester place not far from the present Oakland Road, but on the right hand side going from the Village. I remember seeing one gray squirrel chasing another in one of those trees. The leader scampered out on a limb high over the street and jumped to a tree on the opposite side. The second squirrel missed his jump and fell to the street, but he was on his feet in a twinkling and up the face of the stone wall. Perhaps it is the memory of these squirrels and the arch of the big trees spanning the road that now makes that part of Walnut Street seem to me a bit lop sided. One side of the arch has been taken away.
If you will come with me back to the early 80's, we will stroll up Walnut Street beginning at the Village.
The present fire station stands on a triangular plot, with its rounded point headed towards Roxbury. Around that point was a block of wooden houses coming right out to the line of the sidewalk. This was called Whyte's Block. As I remember them, the houses were only about two stories in height; modest little homes for people of moderate means.
On the other end of the fire station triangle, that is, on, the part along the lower end of High Street, there was a blacksmith's shop,-a real blacksmith's shop, with a forge, and horse shoes hanging on the walls, and the smell that comes from putting a hot horse shoe on a hoof. Woodward's blacksmith shop was not to be forgotten.
In the middle of the triangle, between the blacksmith's shop and Whyte's Block was a fire station, much smaller than the present fire station and housing, of course, only horse-drawn apparatus. However exciting may be the sight of a present-day piece of apparatus, roaring along With its siren wailing, it lacks something of the picturesqueness and stirring quality of the appearance of a pair of splendid great horses wheeling out of the fire station and galloping off with an engine, or a hose wagon behind. The old fire station fronted on Village Square, but those splendid horses at the back of the building looked through their little windows out on Walnut Street, so we can well include the old station as a part of our story.
Before proceeding up Walnut Street beyond High Street, let us go back to our starting point in Village Square and take a look at the left hand side of Walnut Street, across from Whyte's Block. There, on the corner of Morss Avenue, were the car barns of the street railway. Except for an extension, track which ran up over the railroad bridge and out along Washington Street as far as Park Street, the car barns were the terminal for the Brookline street cars. Sometimes a car would start from the very door of the car barn; sometimes it would pull out into Walnut Street and wait there for its passengers.
It was a long trip to Boston by street car in those days. Huntington Avenue was not yet open, and the cars went over the hill by the Mission Church, down to Roxbury Crossing, and then all the way in over Tremont Street to the old Tremont House, just beyond the Granary Burying Ground in Boston. Like the fire apparatus, the cars were drawn by horses, and the horses for the Brookline line were housed in the rear of the car barns on Walnut Street.
How the old familiar horse car phrases come back! Painted under the roof of the front platform was this instruction to the driver,-"Walk your horses on curves and switches." To the present generation I suppose the words "four horse time" are utterly meaningless. What possible connection is there between time and four horses? Well, for those of you of the post horse car era, here is the answer. A horse car was ordinarily drawn by a pair of horses. To maintain a running schedule of a certain frequency, say, once every ten minutes, they had to have a certain number of horses housed in the Walnut Street car barns. In winter, when snow or ice made the pulling harder, they would put on an extra pair of horses, four horses to a car. But with only a limited number of horses available, doubling the number for each car meant halving the frequency on which the cars ran. So the winter timing acquired the name of "four horse time."
The car barns covered a large area, but there were also two or three houses on the left hand side of Walnut Street back of the fire station triangle, before you reached High Street. There was no Union Building.
Just across High Street, Walnut Street looked very much as it looks today, and was just as cold on a windy winter day. On the left were the two brick apartment houses (then called hotels,-Hotel Adelaide fronting on High Street and Hotel Kempton fronting on Walnut Street), and on the right was Mr. Quinlan's carriage factory. (That factory, by the way, was famous for the good carriages Mr. Quinlan turned out, and Mr. Quinlan himself was one of the grand, old substantial citizens of Brookline.) One change has taken place in the factory buildings. Although the building on the very corner of High Street is the same, the adjacent brick building further up Walnut Street was not there, but in its place was Mr. Quinlan's blacksmith shop. The forge and the anvil were as fascinating to us boys as Woodward's blacksmith shop, but it didn't have the smell of a real horse shoeing establishment.
Now we come to a stretch where there have been great changes. The old road of the 80s would not recognize itself today. There were none of the present wooden apartment houses, either on the right hand side as far as the brick block of three houses opposite Upland Road, where Mr. James Driscoll now lives, or on the left hand side all the way to and beyond Irving Street as far as Dr. Burrage's driveway. Instead there were, on the right, two or three small single wooden houses (including one that always interested me because it had a real door-plate, reading "R. Woodward," who you remember, was the blacksmith, and also the large square wooden house that is still standing, now squeezed in between the new apartment houses. When, however, we come to the brick block, we strike a stretch of Walnut Street that has undergone very little change in appearance since the 80s.
So let us go back to the left hand side of the street and begin at the brick Hotel Kempton, near the High Street corner. There was not a house fronting on Walnut Street all the way from the Kempton to Irving Street, unless we count the old Wright house that stood back on the hill almost as far back as the present Acron Road. Except for the two so-called "hotels" at the corner of Walnut and High Streets, the entire angle between those streets, as far back as what are now Upland Road and Acron Road was the big, open Wright place. Between Upland Road and Irving Street there was no house until you came to Mr. Arthur Mills's house on Irving Street, opposite the end of what is now Maple Street. Between Mr. Mills's house and Walnut Street was an open field, and that was our baseball field. Home plate was near Walnut Street and occasionally, but only occasionally, a mighty swatter like Waldemar Curry could land a ball on the roof of the Mills's piazza.
If you will think of Walnut Street just before you reach the corner of Irving Street you will remember that there is a stone Avail along the line of the sidewalk. I suppose that stone wall was really no higher sixty-five years ago than it is now, but to a small boy who was playing catcher behind home plate and let a ball roll by him and over the wall and down into Walnut Street, that stone wall looked awfully high after he had jumped down into the street and picked up the ball.
I wonder if anybody here can tell where Harvey Street led off from Walnut Street. I had forgotten all about the name until I saw it the other day on a plan. And who knows where Walley Avenue was? Mrs. Dr. Denny does, because she used to live on Walley Avenue. If any place is named a "street" or an "avenue", you may be pretty sure that it has a certain' amount of antiquity, and that it dates back before the time when the town went on an orgy of calling everything a "road". If Harvey Street and Walley Avenue ever had any street signs, the signs have been taken down and those that have been put up in their place read "Upland Road." Harvey Street was the part running from Walnut Street to Irving Street, and Walley Avenue was beyond Irving Street.
Going back to the right hand side of Walnut Street, there have, as I said, been very few changes all the way from the brick block nearly opposite Upland Road as far as the Chester place opposite Oakland Road. The little wooden house that stands next to the brick block was where a bright eyed, dark haired lady we used to call Madam Withington kept a school. Another small school (and I was once one of the only two little boys in this school of little girls) was kept by Mrs. Post (one of the sweetest little ladies this town ever knew). Mrs. Post's school was in one side of the double brick house which we reach shortly before coming to Walnut Path.
Ah! Walnut Path! Now, a spacious town foot way, 10 feet wide, paved and (comparatively) clean. Cut the width of this path in half, then take a foot more off that, reducing the width to 4 feet, build a high solid wooden fence on each side, and you will have what, to the eye, is a reproduction of old Cat Alley. But the real Cat Alley appealed to much more than to the eye. It appealed also to the nose and, to a certain extent, to the ear. It was a dark place at night and secluded, and not under the care of any street cleaning department. And the sound that it gave forth as you walked down it was a curious metallic ringing echo of your foot steps, due, probably, to the high fences on each side. The memory of that sound and that smell is still very vivid.
I hope some local antiquary will some day write a monograph on the origin of the name of Cat Alley. The name is immortalized in the records of the Registry of Deeds at Dedham, for the path is so designated on a plan drawn in 1890 by Mr. French, the Town Engineer. Mr. French knew his Brookline.
As to the next three or four houses beyond Cat Alley, most of you would say that their appearance had not changed. That would be true of the houses themselves. But that small boy that I told you about, who lived in the little brick house where Mr. Daniel Snow now lives, used to play, with his young friends, in the common driveway that served both the little brick house and the double brick house next it (Mr. Albert Briggs's). They were very little people who played in that driveway; so little, in fact, that when they played scrub, the baseball was rarely hit as far as the fence along Walnut Street, The driveway was used by both houses in common, because they both belonged to Mr. Philbrick, but in the final settling of Mr. Philbrick estate, the two houses were sold to separate owners and now a wire fence, dividing the driveway, has spoiled that ancient ball ground.
And speaking of Mr. Philbrick, let us cross over to the left hand side of the street and take a look at the Philbrick place. If I should try to make you see it as it was, I should have to tell you to wipe out of your minds Maple Street, the wooden apartment houses near the foot of Irving Street, and every house on that side of Irving Street until you came to the brick house just as you reach Upland Road. In place of the Irving Street houses imagine a high picket fence, painted dark red, running along Irving Street from Walnut Street to the brick house just mentioned. Behind that picket fence, picture a tall dense arbor vitae hedge and you will have a good idea of the Irving Street frontage of the Philbrick place. You must also wipe out of your mind all the other houses on the northerly side of Upland Road itself, excepting the southerly, or left hand, branch (going from Irving Street) until shortly after you pass Miss Chapin's house. Everything else toward Walnut Street was the Philbrick place.
The old stone house (from the outside) is just about as it was. The other stone house nearer Walnut Place long occupied by the Alfred Winsor family was also there, but otherwise the place was just a great open space,-except for one thing, one very important thing. That was the big Philbrick barn. And oh! what a playground that was in itself. If you were to put it back on the ground today, it would cover most of the Hunneman place and reach back about as far as the northerly part of Upland Road. And you would have to fill it full of old cobwebs and dried hay and farm tools and prize ears of corn hanging from wooden walls that have the brown sheen that conies only with age-old pine board. The main door on the lower level was behind the big house, but the land rises so rapidly as you go back to Upland Road that the side entrance opened directly on the upper floor, where Mr. Alfred Winsor kept his horse and carriage.
Before that dried hay ever got into the dusty hay loft, it was freshly mown hay piled in neat haystacks between the barn and Walnut Street. And of course you just had to turn somersaults in those hay cocks, even though big John O'Hare did chase you. I can see and smell the perspiration on his great bearded face, as his lumbering body came charging down at us. But he was a great kindly soul, and it wasn't quite fair to mess up his hay cocks.
Beyond the Philbrick estate comes Walnut Place, very much as it used to be in appearance, but now robbed by the automobile of one of its chief sources of joy. With traffic in Walnut Street as it is today, it would not be safe to coast down Walnut Place on a double runner behind Billy Searle but those who have not done so will never know the excitement of trying to negotiate the turn into Walnut Street without smashing into the stone wall across the way.
Now let us go on up Walnut Street to what is now Oakland Road. Here, too, if you would picture the place as it used to be, I must ask you to wipe a number of things out of your mind's eye. In the first place, eliminate those two blocks of stone houses which face Walnut Street, one on either side of Oakland Road. Then eliminate Oakland Road itself. Then go back to the large white house (the first house on the left of what is now Oakland Road) and turn it a quarter way around, so that instead of facing Oakland Road, it will face Walnut Street. There you will have the old Cobb house, sitting up on rising ground well back from Walnut Street, as imposing as its distinguished family of occupants.
From there on towards Cypress Street the changes have come mostly on the northerly, or right hand side of Walnut Street. The wooden three family and two family houses are all new, but behind the present three deckers the old Winsor house still stands (now occupied by Mr. McLeod, the mover). Remove the three deckers and you can easily picture the spacious setting for that big house.
Crossing Cypress Street and coining, on the right, to the comparatively recent group of brick houses on the corner and to the development of small wooden houses near the newly-opened Gushing Road, all of you doubtless remember the brown wooden house that used to stand near the corner, and particularly the larger yellow house beyond (with its show of wistaria) which you probably think of as the Harvey Gushing house. To my generation it was the Bennett house. There was no Kennard Road at that time, and the Bennett place extended as far as the Kennard place (where the Park School is now).
Both the Bennett place and the Kennard place contained a unique attraction. An open brook ran through them both, and in the Bennett place particularly they made a feature of it by widening it out into an attractive little pool. Then the brook swung off to the north and joined Village Brook near Brookline Hills Station. If you are tall enough to peek over the fence on Boylston Street, you can still see a part of this open brook, where it cuts across the rear corner of the place now belonging to Miss Rosamund Hunt.
Across Walnut Street, on the opposite side from the Bennett (or Gushing) place, there was the Taylor house on the corner of Cypress Street, and where there is now a group of small houses, were two houses, both coming down from the old Clark family. The larger and more recent house, directly across from the Bennett house was occupied by the Cutlers. The smaller house, on the corner of Chestnut Street, was one of the really old houses in Brookline. Unfortunately my mind was not at that time alive to observing old landmarks that were apt to disappear, so that I have only a vague remembrance of a little low house, evidently very old, with low studded rooms. Miss Maron Cutler, who is a descendant of old Deacon Samuel Clark, could doubtless give you a much clearer recollection of the old building.
Although the old Clark house is no longer standing, we still have in the neighborhood an interesting relic probably of Samuel Clark himself. Where the brick wall stands that now shuts off the view of the Park School from Walnut Street there was in my day a low stone wall between the sidewalk and the old Kennard place. Set into that stone wall was an old milestone, somewhat similar to those that were scattered about this part of the world by Paul Dudley; but instead of bearing the initials "P.D." (like the stone now in the grounds of the Harvard Church) this stone in the wall on Walnut Street bore the initials "S.C." It was within a stone's throw of the houses where Samuel Clark lived, and in all probability he was the "S.C." When Mr. Hugh Ogden tore down the stone wall and built the brick wall, he preserved the stone and had it set in the brick wall. You will find it there the next time you go up Walnut Street hill and then you will know that you are 5 miles from Boston,-but don't forget that if you want to check the measurement, you will have to go by way of Mission Church: hill, Roxbury Crossing, the old Roxbury meeting house in Eliot Square, and in over old Boston Neck.
When we leave Chestnut Street and go up Walnut Street hill, if we give our imagination a little rein, we begin to feel more and more the atmosphere of the old town. On our left is the burying ground, dating way back, and unchanged in appearance during the last 65 years. A little further on is the old stone building now known as Pierce Hall. In its original form, it was the old town hall, built in the early 1820's and soon used also as a high school. It later passed into private hands, and it was there that I went to a private school after leaving Mrs. Post's little school for girls. The school was in charge of a competent and rather masculine lady named Miss Rideout. Although she and our radio friend the weather forecaster. Mr. E. B. Rideout, spell their names the same way, don't make the mistake of pronouncing them the same. It was Miss R'dout's school.
At about the beginning of the present century Pierce Hall was incorporated into a group of connected buildings, constituting the home of the First Parish. But in my school days, it stood by itself, quite apart from the church. Built on to the rear of the original stone building was a wooden addition. In the upper story, the floor of the addition was raised well above the main floor, with a broad opening between that could be closed by folding doors. As you can see, this made a grand stage and a grand chance for private theatricals. Tall screens, as a rule, served for the simple scenery; but unpretentious as the setting was, the acting was apt to be good, and at times very funny, particularly when Mr. Edwin Lincoln took part.
Back of Pierce Hall were the church horse sheds; perhaps it would be more in keeping with the horse shed era if I said the horse sheds of the meeting house.
The meeting house itself stood where the present church stands, but it faced the other way. It faced clown Walnut Street instead of up Walnut Street. The church goers, after climbing Walnut Street hill as far as Pierce Hall, then had a last short, steep climb up to the front door of the church. By the side of the front door was the belfry, topped by a steeple, with the bell, the same old bell, up in the bell tower. That bell was rung, morning, noon and night, by the town, - doubtless a survival of the days, not so very long ago, when the parish was a department of the town and not a separate organization. At any rate, the thing that interested us school children was the fact that the bell was rung during our noon recess. The bell rope came way down to the ground floor, and after Barney McDonald had given it a good pull down, one of us would grab it tight and away we would go in the air as the bell swung back. Fortunately the ceiling was high.
The meeting house was of wood, painted brown, and behind it, about where the front of the present church is now, was a little wooden vestry, or Sunday School chapel. When the meeting house was torn down, this little vestry was moved to the back of the new church, and stood, at first as a separate building, where the present Sunday Chapel and minister's room now are.
On the other side of Walnut Street, across from the church, the adjoining land is well above the level of the street and there is a retaining wall of pudding stone along the inner edge of the sidewalk. I hope the children of today still hunt in that pudding stone wall for a little dark red stone no bigger than the end of your thumb; and I hope they still put a thumb over that stone and make a wish before they go on. I don't believe any boy or girl in my school days ever went by the place without stopping to thumb the wishing stone. It gave me a very warm feeling to receive a note from Mr. Prouty on note paper headed "Wishing-stone." The Prouty place during iny school days and for long afterwards belonged to the Poor family. The old house has been greatly altered.
From the top of the hill the present Walnut Street continues straight ahead, crosses Warren Street and drops down to the Reservoir and Dudley Street. There was no such extension of Walnut Street 65 years ago. The street followed the right hand road way and was Walnut Street (not Warren Street) all the way to Boylston Street. At the time of which I have been speaking the old Gridley house was still standing. Mr. Moses Williams had acquired the place, and in the middle 80's he replaced the Gridley house with the present house now occupied by Miss Hunt. Across the way, backing up to the Reservoir, was the old Bowditch place, running down as far as Dudley Street, with its old brown house standing on high ground and seeming to keep watch over the top of the hill.
At Boylston Street, the Walnut Street of my time came to an end; but I suppose the old Sherborn Road continued up Boylston Street, skirting what is now the Reservoir, and continuing over Heath Street out into the country. And so let us leave the old road, going calmly on its ancient way and on into the distance.
BY DR. WALTER S. BURRAGE
The land on which this house stands was part of one of the sixteen original grants initiated by the selectmen of the town of Boston in 1636. Included among the names of the six most prominent owners of these properties was that of Thomas Oliver. He was allotted 175 acres of this land, roughly triangular in shape and with its apex near the present Brookline Village and its northwestern boundary on this side of Walnut Street. Warren Street was probably its southern limit. The date of this acquisition is doubtful but is listed on the Muddy River allotment map in Curtis' "History of Brookline" as January 8, 1638. In all events, it preceded the so-called wholesale distribution of great allotments on June 8 of that year. Incidentally it may not interest my audience, but it is of some encouragement to your speaker that Thomas Oliver was a surgeon and that, in spite of this, he was at the time of his death at ninety a "lively pattern of old age."
In 1650 this land was acquired by John White and was subsequently owned in succeeding generations by Benjamin, Edward and again Benjamin White. It went, at the latter's death in 1790, to his two sons, Thomas and Oliver who, in turn, sold it to John Tappan. Tappan and his brother, Lewis, were architects who had come over from England not long before and who had collaborated in the building of several stone houses in Brookline, namely the Sewall house, the Arthur Blake house and the little stone schoolhouse known as Pierce Hall. The granite was secured at the Rockport quarries; was loaded on scows and brought by water to Boston. This house was said to 'have been the one hundredth house built in the town of Brookline. The general era of its building was sometimes called the "Brookline Old Stone Age."
Dr. Pierce's manuscript notes state that John Tappan moved in here on July 11, 1822. He did not remain long, however, but was succeeded by William Ropes in. 1827 and then, in 1829, by Samuel Philbrick. It is with this family that 182 Walnut Street is particularly identified, historically speaking.
Samuel Philbrick held various town offices and was well known and respected. He was a pioneer abolitionist, which took great courage in the eighteen thirties and forties when the anti-slavery movement was very unpopular in New England. An intimate friend of Garrison, Phillips and Theodore Parker, Mr. Philbrick was likewise in touch with anti-slavery people throughout the country. At the Philbricks' suggestion, the Grimke sisters, young and wealthy daughters of Judge Grimke of South Carolina, spent the winter of 1836-37 in this house to acquaint the people of the North with the danger which was even then threatening the nation. Their first audience consisted of Brookline ladies assembled in these parlors through invitations sent out by the Philbricks to friends and acquaintances. Public indignation against anti-slavery ran so high at the time that it would have been impossible to have obtained the Town Hall or one of the churches for this purpose. There was one exception to the feminine composition of the audience, however. That was the presence of John Greenleaf Whittier who was secreted in the coat closet which used to stand at the foot of the stairs. From this vantage point he was able to hear and observe the speaker but whether his concealment was to save the latter's embarrassment or his own has not been recorded.
During the winter of the Grimkes' visit Mrs. Philbrick was told of a free colored woman living in Boston where she was struggling to support herself and her child. The result was that a little ten year old colored girl was taken into this house to be made useful and comfortably provided for. On the Sunday after her arrival she was taken to the Unitarian Church with the Philbricks and seated in their own pew. Mr. Philbrick had already incurred much hard feeling by identifying himself with the hated abolitionists. A committee of the society waited upon him before another Sunday came around and he was requested - if he must bring the child to church, to keep peace among the congregation by seating her in the gallery where she belonged. This Mr. Philbrick politely but firmly declined to do. The following Sunday all eyes were focused on the Philbrick pew and sure enough there she was again. The committee returned to the attack the following day but on this occasion Mr. Philbrick told his visitors that if the little colored girl was not good enough to be received in God's House, neither was he - and he never entered the church again.
The Philbrick house was one of the principal stations on the "underground railroad" during this period. The celebrated William and Ellen Crafts were concealed in one of the back rooms here for days while the United States marshal and his men were searching Boston for them. When the excitement had somewhat subsided, Theodore Parker and a friend called for the fugitives in a carriage one night and started them on their way to Canada. Samuel Philbrick died in 1859 leaving his house and place to his son, Edward, to whom he predicted "you will live to see a war over this slavery business." Edward Philbrick married Helen Winsor of Brookline and they lived here for many years. Edward was a well known engineer. It is said that when the town was puzzled about its water supply or when the question was merely that of replacing a bridge, Edward was always on the committee. After Edward's death, Mrs. Philbrick's mother and her brother and sister made their home with her until Mrs. Philbrick's death.
In the summer of 1922 - 27 years ago and just 100 years after John Tappan first moved in-the Burrages took over. The family then consisted of my mother and father, Dr. and Mrs. Walter S. Burrage, my grandmother, Mrs. Sarah Alden Swan, my sister Sally and myself. A few minor changes were made with our acquisition of the property but essentially the house was as it had been for several generations with four main high ceilinged rooms on both first and second floors of the old stone mansion and a wooden ell consisting of kitchen, laundry and five bedrooms to the southwest.
With my marriage and departure in 1934 and with Father's death the following year the house became too large for its remaining occupants. In 1938 what might be called the second generation of Burrages took over. For the first time in many years the place is now infested with children; five Burrages under fourteen and the garage not only filled with cars but with bicycles, tricycles, baby carriages, playpens and sleds. From the standpoint of the old Philbrick House there is some question as to the truth of the saying, "The first hundred years are the hardest."