South Brookline
by Linda Olson Pehlke

Linda Olson Pehlke is an author and urban planner living in Brookline. The series "Places: Past and Present" was originally commissioned by and published in
Our Town Brookline
magazine in 2005 and appears here with the permission of its publisher and the author.
South Brookline may lack a catchy name, but it is, in some ways, more like the Brookline of yesteryear than the named places we think of as quintessential Brookline today. Rolling hills, narrow, winding roadways, mossy stonewalls, and large grand estates set deeply into wooded lots combine to create the ambiance of South Brookline. In its landscape, we glimpse the rural character and sylvan beauty that at one time defined much of Brookline and drew the first wealthy Boston businessmen here. It's a world far removed from the hustle and bustle of Beacon Street and Commonwealth Avenue.
Large Landholdings Remain Intact
Several large landholdings remain intact, contributing to the spacious feel. These include Brookline's only working farm, a cemetery, a convent, a monastery, two golf courses, a park, and several schools. It is remarkable that this open landscape remains, and its longevity is attributable to regulation, foresight, tenacity, financial commitment, individual generosity, and familial continuity. However, substantial development pressures persist, as they have since the early 20th century, to continue the subdividing of large estates into smaller housing lots.
In colonial times, farms dotted South Brookline's hilly terrain. One of these early farmers, John Goddard, made significant contributions to the colonists' fight for independence from Britain. In the spring of 1775, he stored military supplies in his barn that he later ferried to battle lines around New England. Goddard may have started a tradition that survives today when he proposed a town meeting resolution of national scope that stated "if the Hon. Congress should, for the safety of the American Colonies, declare them independent of the Kingdom of Great Britain, that we Inhabitants will solemnly engage with our lives and fortunes to support them in the measure."
The children of early South Brookline families were educated in the one room Putterham School, built in 1768 at the intersection of Grove and Newton Streets. Used until the early 1920's, it was moved to its current location in Larz Anderson Park in 1970, where the Brookline Historical Society oversees its care.
By 1790, wealthy Boston businessmen were building seasonal estates among the hills of South Brookline. Being country homes, they were constructed mainly of wood, and designed in simple, charming styles conducive to their owners' relaxed and informal lifestyles. Styles began to change in the 1840's, when newly published books and periodicals were popularizing a more European aesthetic for American homes and gardens. When Andrew Jackson Downing, one of the principle authors of this new aesthetic, visited South Brookline in 1840, he said, "The whole of this neighborhood of Brookline is a kind of landscape garden, and there is nothing in America, of the sort, so inexpressibly charming as the lanes which lead from one cottage, or villa, to another." For homeowners of sufficient means, the design and decoration of one's home and garden became a passionate pursuit meant to display the homeowner's taste and artistic sophistication. Homes were now being built of substantial materials like granite and brick, in grandly proportioned forms, and in styles reminiscent of old European or classical idioms. Gardens were designed to complement and enhance the homes in various international styles.
The Sargent Estate
By the mid-nineteenth century, the grand estates of Brookline were legendary. There was Holm Lea, purchased in 1845 by Ignatius Sargent, with its world-class collection of rhododendrons, a pond, and majestic trees. It was here that Charles Sprague Sargent, the first director of the Arnold Arboretum, grew up. Larz and Isabel Anderson's Estate, Weld, was one of the first American gardens designed by Charles A. Platt, whose book, Italian Gardens, published in 1894, sparked an appreciation for Italian garden design. Nationally famous, the Anderson estate indulged the wide-ranging artistic and cultural interests of its owners in a formal, yet eclectic and comfortable style. Isabel Anderson donated the estate to the Town of Brookline upon her death in 1948, and it has become one of our premier parks. Charles Platt also worked for Charles and Mary Pratt Sprague, designing the grounds for their equally grand estate on Allandale Road, called Faulkner Farm, which is now the Bandergee estate. Other large estates from this era have been successfully repurposed for institutional use, while retaining the historic buildings and grounds, such as Anna Sears' estate, which now houses Dexter School.
While Charles Platt was not a Brookline resident, the town can claim as its own several of the nation's most influential landscape designers and architects. Living quite near to one another in South Brookline were F.L. Olmsted and H.H. Richardson. When Olmsted moved to Brookline in 1883 to work on the design and construction of the Boston Park System, he would have welcomed the opportunity to live near his friend and professional collaborator, the architect H.H. Richardson. Both men established professional offices that were unique live/work/learn environments offering significant opportunities for those seeking an education in these professions without going abroad.
The Country Club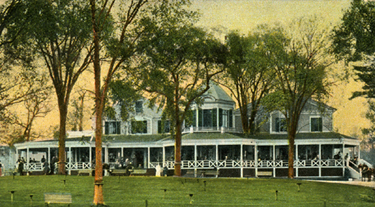 Another first occurred when the Country Club was established in 1882 at Clyde Park. The club sought to combine sport and social interaction, thus establishing a template that has been replicated far and wide. An outgrowth of the Myopia club in Boston, the Country Club started as a horseracing venue. Over time, the club's sporting pursuits expanded to include curling, golf, tennis, polo, steeplechase, and fox hunting. The dramatic upset win by Brookline's Francis Ouimet at the Country Club's 1913 U.S. Open is today the subject of a major motion picture, The Greatest Game Ever Played. Having grown up in a modest subdivision near the Country Club, Francis became a caddie and learned his game through observation. Ouimet's win changed the public's attitude towards golf, which had previously been seen as an exclusively aristocratic pursuit.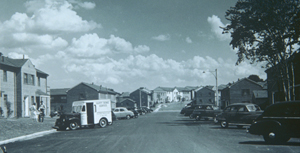 Hancock Village in the 1940s
Once commuting to Boston by automobile had become common, several upper-middle class neighborhoods were developed in South Brookline, like those along Lee Street and around Sargent's Pond. While multi-family housing has been, for the most part, resisted in South Brookline, Hancock Village on Independence Drive represents an exception to this. Born out of necessity, the Village was built by the John Hancock Insurance Company in 1946-48 to house and employ soldiers returning from the Second World War. Designed and built in the "New Town" planning tradition, the Village sought to be a self-contained domestic community, with onsite services and amenities such as a shopping center and movie theater.