North Brookline
by Linda Olson Pehlke

Linda Olson Pehlke is an author and urban planner living in Brookline. The series "Places: Past and Present" was originally commissioned by and published in
Our Town Brookline
magazine in 2005 and appears here with the permission of its publisher and the author.
An amalgam of bustling commercial streets, quiet, historically significant residential neighborhoods, local parks, and solid apartment blocks, North Brookline is the most densely populated part of Brookline today. Offering a successful blend of urban and suburban amenities and a wide range of housing types, North Brookline attracts a diverse population. With proximity to several business districts and access to transit, residents have the chance to "opt out" of the automobile dependent lifestyle so prevalent throughout North America. A walk in the park can be had in the precious pockets of open space that have endured, such as Hall's Pond and Winthrop and Kynvet Squares. Some other popular amenities include the Centre Street seasonal farmer's market, a fresh food lover's haven that directly links producer and consumer, and the independent Coolidge Corner Theater that makes "movie going" a neighborhood affair.
A mere 160 years ago, things were quite different. Until late in the 19th century, North Brookline farmers grew the fresh produce and milked the cows that helped feed a growing Boston metropolis. The few country estates that dotted the landscape were surrounded with an ample five or six acres. It was Harvard Street, the "road to the colleges," that gave access to these early homes. Built in 1662, it was the main route from Boston to Cambridge until 1786 when the Charles River Bridge was built.
A House with a History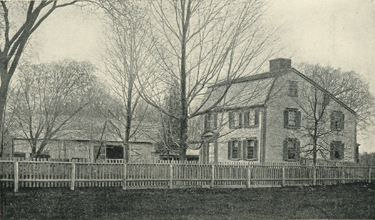 Edward Devotion House
An early settler on Harvard Street, John Devotion built a humble house on his farm in 1680. His grandson, Edward, built his house in 1740 on the same site. Still standing at 347 Harvard, the Devotion house is a rare example of an 18th century Georgian house. Narrowly escaping demolition, it was purchased by the town in 1891 and is now operated by the Brookline Historical Society, which assumed this responsibility in 1911. Edward Devotion, Jr. was passionate about education, and gave money to the town for building or maintaining a school. Today, the Devotion house sits in front of its namesake elementary school. George Babcock purchased the Devotion farm in 1827.
By the time Beacon Street made its way out of Kenmore Square in 1851, several other roads crisscrossed North Brookline, giving access to the few scattered farms and estates. Harriet Woods described one such street, Pleasant Street, in her book Historical Sketches of Brookline as "only a green lane, which served to connect Harvard Street with Brighton Avenue (now Commonwealth). The sides of the lane were a tangled thicket of wild rose bushes and raspberry and blackberry vines. There were but two houses on Pleasant Street..." Amongst this verdant countryside, a heavily wooded Babcock Hill rose up next to Babcock Pond and the swampy land that surrounded it. Smelt Brook drained the swamp, making its way northeast to the Charles River.
Beginnings of a Building Boom
Dramatic change was just around the corner however, brought about by new transportation opportunities. When the electric trolley began to rumble down the newly widened Beacon Street in the late 1880s, Babcock Hill's sand and gravel were used to fill in the pond and swamp, creating buildable land. Henry Blaney purchased 43 acres of the former Babcock farm and laid out Babcock Street. Lining the road with maple trees, he built a few houses and waited, and waited some more, eventually giving up (since he was only able to rent his properties), and moving back to Boston. Had he hung in there until the 1890s he would have been fabulously successful. As it was, several developers, whose timing proved more fortuitous, namely David McKay, Peter Graffam, Benjamin Newhall, and Henry Coolidge, understood the area's potential, and the building boom of the late 1890s and early 1900s was on. The electric trolley came to the newly built Commonwealth Avenue in the mid 1890s, further enhancing the area's appeal to commuters, and sealing its fate.
There was so much building in North Brookline between 1890 and 1910 there must have been a constant din from all the hammers and trowels, and clouds of dust from all the digging, stone work, and sawing. All those elegant details required legions of craftsmen. New homes built by Peter Graffam and David McKay were spacious and well-designed variations on popular house styles. The homes in "McKayville" on Naples, Fuller, Coolidge, Thorndike, Clarence, and Gibbs are similar in size, scale, and materials, providing a pleasing visual continuity to the neighborhood. Peter Graffam achieved a similar effect in his development encompassing Osborne, Abbotsford, and Manchester Roads.
A Future President Is Born on Beals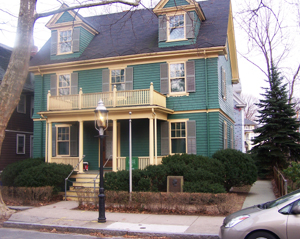 83 Beals Street
Perhaps best known as the neighborhood where John F. Kennedy was born, (83 Beals Street is the JFK National Historic Site), Beals and Stedman Streets were developed to accommodate Boston's professional families after Benjamin Newhall purchased part of the old Babcock farm from James M. Beals in 1898. Distinguished by its towering sycamore tree canopy, Beals Street is a quiet, restful contrast to bustling Harvard Street. Joseph P. Kennedy and his wife Rose moved to their home on Beals Street, which was built in 1909, upon returning from their honeymoon. Homes and lots are a bit more modestly scaled here than in the earlier neighborhoods of North Brookline. Not surprisingly, in 1921, the growing Kennedy family moved to more spacious accommodations on Abbotsford Road after their family had grown to include four children.
Other North Brookline neighborhoods were built in a more piecemeal and incremental manner, such as the Columbia, Russell, Kenwood, and Verndale Street area, built on former Coolidge family farmland by Henry Coolidge. Houses slowly filled the lots on Elba, Adams, Copley, and Crowninshield Streets after David Sears' daughter, Harriet Crowninshield, sold her inherited land. Because they were built without a single overseer, a greater variety of house styles and scales are found here.
The Rise of Apartment Buildings
In response to the growing demand for commuter housing, apartment buildings were rapidly built in the early 1900s. At first they were clustered on Beacon and Harvard Streets, such as the Tudor-styled Richmond Court at 1209-1217 Beacon, built in 1898. Apartments soon spread to other streets such as Gibbs, Pleasant, and Fuller, eventually becoming ubiquitous throughout the area. These three-story brick or stone apartment buildings often have marble entryways and carved wooden door surrounds, which add elegance, substance, and visual interest. Purposefully built, their layouts offer comfortable living at a moderate density. Businesses soon followed, and quickly lined Harvard Street, replacing homes, some of which were built a mere 30 years earlier. Change has been the one constant. Not everyone welcomed change, as when Charles Stearns wrote, "To the older and more conservative citizen, these buildings are interlopers, in some instances destroying old and perhaps venerated houses...Indeed, Brookline is fast losing its suburban character and becoming urban."
Immigrants Bring Diversity
North Brookline's new population was becoming more diverse as well. An Irish settlement formed around Freeman and Browne Streets and Craig's Place, beginning in 1865. Working on neighboring estates, the Irish immigrants built homes for themselves or as investments to rent. Many of the homes here are still owned by the descendents of these original builders. St. Aidan's, a Roman Catholic Church at Freeman and Pleasant Street, is now being converted into condominiums. It was built in 1911 and designed by Maginnis and Walsh, nationally prominent designers who were also responsible for the gothic style buildings at nearby Boston College.
Another group whose community life blossomed in the newly built neighborhoods were the Jewish residents. By 1921, there were 4,000 Jewish citizens in Brookline. The Temple Kehillath Israel was built in 1922 at Harvard and Williams Street. The 1920s ushered in the automobile age, and with it came many new auto-related services and garages. By the mid-to-late 20th century, new construction materials and techniques brought the era of modern apartment "towers," adding even greater density to North Brookline.
North Brookline continues to grow and change. Fortunately, the Brookline Planning Department has taken on the challenge of managing this growth with its Coolidge Corner District Planning effort. Residents have responded as well by revitalizing the North Brookline Neighborhood Association, with the aim of articulating and protecting a vision for a livable community.