Longwood and Cottage Farm
by Linda Olson Pehlke

Linda Olson Pehlke is an author and urban planner living in Brookline. The series "Places: Past and Present" was originally commissioned by and published in
Our Town Brookline
magazine in 2005 and appears here with the permission of its publisher and the author.
The story of Longwood and Cottage Farm begins with one man, David Sears II, who by the time he began purchasing land in Brookline in the 1820's, was already one of the wealthiest landowners in Boston. Sears bought about 500 acres that stretched from the Boston border on the east to Pleasant Street, and from the Charles River on the north across the Muddy River into Boston on the south, encompassing today's Longwood medical area. Eventually, the portion north of Beacon Street was called Cottage Farm, while the area south of Beacon Street retained the Longwood name. Both are on the National Register of Historic Places, and Cottage Farm is also a Local Historic District.
The Early Years
Tracing the area's evolution before David Sears owned it is a journey through highly charged and formative historical events. During Brookline's early settlement days, the area included Judge Samuel Sewall's "Brookline" lands. Sewall was Chief Justice of the Superior Court of Massachusetts, and is best known for his role in the Salem witchcraft trials of 1692. During the American Revolution, the Brookline Fort at the end of Essex Street near the Charles River was the site of the only engagement of the Revolutionary War to take place in Brookline. Another fort, known as the Indian Fort, was on the present site of Amory Park.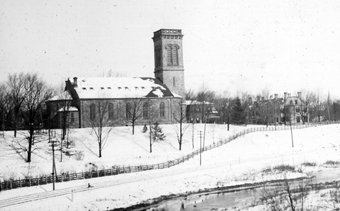 Christ's Church (Sears Chapel), circa 1885
Origins of the Longwood Neighborhood
It was the building of the Mill Dam road out of Boston in 1821 that improved access to Brookline, thereby enhancing the area's development potential. This fact was not lost on Sears, who then began buying the low-lying pasturelands. By 1830, some of the squares were laid out (Kynvet, Longwood, Mason, and Winthrop remain today) around which he would later build country houses for his friends, family, and associates. He named his neighborhood "Longwood", after Napoleon's estate on St. Helena. An avid amateur horticulturalist, Sears planted some 14,000 trees, many of them imported from Europe, in the course of developing his land. He built large, country residences intended for seasonal occupation by their wealthy owners. In keeping with his faith, Sears built an ecumenical house of worship, Christ's Church, modeled after St. Peter's in Colchester England.
A man of vision, wealth, and taste, David Sears looked to his ancestral England for inspiration. His chosen style of development combined several disparate trends and historic development patterns. On the one hand, he employed the open residential square and a rectilinear grid street pattern as the overall organizational structure for his development. However, the homes he chose to build were in the picturesque English Cottage style that was made popular by Andrew Jackson Downing. Downing favored a curvilinear street pattern (not a strict grid pattern as Sears had built) as an appropriate setting for his house designs, much like the flowing street designs of F.L. Olmsted, who was clearly influenced by Downing.
Residential squares built in the European tradition were characterized by a uniform and continuous building frontage grouped around an open space. London builders perfected the residential square, creating treed squares surrounded by dense, urban style housing. Following this tradition, Sears' tree-covered green squares were at first reserved for the private use of the surrounding residents. The squares didn't become public until they were donated to the town by the Sears family in 1902.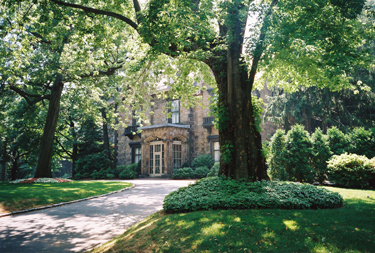 24 Cottage Farm Rd.
A Landscape Dotted with English Cottages
The homes Sears built also took their cue from England. Some were modeled on the "English Cottages" popularized by the tastemaker Andrew Jackson Downing in his several books, such as Cottage Residences published in 1842. A reaction to the previously popular, monumental, masculine, Greek revival architecture, Downing's English Cottages were in a variety of styles, such as Mansard and Gothic Revival. The homes were symbiotic with the romantic, picturesque, domestic tranquility sought by the English country gentleman. Downing championed the ideal of a gracious, comfortable home in a rural setting, surrounded by a community of like-minded neighbors. This suburban ideal is still pursued by American homeowners today. A perfect example of a Gothic Revival English Cottage can be seen in the Frederick Sears cottage, built in 1850 at 24 Cottage Farm Road, and now owned by Boston University.
Cottage Farm Area Developed
In 1850, Sears sold 200 acres of his land to Amos Lawrence, a wealthy Boston businessman who was instrumental in developing the cotton industry in American. Amos Lawrence's land was mainly to the north of Beacon Street, and unlike Sears' seasonal residences, he built for those who wished to live in the country while working in Boston. Many of his homes were built as rental properties. He did, however, feel strongly that the area should remain rural in character, and imposed severe restrictions on development to achieve that. Therefore, much of the housing dates to the early 20th century, which was after his death. In contrast, much of the Longwood neighborhood was rapidly developed earlier, in the late 19th century. Longwood Avenue, Sewall, and Kent Street were lined with large, refined homes, many of which only lasted 40 years or so, with economics and demand driving their conversion into smaller single family homes and apartment blocks.
Like Sears, Lawrence set about creating the kind of community he wished to live in, and accordingly built the Church of Our Saviour in Longwood in 1868.
Legacy of Valuable Green Spaces
Today, four of the Longwood squares; Kynvet, Longwood, Mason, and Winthrop add much needed green space to the peaceful neighborhoods they help create. Each square is a unique reflection of its surrounding neighborhood. Longwood Mall with its majestic European beech trees and Mason Square with its red oaks are perhaps closest to their original condition. Kynvet Square is the largest, and includes several crossing paths, benches, and a central brick circle that gives it definition. Winthrop Square contains the Minot Rose Garden, that was established in 1971. In addition, the town purchased two parcels directly north of the square for use as a playground and play field, thereby expanding the function and dimensions of the original square. While much of the original housing has been replaced, many fine examples of period architecture remain.