Aspinwall Hill & Beaconsfield Terraces
by Linda Olson Pehlke

Linda Olson Pehlke is an author and urban planner living in Brookline. The series "Places: Past and Present" was originally commissioned by and published in
Our Town Brookline
magazine in 2005 and appears here with the permission of its publisher and the author.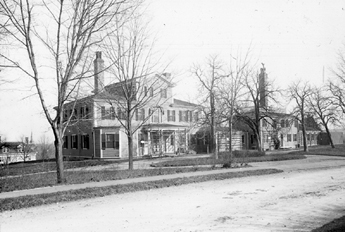 Dr. William Aspinwall House, Winthrop Rd.
Aspinwall Hill, the smaller cousin to Brookline's other prominent landmass, Corey Hill, rises up amidst the encircling Beacon, Washington, Tappan, and Greenough Streets. Bearing the name of one of the oldest Brookline families, the roughly 87 acres of land were owned, sold, engineered. and subdivided by subsequent generations of this ambitious family. As long ago as 1650, Peter Aspinwall purchased land near today's St. Paul Street and Aspinwall Avenue from William Colborne. It was Peter's great-grandson, Dr. William Aspinwall, who purchased land on what was to become Aspinwall Hill in 1788. Fifteen years later, in 1803, he built his own house on the hill overlooking Washington Street near Gardner Road.
The hill remained sparsely populated until the 1880's. Prior to that, only a few estates dotted the landscape, including the home of Lewis Tappan, the famous abolitionist who built on the upper part of the hill in the 1820's. William Bowditch's estate on Tappan Street was another. William's son, Ernest, became a landscape architect and civil engineer whose career included work on the hill of his childhood home. As with the rest of Brookline, the widening of Beacon Street in the 1880's and the advent of the electric trolley brought increased demand for housing to the hill. At first, the higher density housing was concentrated on Beacon Street itself and its intersecting roadways.
Economic Downturn Leads to Subdividing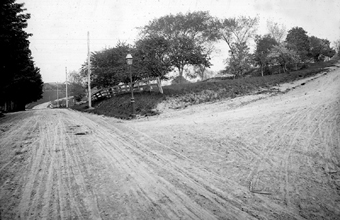 Winthrop Rd. at Beacon circa 1888
It was financial hardship that caused Dr. William Aspinwall to sell his land to a group of men who named themselves the Aspinwall Land Company. The land company's engineering work was given to Aspinwall and Lincoln, a logical consequence of the fact that one of the firm's principles was William Aspinwall's eldest son. Other land owners on the hill included Henry M. Whitney, whose West End Land Company was responsible for the Beacon Street widening. Whitney owned several parcels of land at the base of the hill near Beacon and Winthrop Street. Boston University also owned several parcels of land near Washington and Beacon Streets which had been received through donations. Had financial hardship resulting from an 1872 fire not caused B.U. to sell their land, we might have had more of the University's buildings in our midst. As it was, B.U. hired Ernest Bowditch to work in consort with the Aspinwall Land Company, devising a scheme for subdividing their land.
Olmsted's Artistic Vision
We owe a debt to F.L. Olmsted for his remarkable and sensitive street design that is so unique to Aspinwall Hill. In 1883, Olmsted produced his plan including the S-shaped Addington Road, Rawson Road, Colbourne Crescent, and Winthrop Road. His insight allowed him to look at the hill and imagine the arrangement of future homes, the experience of ascending and descending the slowly curving roadways, and the views that would result from their placement. His was an artistic vision, and while some complained of its lack of practicality, his curving roadway design created a rhythm between open and intimate views. The arrangement fostered a country feel that we still enjoy today, despite fairly dense development. To those of a more practical bent, such as Ernest Bowditch, Olmsted's plan "wasted a much larger area of land in street than was necessary for the most economical development of the land." Bowditch's subsequent plan for the hill kept Olmsted's basic roadway layout, but modified the plan to be more in tune with existing property divisions. There are seven pedestrian paths on the hill, and it was the Aspinwall family who insisted on their inclusion. The paths facilitate direct foot travel to the nearby shops of Washington Square and the Beacon Street T stops, avoiding the longer trip on Olmsted's gently rising circuitous roadways.
Conversions to Multi-Family Dwellings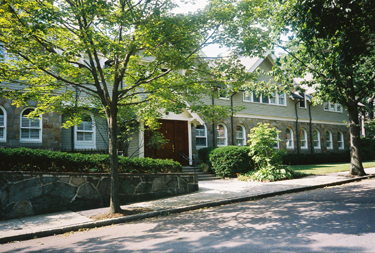 Gardner Road was the first road built up the hill, and the earliest homes were concentrated there. Among these early homes, the Shingle and Queen Anne styles are particularly well represented. Prominent Boston architectural firms designed many of these large gracious homes, and in this way, Aspinwall Hill began as an enclave for wealthy Bostonians. The enclave did not last long however, as increasing housing pressure soon brought conversion of the large single-family homes into smaller homes, multi-family dwellings, apartment blocks, and town homes. The three newer roadways on the hill, Royal, University, and Claflin Roads were built to facilitate the further subdividing of house lots. All of this change makes us more appreciative of the few remaining original single-family homes. One fine example is the Rawson Road estate of Henry Hartley, built in 1902, that was converted into a Friary for the Order of St. Francis.
A Precursor to Condominiums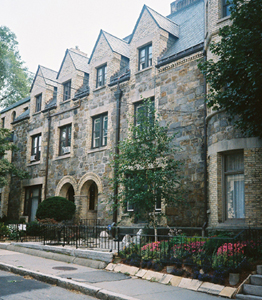 Some of the "castle buildings" on Tappan Street.
Another important development on Aspinwall Hill involves the distinctly unique Beaconsfield Terraces, built in the late 1880's and 90's. The dream of wool importer Eugene Knapp, this sprawling self-contained development occupied the northern base of Aspinwall Hill. Beginning at the corner of Beacon and Tappan Streets, it extended west to Dean Road, and encompassed Garrison Road to the south. It was described as "an experiment in domestic economy," although the experimentation extended far beyond economic parameters. The terms of ownership were an early precursor to the condominium arrangements we take for granted today, with residents owning both their individual quarters and a share in the lavish public amenities provided onsite. These included stables, a private railway station (not built until 1906), clubhouse, park, and tennis courts.
Brookline's Castles
Architecturally, Knapp described his buildings as English Terrace apartments. Today we refer to the remaining buildings along Tappan Street, Garrison Road, and Beacon Street (near Dean Road) as "castle buildings" with their rounded turrets, oval windows, beautiful stonework, bay windows, and leaded and stained glass. In style and presence they recall those massive stone fortresses of old, but are shrunk in size for modern urban living. By 1893, financial difficulties plagued Knapp, and he eventually lost control of his development, with the West End Land Company's Henry Whitney eventually taking over. Whitney built the residential Beaconsfield Hotel in 1903, replacing the clubhouse and part of the park. It was a lavish, refined, and dazzling destination the pinnacle of luxury convenience living.
Aspinwall Hill and the adjoining Beaconsfield area are today desirable neighborhoods that offer a great variety of housing types on quiet, shady streets that are within easy reach of public transportation and the Beacon Street commercial venues. The hill remains heavily planted with large old shade trees, and the traveler, especially one on foot, can enjoy a unique mix of distant views and intimate enclosed green spaces. Perched atop the hill is Schick Park, dedicated in 1945, offering facilities for a variety of outdoor activities in a lovely setting.