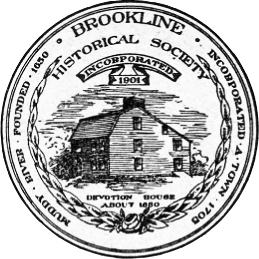 PROCEEDINGS
OF THE
B

ROOKLINE

H

ISTORICAL

S

OCIETY
AT THE
ANNUAL MEETING, JANUARY 15, 1961
BROOKLINE, MASS.
PUBLISHED BY THE SOCIETY
1963
by
Edward Dane
The House of Ernest B. Dane
400 Heath St.
When a former schoolmaster asks one to make a speech or give a paper there are certain quandaries posed to the pupil. It is well that you should be aware of these basic problems because this paper will stretch the rules beyond the breaking point. In other words, the main question raised is in what form should this speech be-should it be a dull recitation of dates, facts and things made certain by history, or should the speaker be given the latitude of interspersing personal memories and incidents to humanize the talk so the audience will not fidget and squirm in boredom? I will try to steer a course between these forms while adhering to the tenets of a good paper, but the result may show too much of personal recollections.
Also, I must warn you about one other factor which will develop as this story unfolds. All events listed previous to my birth in 1907 are by hearsay or taken from some records, while much in the period since 1909 is my personal memory and must be tinged by my interpretation of things as they happened. Lest you think me bold by stating that my memory goes back to the age of two, it is a fact I have most clear pictures in my mind from that age on which are not merely repetitions of what I was told.
A history of "Roughwood" should start back in the early 1880's when all this property was known as Brookline Woodlands and was owned by one Thomas Gaffield. The area stretched from the present easterly boundaries across what is now Woodland Road and even beyond the enlarged lane called Hammond Street to the west. Starting from the present tennis court through the formal garden and the pond, the acres extended through the Adie or Rivers Country Day School land and part of the Beaver Country Day School. It was all a swamp and wet marsh in those days, with the balance of the Gaffield property consisting of woods extending as far as the present Horace James Circle and the peat bog, formerly called Putterham Meadows, now known as the Brookline Municipal Golf Course. During the latter part of the Gaffield ownership, one building appears on early maps as a small barn on the corner of Heath Street and Woodland Road. Mr. Gaffield's house was across Heath Street on land later of Coolidge. It was after 1884 that Woodland Road first appeared on Brookline's maps.
The second step in this history came on October 19, 1888, when Mr. and Mrs. William E. Cox purchased the entire Gaffield properties. The following year saw the building of this house-that is the main part-by Mr. and Mrs. Cox. Two of their nieces are present with us today and, remembering the entire tract, can correct any of these statements if my history is wrong.
The third chapter concerns the purchase by my family on July 28, 1904, of that part of the Cox property lying to the east of Woodland Road consisting of slightly more than 34 acres. The place then had this main house, the coach stable, two gate houses, a section of the greenhouse and part of the cow-barn complex. Most of the magnificent oak trees and pines now remaining, existed before this time, as well as stately chestnuts and other species. The other existing buildings were built by my family and came along one by one as they were needed. The garage was first constructed in 1905 and was added onto in 1915. My brother Ernest B. Dane, Jr., was born in this house on October 25, 1905. It might be of interest to state that my parents were married on October 8, 1903, in Glen Cove, Long Island, New York, after an engagement lasting eleven years. Their first home was on Chestnut Hill Avenue, although my father had been born and lived previously with his parents on Beech Road, then called Dudley Street, in the Longwood Section. As a matter of fact, his grandfather moved to Brookline in the early 1800's.
At least as far as I was concerned, the next chapter started at 3:00 o'clock -on Sunday morning, February 24, 1907, when I appeared, although in truth my memory of this occasion is nil. At this particular time the area of "Roughwood" had increased to about 50 acres, the additional land lying to the southeast next to The Country Club. Although I cannot remember the construction of this Music Room wing, as I was living on the third floor at the other end of the house, it was completed in 1909. I can remember seeing its roof while playing with my paternal grandmother in her room. My memory of her is very clear although she died when I was not quite 30 years old. In 1916, the Organ Loft was doubled in size to accommodate the increase in the organ which ended up with 82 stops and over 7500 individual pipes. My family had so-called Organ Dinners on most Tuesday evenings during the winter season. The organist was Ernest Mitchell, whom my father discovered in a small church in Newton and sent through Harvard School of Music with several years of study under Vierne at St. Suplice Cathedral in Paris. He then became Organist and Choirmaster at Trinity Church in Boston and in the 1930's assumed the same posts at Grace Church in New York. Many members, singly or together, of the Boston Symphony Orchestra have played in this room and the music stand you see in the corner has been used by such people as Piatigorsky, the world-renowned Cellist, and even Koussevitzky playing his double bass.
Sometime after purchasing "Rough wood", and at least by 1907, my family had a large Glass Palm Conservatory off the breakfast room. This was a grand high structure which was subsequently changed for us boys to a magnificent playroom with a cork floor, a long concrete pool to run model boats in and a place in which we could ride our tricycles and bicycles and roller-skate all winter long. This building was torn down in the middle 1920's and the area seeded to lawn again.
During or just after World War I, this property was increased in area until it comprised about 120 acres mostly consisting of woodlands. Some of these acres lay across Hammond Street where Laurel and Aston Roads-now are. Approximately 20 acres of this land contiguous to the main tract was purchased specifically for the use of The Country Club and now is a good portion of the 9-hole Primrose Course. Although I was in school at the time, I have heard that arguments waxed loud and hot at the Club over this purchase, which included some land from Mr. Douglass, in spite of the fact that the price for both parcels was no more than the original paid when it consisted of raw woods and swamps.
The greenhouses off Woodland Road were increased in size on several occasions as my family's orchid collection grew. One small part of one section was devoted to a dark room and studio so that my father could record the many species on either black and white or colored plates. To digress for a moment, there is an interesting anecdote to recall that the first orchid specialist or hybridizer we had, a large powerful man of Scandinavian origin, went insane one summer evening and tried to kill my father with his bare hands. This might have had a sticky ending had not my cousin-uncle, Dr. John Dane, been present. His knowledge of ju-jitsu saved the situation.
During my early youth and until the end of World War I, we maintained the Coach Stable with a complete complement of five carriage horses, four riding horses and endless wagons and sleighs. On spring mornings my father would take either my brother or myself on long horseback rides before breakfast through the bridle paths of The Country Club and even as far as Greenwood Street, Newton, through the present Incinerator property, Lost Pond and where Craftsland Road now is. While attending the Park School and even when going to the dentist on Newbury Street, Boston, I always went by carriage. During the bad snow storm of, I believe, 1918, the family kept a car at McNeilly's stable off Hammond Street and they had to take a sleigh as far as Dunster Road where the automobile would meet them and ride in town over the street-car tracks on Boylston Street, as no other road was plowed in those days. It is interesting to note here that before 1924 there were only four estates on this side of Heath Street from Heath Hill to Woodland Road. On the other side from Pound Lane to Dunster Road, were only the Lyman, Cabot, Paine and Coolidge properties.
The even tenor of "Roughwood" life ran smoothly during all this period, with the entire household plus stable moving to Seal Harbor, Maine, in the summers. In contrast to this, starting with my advent into business in 1930, I spent more and more summers here and found the entire climate most pleasant owing to the great number of trees and their cool shade. We lost a great many limbs from trees and much shrubbery during the bad ice-storm of 1921. During the 1938 Hurricane over 1500 trees were felled in 50 out of 100 acres at "Rough wood" and we stopped counting in the woods. Subsequent hurricanes have taken more trees and, when you count in the Chestnut blight of many years ago, it is a wonder we still have so many left.
My father died in New Hampshire in April, 1942, and my mother continued living here until her death in December, 1949. I inherited "Roughwood" by her will, moving back here in 1950 for the next to the last chapter of this history. During the period from 1950 to 1960, this place started to shrink. The large collection of jades and porcelains which were my family's pride had gone earlier to the Fogg Museum at Harvard. One half the greenhouses were razed in 1951; subsequently, 18 acres off Hammond Street were deeded to the town for playground purposes. The old circle in front of this house, which had been grass and shrubbery in the middle with a narrow driveway around, gave place to the present cobblestone parking area. In 1956 and 1957, my wife and I gave the organ to the Eliot Church in Newton which was rebuilding after a disastrous fire. This seemed wise, as we had little use for this instrument and it was one which should be enjoyed by many. In the early part of this year, we sold almost four acres to The Country Club as two of our boundary markers were in. the middle of two of their putting greens and we knew the Club had been mowing part of our land for their fairways.
The last chapter in the history of "Rough wood" as "Rough wood" is being written currently. I will not explain in detail as the public press has left little to the imagination of anyone.
The present area is 79 acres, plus or minus, and contains all the buildings. For one more intimate detail, we still have one girl upstairs who started service with my family in 1912 and many of our faithful friends have been with us for more than enough years to call this place "home". The local paper stated that this meeting would be the last such in all probability, but we are looking forward to a wedding reception for our daughter next September so the book is not yet closed. Even at the height, acre-wise, of this place, I knew and had played over every foot, so it can cause no surprise that the whole should be sold, as no one part is any better than another.
I hope this history has had some interest, even if the telling was so full of personal reminiscences and had an obvious lack of detail on facts and figures. Let me apologize for reading this paper but, if I had not done so, the result would have been more rambling in its text. Lest my descriptions were too vague, Mrs. Dane and I have put several photographs and maps in the library which may help you get a clearer picture. On each side of the fireplace in the upper part of this room, you will find examples of the architect's whimsy in the use of the reversed "D's". This motif is repeated in various places.
Thank you for coming this afternoon and especially for being so patient.