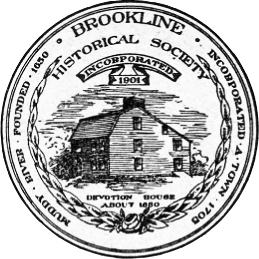 PROCEEDINGS
OF THE
BROOKLINE HISTORICAL SOCIETY
AT THE
ANNUAL MEETING, MARCH 20, 1949
SPRING MEETING, MAY 17, 1949
BROOKLINE, MASS.
PUBLISHED BY THE SOCIETY
1949
JANET LINDSTROM
It is with some hesitation that the present writer begins an article on the Aspinwall Family. Every Brookline history contains a chapter about these early settlers; not only their births, deaths, and marriages were considered of genealogical importance, but also their characters, their occupations and travels, even their houses and their trees. Entire books and manuscripts have been written about them covering, over and over, the important events of their lives. Undoubtedly this paper would never have been written, were it not for a small blue-covered pamphlet privately printed by a member of my family who came into possession of a short journal describing the wedding journey of Lewis Tappan and Susanna Aspinwall, my great-great-grandfather and grandmother. This wedding and subsequent journey belong to Brookline history and should have a place in it, just as surely as do stories about Peter Aspinwall and his house of 1660. Therefore, this writer has consented to gather together some facts and anecdotes about the Aspinwalls preparatory to the little journal itself.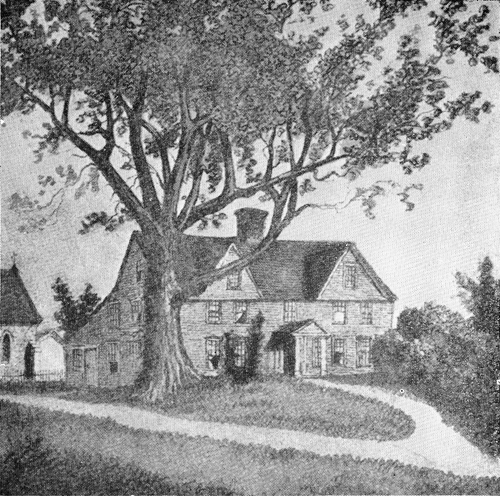 Peter Aspinwall House, 1660. Aspinwall Avenue
If anyone should desire a, complete account of the Aspinwall family, an entire book, (1) and an unpublished manuscript (2) have been written and are available to the genealogical student. In this_paper, no attempt is being made to cover all descendants of Peter, the first Brookline settler; but rather, some highlights will be touched upon, the stories and recollections which point up these people as human beings, and may make them live again for us today.
The first of the Aspinwalls to settle in Muddy River, now Brookline, was Peter. He was said to be one of four thousand who came from England to Massachusetts Bay Colony in 1630. We know that Peter came from Toxteth Park, a suburb of Liverpool, and was born about 1612, but little is actually known about his ancestry. Towards the end of the last century Edward A. Bowen, Genealogist and descendant of the Aspinwalls, apparently attempted to trace Peter's birth, while travelling in England, but was willing to say only that Edward Aspinwall, living in Toxteth Park about 1630 "may have been the father of Peter". This statement seems to be based on the fact that a teacher in Toxteth Park, Reverend Richard Mather, who lodged with Edward Aspinwall, and had three sons, named them Samuel, Nathaniel and Eleazer. Later, in Muddy River, Peter Aspinwall gave three of his sons these same names.
In 1645, Peter was living in Dorchester, but bought a farm in Muddy River with one Robert Sharp, the deed to the property being dated 14 (9) 1650, and being in the handwriting of William Aspinwall, recorder of deeds. The Aspinwall house was not built until 1660.
In regard to Peter, he was a farmer, and the inventory of his estate indicates that he was also a tanner. He held several town offices, "surveyor 1651-2, constable 1667, appointed April 1676 with two others a committee for the 'prevention of excessive drinkage and disorder in private houses', and 1677-8 'to oversee and regulate the fences about the common field at Muddy River'." Peter's first marriage about 1645 was to Alice Sharp, who died childless about 1661. His second wife, Remember Palfrey, of Reading, Massachusetts, was the mother of his eleven children, Samuel, Peter, Nathaniel, Thomas, Mehitable, Elizabeth, Eleazer, Joseph, Job, Mary and Timothy.
The Aspinwall house on Aspinwall Avenue, built by Peter in 1660, sheltered many generations of this family, and if we could reconstruct the lives of those who dwelt there we would find that all the human joys and sorrows known to man then as well as now were experienced in the old house which stood for more than two centuries. Many of the Aspinwalls were born and died within its four walls. Peter must have been more like a grandfather than a father to his children, being fifty years of age when his first child was born, and an old man when his last two sons came into the world. Perhaps Samuel, then a young man, acted as father to the little ones, as he remained at home while his brothers Peter, Nathaniel and Thomas roamed far a field. It would appear that Samuel, a Captain of Militia, was a man of great strength and courage. "There is an anecdote related to him showing the presence and firmness of his mind. At the Tavern on Boston Neck, there was a lion kept which was tamed for exhibition. Some persons thought they might frighten Captain Aspinwall with the animal. He had never seen a lion, and was conducted to his apartment, when, at the management of his keeper, the animal sprang upon him, putting his fore paws upon his breast, making a tremendous roaring. Captain Aspinwall merely said, 'What is the matter with the beast?'"
It was Samuel Aspinwall who planted the great tree known as the Aspinwall Elm, in front of the old home. Samuel Clarke, who spent his boyhood in the Aspinwall family, remembered how Captain Aspinwall carried the little young tree and planted it, about 1700. This tree became tremendous in size, measuring twenty feet in circumference near the ground, and at five feet above the ground, sixteen feet, eight inches. At least six generations matured in the shade of its branches, while the giant elm brought forth its countless leaf-buds again and again, flowering, and fading, and losing its leaves to the autumn winds. In 1844, a part of the tree was blown down, and in 1870 a storm caused a large portion of the elm to fall against the house, breaking the roof.
At the dedication of the Town hall in Brookline, February 22, 1873, the Honorable Robert C. Winthrop spoke of the Aspinwall house which was still standing, or "trying to stand" at that time, and said "Of the venerable elm, which over-shadowed it certainly for more than a hundred and fifty years - nothing remains but the antique roots, and a few feet of massive but mutilated trunk. They are almost the last relics of the old Muddy River Hamlet, and I wish they could be enclosed and inscribed as a monument of the remote past. What an inspiring stump that, would be for an open-air speech, on some historical anniversary! If nothing else can toe done, I trust that enough of it may be secured as a desk for this very platform. If it were here at this moment, my manuscript would have a most congenial resting place."
In this same speech Mr. Winthrop referred to the fact that Brookline had never been without a bearer of the Aspinwall "name and blood." Of the first generation born in this country, brief mention should be made.
Samuel was drowned in the '"Cambridge" River near Elliot's Island, in 1727. He went out in a canoe with three others to gather oyster shells. Leaving the others, he attempted to come ashore alone, and in so doing caught his paddle, fell out of the canoe, and was drowned.
His brother Peter left Muddy River in 1686, and was one of thirteen men "to spy out Woodstock." . He settled on land which later became part of Connecticut, and eventually his brother Nathaniel followed him.
Thomas went in 1690 on the expedition of Sir William Phips against Canada. While there Thomas was "castaway on a vessell on Barn Island and perished."
Mehitable was said to be a "doctress" and never married. She died at the Brookline home, date unknown. Elizabeth married twice, and was the second wife of her second husband. Daniel Draper of Dedham. In these early days, it may be noted that even the most devoted husbands or wives, when widowed, married another partner without much delay. Was this because the struggle for existence made such demands upon all members of the family unit that a husband or wife could scarcely function alone?
Of the five younger children, Job and Timothy died young, and Mary married in the conventional way. Joseph and Eleazer were twins, but were apparently of very different temperament. Eleazer was a brick manufacturer. A quotation from the Journal of Dr. William Aspinwall tells us that Eleazer Was "a passionate man, a hard laborer, apparently religious, but wilful and too much governed by a bad wife-a strong man at argument. He died in the field, with his hoe in his hand."
The twin, Joseph, was certainly the unconventional member of the family, and perhaps the least stable in character and disposition. His story may be found to be more Interesting if it is explained at this point that Joseph is the Aspinwall from whom Franklin Delano Roosevelt is descended.
Probably a head-strong youth, Joseph went to sea before he was of age. He was married three times, was imprisoned for debts, had two sons and possibly other children, travelled widely, at one time owning a vessel for foreign trade. Late in life, he returned to the old home in Brookline, and died here at about seventy years of age. "He was of middling stature, well proportioned and very genteel and something handsome; he was very passionate, very gay, facetious, good company and always loose and exceedingly careless of his own and children's affairs."
Joseph was an Episcopalian. He subscribed one pound, two shillings toward the completion of the steeple of Trinity Church in New York City. It was said that he kept a shop in Seabrook, Connecticut in 1711, and later was burnt out. Whether this misfortune is in any way connected with his eighteen months imprisonment for debt can only be conjectured.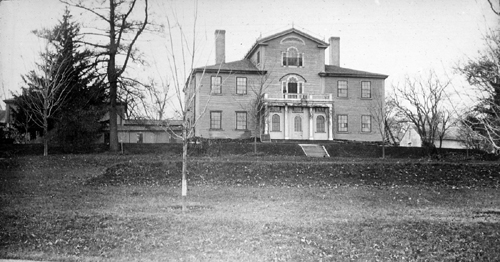 William Aspinwall House, 1803. Aspinwall Hill
In the next generation, Thomas, son of Samuel, concerns us here. Not much has been written about him, save that he was a lieutenant in the company commanded by his father. He lived and died on the farm. However, he had the distinction of being the father of Dr. William Aspinwall, a distinction which anyone would proudly claim. Since undertaking this study, the writer has been thrilled to be the great-great-great-granddaughter of so noble a character, so upright and devout a man.
Much has been written about William, born in 1743 in the old house, -- later Doctor Aspinwall, so important to Brookline citizens of the eighteenth century. He entered Harvard in 1760, then went to Killingworth, Connecticut to study medicine under a Dr. Benjamin Gale.
The young man attended medical lectures in Philadelphia, and after completing his course, visited his relative, John Aspinwall at Flushing, New York. John wrote the following to Thomas Aspinwall in Brookline: "I have now the pleasure of writing to you by your dear son, who returned from Philadelphia to my house yesterday, by whom I received a letter from Dr. Bond, of his great ability, and the great pains he had taken in his studies while there; he is of opinion that he will be an honor to the profession, and to the family, from which he is descended."
When William was twenty-six years of age he started to practice medicine in his native village, no physician having settled in Brookline before him. His practice was not confined to the town, however, for he sometimes covered forty miles in a day, riding on horseback and carrying his medicines in saddle bags. Picture him administering to the sick, a man of six feet, "strongly built, and without any tendency to corpulency even in his latter days." In childhood, be had lost the sight of one eye through an accident with a bow and arrow. He took part in the Battle of Lexington, where, it is said that he bad to fire from the left shoulder because of his eyesight, but was nevertheless a good shot. He soon turned his efforts to medical work, saying that he would rather save Yankees than kill British!
He established two hospitals for the inoculation of small pox, a great plague in those days. Patients came from distant points to be inoculated and to remain in the hospital until the illness had passed, to go forth immune and safe. Dr. Aspinwall was loved by children as well as adults.
Mr. William Allen, when a grown man, recalled his experiences in the hospital as a child, and told how the kind doctor carried him around the farm showing him the farm animals, and telling him stories. "In short" he wrote, "I became so fond of him that 1 asked my mother to say to him that he might inoculate me as often as he had a mind to, and when at last the time for our departure arrived, and we had been smoked all around, and he kissed me as he put me into the carriage, I bawled out loud; and I truly believe the good old gentleman was gratified by this unmistakable evidence of my affection."
Religion was of great importance to the doctor, although his religious life was not dependent on forms and ceremonies. He lived and worked for the comfort and betterment of humanity.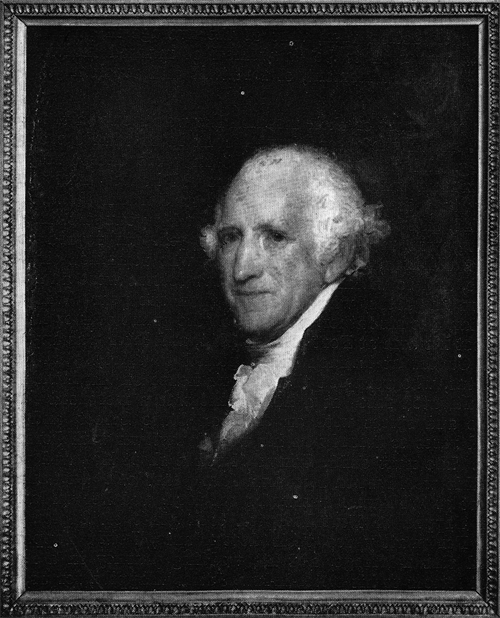 Dr. William Aspinwall, 1743 - 1823
Portrait by Gilbert Stuart
Courtesy of Shepard Brooks, Esq.
September 25, 1814, he writes, "Informed Thomas (his son) was wounded ye 17th, and lost an arm. October 12th received a letter from Thomas, giving an account of the battle, and of ye loss of his left arm, dated October 3rd." Immediately below this entry, on the same day, and without any comment upon; this important event, are the words: "Buried Dido." Dido was a favorite dog, whose illness and death are recorded elsewhere in his diary.
Sorrows afflicted him from time to time, and late in life he lost his sight completely as a result of a cataract on his good eye. When blind, he was said to exercise by walking back and forth in his main hall, using cords attached to the East and West doors as guides. He must have had wonderful memories to sustain him during this time, for his life certainly contained deeper satisfaction than that of the average man. His wife, Susanna was said to be "a woman of marked individuality, of dignity and refinement, of fortitude and sensibility."
The early part of their married life was spent on the Aspinwall Farm, in the second house, built later than the original dwelling. All the children were born there except Augustus and Susanna who were born in the old house. Early in the 19th century the doctor built a house on Gardner Road, Aspinwall Hill, and it was in this house that his, youngest daughter, Susanna, was married to Lewis Tappen. In regard to the doctor's children, they were Juliana, who remained single all her life, and to whom Lewis Tappan's letters were addressed; William Augustus, who lived less than one year; William; a physician like his father, who died in the prime of life; Thomas, who lost his arm at Fort Erie in 1814, and later was appointed U. S. Consul at London for a period of thirty-seven years; Augustus, who occupied the doctor's house on Aspinwall Hill, and cultivated roses as a hobby. He was a merchant dealing in teas and spices with an office on State Street, and often carried roses to friends on his way downtown with horse and chaise. The next child, Samuel, lived a short life, and passed from this world when less than four years old. Susanna was the last of William Aspinwall's children, and her wedding to Lewis Tappan of Northhampton took place on September 7, 1813. Fortunately for their descendants, Lewis Tappan described this marriage, and his wedding journey in a few informal letters to his sister-in-law, Julia. Happily, for us, these letters have been preserved, and excerpts from them are given here. He apparently wrote the events of each day, and later sent these notes to Julia at the suggestion of his wife. Forty years later he added a postscript, describing the actual wedding day, and parts of the trip not recorded in the earlier letters. Here is his first entry:
Tuesday, 7 September, 1813
. Left our friends at Brookline, in Horse and chaise with mingled emotions of fond regret, and cautious anticipation-friends dear to our hearts-and entering on a new and interesting portion of life. We can say with St. Paul, "I thank God, and take courage." The afternoon was sufficient in length for us to arrive at Framingham, where we arrived at 5 o'clock, and stopped at Eaton's (late Wheeler's). This Inn, once so noted for neatness and comfort, we must needs say has changed its character with its landlord. Sour bread, offensive cheese, and slovenly attendance! but "I says say I", King Solomon judged accurately of the human heart, when he remarked, "better is a dinner of herbs where love is than a stalled ox and hatred therewith." We read in our brother Pierce's Journal, which lie sent to my father for perusal-and Tuesday evening's reflections and prayer from a small work called "Devotional Exercises" presented to us by our good brother and pastor. I played backgammon for the first time.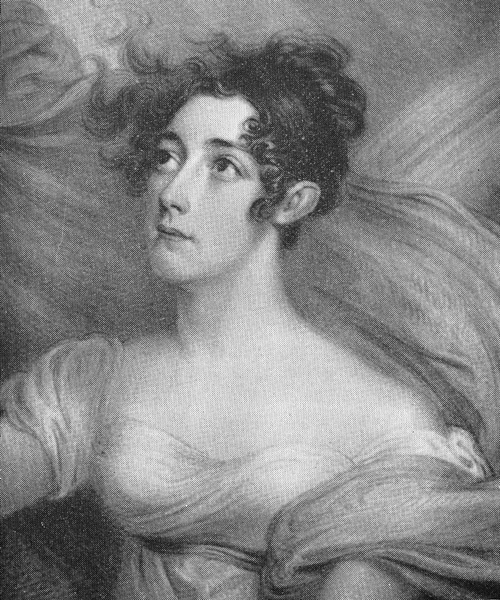 Susanna (Aspinwall) Tappan
Miniature by Brown, New York, 1813
Courtesy of Mrs. Franklin W. White
8 September
. After breakfast we took leave at 8 o'clock this charming morning, and rode to Worcester on the old road, thro' Marlboro, and Southboro. Read in D. Exercises, and "Paradise Lost." We dined at Col. Sike's inn at Worcester, where I met some friends en passant in the stage. At '2, we left Worcester to ascend to Leicester. That pretty village, situated almost oil the clouds, was an object of much interest to S. as her brothers were formerly at the Academy. Two companies of militia were on the common training as it is called. We stopped but a moment, owing to the throng around the tavern. Soon we came to Prospect Hill, as a tine seat is called a mile this side the village. We were now on the most elevated ground between Boston and Connecticut River, and the prospect was distant on all sides. At 5 1/2 o'clock we arrived at Jenk's inn at Spencer-having rode this day 35 miles. This was the place where L. slept first from his parent's house on his visit to Boston in 1803, and in the same chamber.
9 September
. The weather appeared lowering, we did not start till 10 o'clock. The ride from Brookfield was new to us both-and although considerably hilly, very pleasant. We dined at Brimfield, a handsomely built town-and an excellent hotel. In the afternoon we were caught in the rain, which was severe, but we arrived at Stafford Springs before dark, having rode today 31 miles. The hotel at the springs is a large and showy edifice, and appears in a valley from a high hill we descended, quarter of a mile distance. We found the hotel filled, and poor accommodations; and after much difficulty and time we took up with such as were offered. At supper there were about 40 persons, all healthy and genteel people. They looked at us with inquisitiveness, and agreed, as it afterwards appeared, to adopt us into their sociable family.
10 September
. Mr. Jos. Coolidge and wife, of Boston, arrived. S. got acquainted with Mrs. C. and we were delighted with such a happy and respectable old couple. They reminded us of such people as Addison's Sir Roger de Coverley. As Mr. C. brought a Boston newspaper, containing our marriage, it was soon buzzed among the boarders; who till then had supposed us to be brother and sister. Mr. C. and wife were very attentive to us, as were the rest of the visitors. The prinicipal part of the visitors appeared to belong to the same party, and were as we were told, quakers; although their dress did not indicate it. They were dressy, and free-what are called "wet quakers". The party went to ride in the afternoon, while we took a short excursion, up one hill, and down another-and returned heartily fatigued with our attempt to "take a ride". Towards evening the gentlemen and ladies returned, and made many apologies for not inviting us to accompany them, in their ride to the "furnaces", a miserable place they went to see. They had made arrangements for a ball in the evening, and had brought home a fiddler with them. We were politely requested to join, and consented. We had a charming dance, and S. led the first with a jolly young quaker. Some of the quakers declined dancing, but drummed with their feet to show their hearts were taking a "Pidgeon wing". S. took the palm in dancing and many were the encomiums bestowed upon her after she had returned. There was a Mr. Minturn of New York, who made much amusement,, by his drollery and sport; we both saw in him a strong resemblance to Mr. Hall of Boston. Mrs. Minturn had been a quaker, but was "read out of meeting" for wearing earrings-pink ribbons-and curling her hair. She is a charming woman. Mr. Professor Williard of Cambridge was there, a solitary man, who appeared to take no interest in anything but sat dreaming of algebra and greek. The hotel is a well constructed house, but the rooms intensely warm. The first spring was a short distance from the house, and near the bathing houses. The waters are chalybeate, very cool and refreshing. In bathing they tinge the skin; which should be avoided by washing the face and hands afterwards with fresh water. There is another spring of sulpherite waters; and as my horse "Bob" had been a long time afflicted with the horse distemper I ordered three pails of this water each day for him. Over the ladies' bathing room is painted "Procul abeste profani."
*
September 11
. We joined the principal part of the visitors in bowling at a place near the house; at which S. beat all the ladies. In the afternoon we all took a ride 3 1/2 miles to a place called "Diamond Rock". After arriving at the woods we fastened our horses, and walked quarter of a mile to the rock. It is a romantic spot, and takes its name from a shelvy rock, in which are stones resembling diamonds. Winding down this rock we came to a fall of water, very fanciful. Here we partook of some wine, brought from the hotel by a servant. We all held our heads under the fall, and it was refreshing this warm afternoon. Afterward we took a walk on the margin of the little river, and returning to our horses, gathered some diamonds. After tea walked to the sulpherite spring. S. and Miss Minturn had a race, in which S. gained the victory, though Miss M. ran with: spirit. Returning found Mr. Jos. Hall jr. and Dr. Bartlett of Boston, had arrived. Had an agreeable chit-chat this delightful evening in the party, and some of the ladies sang some songs. Read a Boston newspaper, which was a treat to me.
September 13
. Had a merry breakfast, and we set off first. Rode to Munson, a very pretty town in Hampden County, Mass. The road was quite pleasant; the day warm, but good air. The cake and fruit put up by our good mother were delicious, and very apropos. Our ride to Belchertown was very fatiguing to Bob, owing to the heat. Rode slowly, and stopped often. Gave Bob a piece of wedding cake, disguised in some chestnut leaves. At Belchertown had good dinner. We were now on the old road again from Boston to Connecticut river. Had a pleasant ride to Northhampton. On approaching my native town my heart thrilled with rapture; and S. thought the views and scenery beyond anything she had before seen. Just: at entering the town put chaise top down, touched with a spice of pride, at gallanting my wife into old Hampden. On stopping at my father's venerable old mansion our friends ran to receive and welcome us, which they did in the most cordial manner. Our sister Stoddard and husband came down, in evening, to see us. Also Dr. Hunt called to see us and Mr. Whitney, my good friend-arrived at 5 o'clock, 39 miles ride. Wrote few lines to sister Julia.
September 14
. After breakfast took a walk with S. and Eliza on "Round-hill", whence there is an extensive view of the meadows, Connecticut river, and especially the mountains, far famed. Called at Sister Edwards, who brought forward her choice things to feast us. In afternoon our sisters and Mr. Stoddard took tea with us, and past evening. Mrs. Stoors and Miss Hunt called to see S. My little nephews all came to see their new aunt.
September 19
. Went to meeting. Mr. Williams preached a funeral sermon on the deaths of several persons. S. never looked so well, "thinks I to myself". In afternoon we heard Mr. Wright preach. Sister E. and husband called in, also D. I. Whitney. S. called to see Mrs. Stoor's. Packed up our baggage.
September 20
. Thick fog this morning. Rose early; but did not leave till 9 o'clock, when it began to clear, called at our sister's house en passant. Sister E. put up some fruit for us. S. rode in my great coat first 5 miles. Took an affectionate leave of our friends. Ascended to Chesterfield. Dined at Worthington. Such hills S. never before saw. Dined with a couple whom we took to be lovers; and were much amused with their manners. S. walked up several of the long hills. Stopped at Peru, a town touching the clouds. There was a "training", and the place "all alive". Rode to Hinsdale, where we stopped, 30 miles ride this clay. Intended going to Pittsfield, but the injunction of Dr. A. "not to ride evenings," darted across my mind.
September 21
. After breakfast we rode to Pittsfield-a delightful morning. Took a walk to see the barracks, where Thomas A. was stationed. Met William Sumner. Tarried an hour. Ascended a hill 4 miles long; and descended Lebanon hill 3 miles over. The prospect from this hill highly romantick and extensive. S. walked quite down the hill. Stopped at the hotel at L. Springs-entirely deserted by company. The bathing quite luxurious; waters milk warm. After dinner took the landlord's horse in our chaise, and rode to Canaan, the village of the Shaking quakers-a neat place. At the "office" we purchased several articles, particularly a nest of boxes and pinball for Mrs. Helyer.
September 22
. The waters here are very enervating. At 10 o'clock we left Lebanon, and rode 10 miles to dinner.' We tarried two hours. In riding today I read Cumberland's play "Wheel of Fortune". Had a charming ride. Just east of the Hudson river came to Greenbush, the place of encampment for the army. The barracks are situated on an immense hill, and make a showy appearance. Albany appeared to great advantage as we came in sight of it from the hill near the river. At the ferry we waited some time for the return of the ferry boat, and amused ourselves viewing the scenery and steam boat, etc. etc. Arrived at Gregory's Hotel at Sunset and took a very pleasant room, in view of the noble river, Met Mr. Tracy, particular friend of bro. Arthur and wife.
September 23
. Have this moment returned from a most delightful ride to the falls. Rode up the river and passed the princely mansion of General Van Rensellear, who is called the "Patroon"-the road is on the bank of the Hudson, and is very pleasant. Ten miles ride brought us to the falls which are on the Mohawk River, just above its mouths. The falls are about 35 feet, over a ridge of rocks which run directly across the river. The appearance to us was novel, and to all,, grand indeed. Returning we passed the Mohawk on an arched bridge and took tea at a town called Waterford, as large as Charlestown. We then crossed another bridge over the Hudson River, and rode thro' the town of Lansingburgh, a pretty place,, also rode through the city of Troy, a neat and handsome town. Here we crossed the ferry by starlight, and came to our lodgings-after a highly gratifying ride. It was accident, our being out so late; but S. has not taken any cold, and I put down the late hour of our return thru' a principle of honor.
Albany, 23 September 1813
Dear Julia,
Susan compliments all this parcel of nonsense by saying it will amuse her friends, and that I must send it to you. It has been written as is apparent enough, in great haste, and consequently there are gross errors. We take the steamboat for New York on Saturday, it is 160 miles from this City-and 24 hours' sail. You may expect to see us by the 15th October; and we think it will be impossible to be at home before that day. 8. has enjoyed excellent health, and I am very much flattered to hear her say that she is gratified with the tour, and not "home sick".
Finally, Lewis Tappan wrote this entry in the little journal:
FORTY YEARS LATER
Lake View Water Cure, Rochester, N. Y. September 7/53
Forty years ago (Sept. 7/13) was my wedding day. I was, boarding with my brother John, who occupied the old Lucas house, near the present Reservoir, Brookline, Mass. My room was on the lower floor, the east end of the house. The day was clear, and moderately cool. Very early I was up and seeing, to my horse and chaise. I had a strong black horse called "Bob", and intended performing my wedding journey with him. In due time I took leave of my brother and his wife, and rode over to "Mount P-" as we called Dr. Aspinwall's place. I was dressed in a blue broadcloth coat, with brass buttons- white jean pentaloons-white marseilles vest-a white cravat -white silk stockings-and shoes, I took over my black leather travelling trunk, half filled, for my wife to put her clothes in. Twelve o'clock, noon, was the hour fixed upon for the marriage service. Between 11 and 12 I went, in my chaise, for my brother in law, Rev. John Pierce, and told him he must put on his silk gown and bands, which he did and I took him to Dr. A's. At 12, the family and near relatives assembled in the S. E. parlour. S. A. T. and myself were seated on a sofa at the N. side of the room. She was dressed in her travelling dress, of India nankeen, white kid gloves, etc.
After the ceremony we received the congratulations of the friends present. Soon all but the family left us.
We dined in the back room, now used as a passage way.
At 2 o'clock we bade adieu to our friends. Mrs. Aspinwall looked at us with deep emotion. T said, "I hope your daughter will never have occasion to regret taking this step." She replied, with her eyes full of tears, "She has been a dear daughter to me."
We stopt at the Parsonage to bid adieu to Mr. and Mrs. Pierce. He gave us a small manual of devotions, with his parting blessing.
At Albany, I put "Bob" on board a sloop for New York. We went in a steam boat, commanded by Capt, Bunker, afterwards so well known as a leading captain of Steamboats on the Sound. Our passage money was |7 each. At New York we stopt at a boarding house kept by Mrs. Keese, at the corner of Wall Street and Broadway. A bank now stands on the site. The Old Trinity Church, built the year I was born, since taken, down to make room for the present magnificent structure,, was nearly opposite. "Bob" arrived at New York before us, tho we left Albany the next morning. We staid here three weeks.
During this time S. A. T.'s miniature was painted by Brown,, an artist in John St. He was recommended to me by Luther Bradish, who then boarded at Mrs. Reese's, and has since been Lieut. Gov. of the State. He pronounced it a good likeness-Brown's charge was $70.
We at length left New York, and went to New Haven,, Hartford by the turnpike, and then took the Hartford and Boston turnpike, arriving at my house in Pearl Street, October 10/13. My house where Scudder & Co's, hardware store now is, about 30 Pearl St. Here sister Julia and brother Augustus, were waiting to receive us. Part of the furniture had been put into the house before we left Brookline, and the rest during our absence. Dr. A. gave his daughter furniture to the amount of, $1100 and I purchased furniture to about the same amount. Being war time furniture was very high priced.
Soon after our return we had a little party, at which my parents were present-my mother's sister Webb and 'her aunt Waters, then upwards of 90 years old. And now, on this 40th anniversary, I have written down these particulars, which may be interesting to my children. My dear wife, the principal person present Sept. 7/13 is not here to unite with me in commemorating this day, but I am thankful that she was spared to enter the 40th year of our married life, and that God made her so rich a blessing to me and our children.
I am here today, with my daughters Julia and Georgiana. Forty years have gone! How full of events prosperous and afflictive. God in judgment has remembered mercy. He has not dealt with me, or mine, according to our sins. He is a God of love. Blessed be His holy name. "Lord, thou hast been our dwelling place in all generations. Thou turnest man to destruction, and sayest, Return, ye children of men-So teach us to remember our days, that we may apply our hearts unto wisdom-Make us glad according to the days, wherein thou has afflicted us, and the years wherein we have seen evil. Let thy work appear unto thy servants, and thy glory unto their children. And let the beauty of the Lord our God be upon us, and establish thou the work of our hands upon us-yea, the work of our hands establish thou it," Amen!
LEWIS TAPPAN
REFERENCES
Original letters in the possession of Lewis Tappan Holt, Winter Park, Florida.
Aspinwall Genealogy-Algernon Aiken Aspinwall.
Aspinwall Records-Edward A. Bowen-MSS-(New England Historical Genealogical Society).
Sargent, Lucius Manlius-series of articles on Dr. Aspinwall, Boston Transcript, 1857.
American Medical Biography-James Thacher, M. D.-1828.