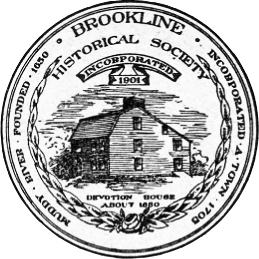 PROCEEDINGS
OF THE
B

ROOKLINE

H

ISTORICAL

S

OCIETY
AT THE
ANNUAL MEETING, JANUARY 27, 1927
BROOKLINE, MASS.
PUBLISHED BY THE SOCIETY
MCMXXVII
ANNIE B. WINCHESTER
[This paper was taken largely from the Winchester Genealogy written by Mr. Cunningham and published by the New England Historic Genealogical Society.]
My ancestor, John (I) Winchester, was baptized in Cranbrook, County Kent, England. May 19, 1611. He embarked from England April 6, 1635, on the Elizabeth, and arrived a few weeks later in Boston. After remaining there a short time he went to Hingham and received a grant of five acres situated on the present South Street in West Hingham.
He married at Scituate October 15, 1638, Hannah Searles of Biddenden, England, a town about five miles from Cranbrook, so they were probably acquainted in the old country. They had four children, John, Mary, Jonathan, and Josiah.
He was made Freeman in 1637. He joined the Ancient and Honorable Artillery. He bought the so-called Renton Farm, possibly early in 1655; this was in the Muddy River district of Boston. This great farm of one hundred and twenty acres was on Cottage and Warren Streets. It went to his son Josiah and passed finally into the hands of Isaac Cook. His house was probably about where the house of Mr. H. H. Richardson, the architect, now stands.
In 1667 Muddy River was largely owned by such families as the Stedrnans, Druces, Winchesters, Buckminsters, Gardners, Whites, Sharps, Devotions, and Aspinwalls, whose history is the history of Brookline in the 18th Century.
John Winchester at Muddy River was surveyor, constable, and tithing-man. In June, 1674, he and his wife joined the church, and his son John and his wife Joanna, daughter Mary, and her husband, John Druce, solemnly owned the covenant of the church of the Apostle Eliot in Roxbury, as the Brookline Church had not then been formed.
John Winchester was not only one of the earliest residents of what is now the town of Brookline, but also a well-known Citizen. His sons and grandsons were among the most prominent and useful people of the community. He died April 15th, 1694. Several further generations dwelt in the town, some living here today. He has a vast number of descendants scattered from Nova Scotia to California.
In his will dated June 17, 1691, he calls himself John Winchester Senior, of Muddy River, aged fourscore and upwards, names his sons John and Josiah as executors, gives his wife Hannah " liberty to dwell in my house as long as she live and convenient fire wood brought to her door, together with six pounds yearly and every year so long as she shall live, three pounds in current money of New England and three pounds more in such time as she have most occasion, for to he paid her at such times as she call for it and also one barrel of Cyder allowed her so long as she shall live and brought in place she shall order." He states that as he had already given his son John thirty (30) acres of upland and three (3) acres of salt marsh, he leaves son Josiah a like amount of each. To his daughter Mary Drews or Druce, twenty (20) shillings in county pay, To Mary Winchester, daughter of his son Jonathan, deceased, " when she shall accomplish the age of twenty (20) years, a piece of upland of about eight or ten acres hounding on the lands of Isaac Heath." To his wife he also left the use of all the moveables in his house, which after his death were to be "equally divided among my three children and to my son Josiah. the improvement of all his lands not disposed of as long as my wife live for the bringing in of her maintenance and after her death the lands equally divided between the two sons." Certainly a most fair will.
His son John (I) was probably born at Hingham in 1644, but moved early in his life to Muddy River. He died in 1717 or 1718. He married Joanna Stephens, or Stevens, daughter of Henry Steven s of Boston. He was an important man in Muddy River, holding many offices in the town and was one of the signers of the petition to have Muddy River incorporated as Brookline. He was the first representative of the town in the General Court.
He had a small service in King Philip's war.
He had nine (9) children, his next to the youngest child, Stephen, being my ancestor.
He bought land in 1693 the northerly part of the town, of his father-in-law, Henry Stephens, and laid the beginnings of the two large farms, one on the Cambridge road and one on the Watertown road. In 1751 it was one of the largest farms in Brookline, comprising all land on the left of Harvard Street from about Coolidge Corner to Cambridge line and extending westward over what is now Corey Hill and reaching Watertown in two places; that is undoubtedly where Winchester Street got its name. He bought land of the Devotions and Aspinwalls and most of the old Roger Adams' lot on the Cambridge line. Some time before 1750 his grandson took over one of his father's sixty (60) acre farms on the other side of the Watertown road, so upper Washington Street was largely owned by the Whites and Winchesters.
Stephen Winchester (III) was born at Muddy River, July 20, 1686, and married Hannah Gulliver of Milton. About 1730 he bought a part of Governor Haynes farm in Newton near Upper Falls and build a home, they being one of the first settlers there. In 1750 he and his wife conveyed fifty-seven (57) acres of the land with the homestead to their son Stephen, and after him this descended to his son Amasa. He died 1757.
Stephen Winchester, his son, was born at Newton, August 11, 1723, and lived near the Upper Falls. He was selectman of Newton and served in the Revolution for short periods in 1776-78. He was well off for the times and had a large family. Nine children by his first wife, Beulah Trowbridge; two of them died in infancy. He married for his second wife, Hannah Hastings Aspinwall, widow of Caleb Aspinwall, and had by her six (6) children.
He left the bulk of his property to sons of his second wife, Edmund and Amasa, who had gone to Boston and were becoming successful merchants.
This line of the family also produced men and women of much strength of character and ability. He died July 8, 1798. He was the ancestor from whom I joined the D. A. R.
Edmund Winchester (V), son of Stephen, was born in Newton March 27, 1772, and died in Boston February 5, 1839. He married Prudence Skillings, daughter of John Skillings of Boston. When he became of age he left his father's farm and went into business in Boston, where he became a prosperous merchant. A few years later his brother joined him, and later still his sons, William P. and Stephen. became his partners, and later their two sons, Thomas B. and Stephen S., my father. He was the founder of the well-known firm of E. A. and W. Winchester and did a large wholesale provision and packing business. It was before the big establishments of the West and the firm was one of the principal ones of its time and did a large export and domestic business. It supplied the United States with provisions during the war of 1812. The famous Winchester soap that was well-known to the householders of the early part of the 10th century was a by-product. He lived on Richmond Street at the North End of Boston and in 1820-21-22 represented that part of the town in the Legislature. He was also a director in the Merchants Bank.
A pamphlet of 1840 containing sketches of prominent men says Boston never had two better or more useful citizens than Edmund and Amasa Winchester. Edmund died February 5, 1839.
Stephen (VI) Winchester, born in Boston, August 12, 1805, married Lucinda Stearns of Newcastle, Maine. She was my grandmother and we traced her family back to Watertown. He died September 10, 18-H. She ended her days in 1893 on what was Harrison Place, now Kent Street, and Station Street was mad e principally out of her land which extended to the railroad tracks.
Stephen Winchester was a merchant and associated with his father, uncle, and brother in the old firm. He was a keen sportsman and lover of yachting and owned the
Pathfinder
and other yachts.
Stephen (VII) Stearns Winchester, my father, was born in Boston, July 29, 1833, and married Elizabeth Holbrook Bartlett of Plymouth. She was descended from John Alden. They had three children, two daughters and one son, who is the last male descendant of our branch of the family as he has no sons. Stephen was for a time in the old business, but retired and lived first in Boston, then built a house on Harvard Street. Brookline, not far from the place where his ancestor, John (I) lived. He died April 27, 1880. His wife died in 1903.
My brother Edmund (VIII), the last male of the family, lives in Waban and is vice-president and manager in the Boston Insurance Co. He is well known and much thought of in the insurance world. He married Ruth Dennison Dana of Brookline and has two daughters, Dorothy and Helen.