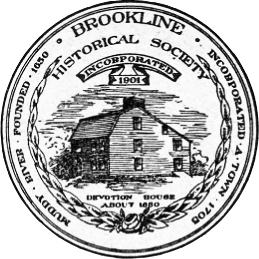 PROCEEDINGS
OF THE
B

ROOKLINE

H

ISTORICAL

S

OCIETY
AT THE
ANNUAL MEETING, JANUARY 27, 1927
BROOKLINE, MASS.
PUBLISHED BY THE SOCIETY
MCMXXVII
BY WILLIAM OGILVIE COMSTOCK
Venerable Timothy Hatherly, the founder of Scituate, so-called by Savage, was my great uncle many times removed, and it was by the marriage of his sister, Mrs. Eglin Hanford, to Deacon Richard Sealis of Scituate, that I was in another way connected with Brookline. By his first wife, Deacon Sealis had two daughters, Hannah and Esther; the latter married, in 1639, Samuel Jackson of Scituate, and the former, Hannah, had married the year before John Winchester. The Winchesters afterwards came to Brookline. Mrs. Eglin (Hatherly Hanford ) Sealis had a son, Thomas Hanford, who was left in England to study for the ministry when his mother came with her two daughters, Letuce Hanford and Margaret Hanford, to join her brother. Timothy Hatherly, at Scituate in this new country. Letuce Hanford married, in 1635, Edward Foster of Scituate, and Margaret married, in 1636, Isaac Robinson, son of " blessed John Robin son" of Holland, the pilgrim minister, who never came to America.
Rev. Thomas Hanford, son of Mrs. Hanford Sealis, came to America soon afterward and taught the school at Roxbury and probably preached there. He then became the first minister of Norwalk, Connecticut, about 1652, where he married, in 1661, Mary (Miles) Ince, daughter of Richard Miles and widow of Jonathan lnce (H. C. (1650). Their daughter, Sarah Hanford, married, in 1705, my ancestor, Captain Samuel Comstock of Norwalk.
To carry the line further, Captain Samuel Comstock, son of Christopher Comstock of Fairfield and norwalk, and Hannah, daughter of Richard Platt of Milford, Connecticut, had a son, Nathan Comstock of Wilton, Connecticut, who married Bethia Strong, a descendant of Elder John Strong of Dorchester and Northampton. Deacon Nathan Comstock had three sons in the Revolution, one of whom, Benajah Strong Comstock, was my great grand father.