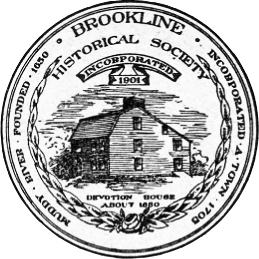 PROCEEDINGS
OF THE
BROOKLINE HISTORICAL SOCIETY
AT THE
ANNUAL MEETING, JANUARY 22, 1914
BROOKLINE, MASS.
PUBLISHED BY THE SOCIETY
MCMXIV
BROOKLINE HISTORICAL SOCIETY
THIRTEENTH ANNUAL MEETING.
A letter by Mrs. Charlotte Green Rawson of Mendon, Mass., who afterwards married (October 26, 1836) Dr. Mathew Brown, one of the founders of Rochester, New York, written in Brookline June 16, 1827, to her sister, Miss Julia Ann Green, then at school in Milford, Mass., and read before the Society to whom it was given by Mr. William Cooper Hunneman 4th. He described finding this letter as follows: Mrs. William Cooper Hunneman, 2d, of 11 Mt. Pleasant Ave., Roxbury, from about 1828 to 1890, whose maiden name was Frances Jemima Green, a sister of Mrs. Charlotte Green Rawson of Brookline, "had a garret and the old-fashioned habit of keeping things 'forever' in it. Most children of the present generation, and grownups of future generations will only know of such delightful places to explore on rainy days, by the stories they may hear or read of the old houses with the space under the sloping roof unfinished, where one had to stoop, often dark, and of the odor all of its own, a dry, woody odor, especially on a hot day in summer; a space full of trunks of all ages, including the hair covered trunks, boxes, a chest or two, a spinning wheel, perhaps a boy's model of a ship, children's toys put away when outgrown, perhaps a small box of the children's first little shoes, odd pieces of furniture, rolls of wall paper, carpet and straw matting, andirons, shovels and tongs, skates of various generations, from those where the runners curled up over the toe, old shoes, bonnets and beaver hats, fuzzy and grey, possibly a hoop skirt, boxes of old papers and letters and books, a few specimens of dresses, both male and female, packed away in camphor in a cedar chest.
"All these and more were in the garret where this letter lay some fifty odd years, and in reading it now, I think possibly some of your members may recognize the names mentioned in it.
Very truly yours,
WM. C. HUNNEMAN."
Brookline, June 16th, 1827.
My much loved Sister
I cannot but reproach myself for neglect when 1 recollect that I have never written to you particularly since you commenced your studies in Milford. I hope dear Julia you will improve your time & talents to the best advantage. You probably do not feel the importance of applying yourself as closely to your studies as would be advisable - but I would remind you that you have but a few years at most to spend in pursuit of knowledge uninterrupted as at present - I would not merely have you get your exercises verbatim. That I do not consider at all important but I would have you look into what ever study you commence & try at least to understand it. A superficial knowledge only serves to make one appear ridiculous. I do not mean to say that you are thus learned but I have often very often heard you complain that you could not understand your studies. You must never be afraid to ask any explanation of any question you do not clearly see through - that in case one should be asked of you, you might be able to give an answer with out hesitation. I hope you will pay particular attention to arithmetic & writing. Girls too often fail in these two branches of education. You often meet with young ladies who have had an Academy or a Boarding School education who cannot tell you the third of two - nor write a legible hand.
Sunday evening. Nearly a week has elapsed since I commenced this, unavoidable duties have demanded my attention & time. I either do not like to write as well as I used to - or I have not so much time to spend in writing as I once had. I feel perfectly sensible that the letters of my friends remain a long while unanswered - with the exception of yours and sister Fannys, dear Julia - You must pardon me if sometimes I have felt that you had forgotten, such a being existed, as your Charlotte - but I do not allow my self to indulge in those feelings often - Sometimes they will rise in spite of anything you may please to imagine. This you will say has very little connection with the first page of this letter. I acknowledge the truth of it & proceed accordingly - I left off with arithmetic & writing, I will commence again with entreating you not to read novels or remances while you are at school - should you live, as I pray you may, you will have an abundance of time to indulge in light reading - After your mind is well stored with useful knowledge. You are sensible I presume that you are immoderately fond of reading novels & you must be sensible that you have indulged yourself to a very great degree in that kind of reading-Your better judgment I hope will dictate something more solid & useful if not quite as amusing. We must not always indulge ourselves in those things which please us for the moment we should rather ask will it serve us in future - & whatever will stand the test we may safely enjoy.
Wednesday 27th. Company came in Sunday evening which prevented my finishing this letter & this morning Miss Heaney is sick the girls are taking their study hour, & I have seated myself with the determination of finishing this sheet. Last week I walked into Boston with Miss Charlotte Walley - found Mr. & Mrs. Martin Lincoln at Mrs. Bowles - I was very happy to see them - poor Catherin her husband and dear little Mary were thrown from a chaise a few days before I went in they were none of them much hurt - but greatly frightened little M. says she "fell out of the chaise & boke her nick" she is a most interesting child - her parents idolise her-Cath'rin comes out often to see me - is coming this week to spend the day with her little darling-I visited the Gallery of paintings at the Atheanaeum was very much delighted - there are a great many old pictures, some very antiquated - There is a most beautiful picture of Jerimiah the Prophet & his scribe - who is seated at the feet of his master & waiting, apparently with the deepest interest for the dictation of the Prophet - the picture is very large. I will have a long description to give you when I see you. I met several people whom I have not seen for three or four years - and who I may not see for as many more-I walked out of town with Charlotte & her Brother - we started about six and reached home at eight. Mrs. Walley has twelve children one son in Smyrna in the midst of the Greeks & Turks one in South America & one who has just returned from Porto Cabello - he and his brother were merchants - the troops marched into their town & their store being the most comfortable one in the place - Bollivar took it for his own quarters - more of this when I see you. The Walley family is one of the most - perhaps the most interesting families I ever knew-Mrs. Walley is a french lady she came to this country about 38 years ago-I wish you could know them Julia. I have told them about you and they wish to see you. Julia my dear be a good girl & understand what you learn - you must write a great deal - & you will please me & all who love you - write me a long letter tell me what you are doing direct my letters to Boston to the care of Bowles & Dearborn - Boston - & I shall get them - there is no office in Brookline-Mr. & Mrs. Bowles intend to visit Mendon soon - I hope you will see them - Miss Buffum is sitting beside me - she says give my love to Julia - little Mary Walley is standing over me with one arm over my neck & then giving me a kiss-she is a sweet child - write soon to Charlotte.
[P. S.] There is one young lady here whom I have not mentioned, in this letter - one whom I love most dearly - one of the sweetest & most amiable girls I have ever known I would give much to have her a companion of yours she is intellectual very modest & unobtrusive - she plays very finely on the pianno forte & sings sweetly - she is your own age and her name is Cath'rin Walley - You will say the Cath'rins seem to be favorites - I have found two that are - she talks of you every day - she says very often Oh Mrs. Rawson I wish you were a Catholic - she and all her family are Catholic's - Cath'rin is goin into the Convent this fall to get prepared for joining the Church - Mr. Byrn the Catholic Priest comes out very often - generally spends the night & says mass the next morning we have all been invited twice to attend but the rain prevented - Mrs. Walley sends us cherries every day in abundance & other neighbors send us strawberries - I live upon fruit altogether I always wish you had some of it - Has Dr. Leland commenced a course of Lectures this term? Tell me all about them if he has - My compliments to Mrs. Long if you please and regards to Mr. Cleaveland - tell him I hope he will make a good scholar of you - again farewel.
[Addressed] Miss Julia Ann Green
Care of the Rev David Long,
Milford Mass.
The writer, Mrs. Rawson, was born October 6,1804, at Medway, Mass., and died July 9,1883, at Fond du Lac, Wisconsin. Her parents were William Green and Jemima Wright Green of West Medway, Mass.