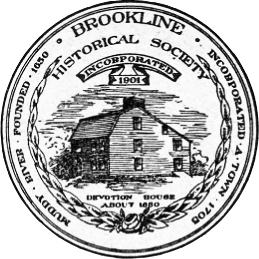 PROCEEDINGS
OF THE
B

ROOKLINE

H

ISTORICAL

S

OCIETY
AT THE
ANNUAL MEETING, JANUARY 19, 1910
BROOKLINE, MASS.
PUBLISHED BY THE SOCIETY
MCMX
BROOKLINE HISTORICAL SOCIETY
NINTH ANNUAL MEETING.
February 12, 1909.
The Society celebrated the Lincoln Centenary with a special program in the Grand Army Room of the Town Hall on February 12, 1909, at 8 p. m.
C. L. Chandler Post, G. A. R., Woman's Relief Corps, Johanna Aspinwall and Hannah Goddard Chapters, D. A. R., and Isaac Gardner Chapter, D. R.,and the Brookline Thursday Club were the guests of the Historical Society.
William O. Comstock, vice-president, who, in the absence of President Charles H. Stearns, had charge of the exercises, read Lincoln's sketch of his own life, and recited Lincoln's poem, "Memory." William J. Seaver read a paper which follows on "Some Personal Impressions of Abraham Lincoln in 1856." Charles F. Read spoke on "Lincoln's Visits to Boston and Vicinity." Edward W. Baker read President Roosevelt's recently published "Appreciation of Lincoln." Miss M. T. Simpson read the Gettysburg address and recited Lowell's "Commemoration Ode," Walt Whitman's "My Captain," and Bryant's "Death of Lincoln." Mrs. Marguerite A. Goodspeed sang the "Battle Hymn," "Old Blind Joe" and "When I'm Big I'll Be a Soldier." Mrs. Harriet L. Pierce was at the piano. A collection of Lincoln relics was on exhibition.
By William J. Seaver.
Probably more has been written about Abraham Lincoln than of any other American citizen, and it may seem presumptuous on my part to add anything to what has been said. I am afraid I shall say little that is new, but I cannot deny myself the opportunity of paying this small tribute to his memory.
A little more than fifty years ago the signboards at every turn of the roads in the East seemed to read, "Go West, young man." California gold fields were attracting thousands. Western farms were sought by many interested in agriculture. The forests of Michigan and Wisconsin resounded with the axes of the lumbermen from Maine. Young men engaged in mercantile pursuits were told that their business chances were much better in a country where cities were born every week.
But beyond all these interests and allurements was that tide of immigration flowing toward Kansas,-devoted spirits who were determined that there should not be another slave state added to the Union.
I became infected with the Western fever, and landed, as it happened..in Springfield, Illinois,-the home of Abraham Lincoln,-then as far west as Dakota is today. (Some of my personal experiences there would make as good reading as Winston Churchill's novel "The Crisis," and be as entertaining.) Among other things I was told (because of the AntiSlavery sentiment of New England) that it would be just as well not to say that I was from Massachusetts, and especially from Boston. The southern half of Illinois was settled by many Tenneseeans and Kentuckians who were prejudiced against this section of the country.
But I am to speak of Abraham Lincoln. That I knew him in 1856-7 has been more than a pleasant recollection with me for over half a century. I was not old enough to be called his friend, but I love to feel that I had more than a passing acquaintance with him during those two years.
The first time I saw him he was sitting on the grass in front of his modest home; three or four small children were climbing over his chair and running about him, which would not have been encouraged, perhaps, by a person less fond of little children. I speak of this to show his loving nature. He was paying but little attention to their antics, however. There was a far-away look in his eyes as if his thoughts were elsewhere. Perhaps even then he had visions of what might be possible and probable, when the conflict of argument over the great question of that day should be followed by the clash of arms-for there were many who predicted, five years before the Civil War, that there would be bloodshed before the issue was settled.
Mr. Lincoln's figure, tall and ungainly, was dressed in a ready-made suit of dark cloth, all too short in the arms and legs. He wore a round plush cap without any visor, and his necktie of black silk was carelessly tied. His personal appearance would not impress a boy from an eastern city, who was familiar with the figures of Charles Sumner, Edward Everett and other prominent men of New England, that he was a great man. I was pleased with his speech, his kindly smile; he impressed me with his sincerity; but that his was the master mind that should be so influential in public affairs in the years to follow never entered my mind any more than that later he was to be the savior of his country. Neither was
he
aware of his natural gifts, or conscious that he possessed those qualities that made him a statesman outranking his contemporaries.
I took him to be a fairly good lawyer with a small practice, and a strong liking for politics. He was extremely modest; absolutely fair and thoroughly honest and unselfish; willing at all times to waive his claims for political place and position for the benefit of others and the cause, his great desire, to use his own words, being "to do what was right and make himself useful. "
At times he was very sober, but often, and even on serious matters, his opinion was expressed in a lighter vein. He was practical in his advice, but he had moods of deep sentiment. Pathos and humor are blood relations. Where will you find a finer or more beautiful expression of this characteristic than in the following lines:-
"The mystic clouds of memory stretching from every battlefield and patriot grave to every living heart and hearthstone, all over this broad land, will yet swell the chorus of the Union, when again touched, as surely it will be, by the better angels of our nature."
At the time I knew him-in 1856-he had not become prominent in national affairs. We can hardly realize the stupendous, wonderful work he was to perform in the short period of the nine years which followed. It does not seem possible that an inexperienced mind and human hands could have accomplished it unaided and alone. Today I do not seem to be listening to the story of the man. I lose sight of the tall, ungainly figure, the rugged features, and through "the mystic clouds of memory" I see a mighty, luminous form-a benign spirit controlled and directed by an infinite power for a purpose beneficent to this country, the whole world, and for all time.
I was employed in a general store and bank in Springfield where there were two or three boys from Massachusetts. Mr. Lincoln was on very intimate terms with our employer, and he liked to talk with us. We had many opportunities of enjoying his genial conversation. My fellow clerks were criticising a lady patron; they remarked that she was so unsophisticated that she was lacking in tact, although she had many other good qualities. Mr. Lincoln, always ready to excuse the failings of others, said, "That reminds me of a girl who wasn't much of a dancer. Her friends said that what she lacked in dancing she made up in turning round." Those who are familiar with the old-fashioned cotillion will appreciate the story. He had a way of illustrating his side of an argument with a funny story-not always original, but always to the point; the laugh would be on you, and, as the boys say, you would take a back seat. Mr. Lincoln was free with good advice to young men, for he called himself an old man before he was 47, and felt privileged to give it. I remember at one time, in answer to something I had said, he replied in a common expression of the day, "You'll know more when the steamer gets in," and as the Irishman said, "Begorra, I did." Mr. Lincoln was not mistaken. Frequently since then I have awaited the arrival of the steamer.
The question practically before the people in 1856 was, "Has the United States government the light to determine what the status of a new state shall be-Slave or Free?" All this is a matter of history, however, and you are familiar with it. The excitement over the question was intense-much more so in the West than in the East. Through Springfield, Mr. Lincoln's home, immigrant trains from the South were passing almost daily to the disputed territory of bleeding Kansas,-I can see them now with their huge covered wagons, and hear the drum and fife that often headed the caravan,- and there was a contingent from the North traveling in the same direction.
In Springfield also were recruited a corps of so-called government inspector's deputies, whose business it was to supervise, or rather control, the elections that were to take place in that territory. All this was going on under Mr. Lincoln's immediate observation.
Mr. Douglass, on the stump, was drawing large audiences, who were pleased with the plausible story of "Squatter Sovereignty," and Mr. Lincoln attracted equally large numbers in his reply.
On one of these occasions I heard Mr. Douglass during the afternoon in a grove outside Of the city. I was astonished at the attendance. Railroads were few in number in those days and the country sparsely settled, but there were almost thousands where I expected to see only hundreds. The ox wagon and mule team brought whole families, including children, from long distances, for miles and miles around. They came prepared to stay over night, with their supplies of food and the usual amount of corn, whiskey and quinine. Lincoln was to reply to Mr. Douglass in the evening from the State House, which stood in a square in the centre of the city. Delegations were to arrive from Chicago and elsewhere up the State, and it was a gala time. The event appealed to me at once.
I was much pleased with Mr. Douglass, his manner, person and finished oratory; but I could not help thinking that he, born in Vermont, brought up in his youth surrounded by the influences of New England, was expressing himself antagonistic to the sentiments that prevailed in his old home; while his opponent, Abraham Lincoln, born in a slave-holding state, of rough exterior, educated more by his experiences than books, whose thought and ideas of right and wrong were the children of a mind developed in the loneliness of the forest and in his communion with nature, stood boldly as the champion of freedom and justice.
Mr. Lincoln gave his reply to Mr. Douglass's address from the steps of the State House. I had climbed into a window seat just behind, and at one side of him. The Chicago delegation had not arrived-the train was behind time; it carried a platform car in the rear on which they had mounted a small field piece which saluted the several stations they passed on the Chicago & Alton Railroad. The crowd was awaiting anxiously its arrival. Presently we heard it coming, and soon, to the soul-stirring music of a brass band, the delegation came round the corner.
Mr. Lincoln's remarks on this occasion were of the character of a stump speech; they were offhand, informal, but logical and conclusive. I do not know that they were ever published, but one little bit has been in my mind ever since. "The Honorable Senator asks me if I intend to go across the river and fire stones at their institutions [meaning the Southern States]. I tell the Honorable Senator, No, but I mean to stand on this side of the river and fire as many stones as I like." As commander of the army of the United States he was to do more than this later. He was to use an armed force, bullets instead of stones. And no commander in the history of the world ever had so great or so devoted an army, and never so valiant an enemy. No commander ever took more interest, down to the smallest details of the service, and gave it more time and labor, or watched its progress with such tireless zeal. From consultations with his cabinet to the telegraph office, in message, speech, correspondence and interview through four long years he left a most remarkable record of devotion and service to his country. "It was said of him by an English paper after his death that he never attempted invective, and nothing elicited from him impatience or resentment. Creditable to his head and heart was the entire absence of violence, either of language or opinion."
Some men are so arbitrary, because of success, or they are so blind with prejudice and passion that they cannot excuse the mistakes or be charitable for the short-comings of others, but Abraham Lincoln's character and magnanimity gave him clearer, broader vision. He rose to the noblest heights of patriotism, duty and good-will. Like a prophet he saw that the future of his country depended on the harmony of all its parts. And when the war was over, the spirit that animated these immortal words, "With malice toward none, with charity for all," was almost divine.
And today a grateful, united country expresses its love and appreciation for the greatest American-Abraham Lincoln.