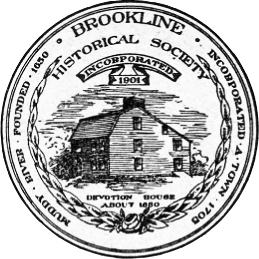 PROCEEDINGS
OF THE
B

ROOKLINE

H

ISTORICAL

S

OCIETY
AT THE
ANNUAL MEETING, JANUARY 26, 1909
BROOKLINE, MASS.
PUBLISHED BY THE SOCIETY
MCMIX
REPORT OF THE NOMINATING COMMITTEE.
Your committee appointed to nominate officers of the Brookline Historical Society for the coming year begs leave to report that it has attended to its duty and proposes the following candidates:-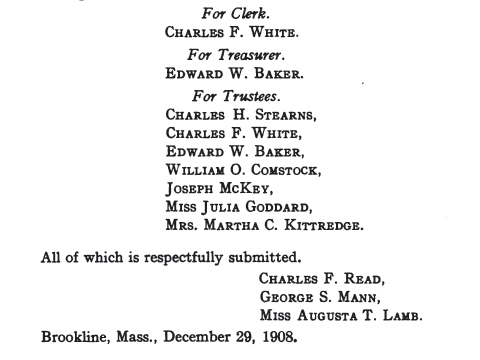 The report was accepted and it was voted to proceed to ballot. The ballot was taken and the candidates nominated were unanimously elected.
Voted
, That the next meeting of the Society be held on February 12, 1909, and that it be commemorative of Abraham Lincoln, the date named being the one-hundredth anniversary of his birth.
Voted
, That a committee of three be appointed by the chair to make arrangements for the meeting and that the C. L. Chandler Post, G. A. R., The Women's Relief Corps, the Joanna Aspinwall and Hannah Goddard Chapters, D. A. R., the Isaac Gardner Chapter, D. R., and The Thursday Club, all of Brookline, be invited to attend the meeting as guests of the Society.
The chairman appointed as the committee Messrs. White, Comstock and Read.
Notice was given of an intention to change the By-Laws of the Society in the following manner at the March meeting of the Society:-
To add to Article V the following paragraph:-
"The Officers of the Society shall also include a President Emeritus when the Society shall so vote."
To substitute for the first paragraph of Article VI the following paragraph:-
"The annual meeting of this Society shall be on the third Wednesday of January. Regular stated meetings shall be held on the third Wednesdays of February, March, April, May, October, November and December."
Voted
, To print the president's annual address, treasurer's report, by-laws, list of officers and members, and such papers as the Committee on Publications may select.
Voted
, To dissolve the meeting.
Edward W. Baker,
Clerk