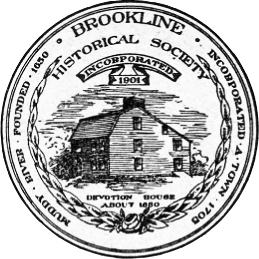 PROCEEDINGS
OF THE
B

ROOKLINE

H

ISTORICAL

S

OCIETY
AT THE
ANNUAL MEETING, JANUARY 22, 1908
BROOKLINE, MASS.
PUBLISHED BY THE SOCIETY
MCMVIII
BROOKLINE HISTORICAL SOCIETY
SEVENTH ANNUAL MEETING.
Written by Miss Ellen Chase and Charles F. White. Read before the Society by Charles F. White, February 27, 1907.
The old house which is the subject of this paper stood facing the southwest on a little knoll about fifty feet east of Clyde street and seven hundred feet south of the junction with Warren street. It has been called the Woodward House, although it is not known just when it was built, nor by whom.
Woodwards were in Brookline very early in its history. In 1637 a grant of twenty-eight acres, bordering the "cedar swamp" on the southwest, was made to Nathaniel Woodward the elder, who is shown by the Book of Possessions to have owned a lot occupying the present northeast corner of Washington and Summer streets in Boston, where his residence probably was. At the same time Nathaniel Woodward had a house and garden on the northerly side of Fort Hill near the cove, and he was no doubt a son of Nathaniel the elder, so called to distinguish them. In 1637, also, a vote was passed in Boston agreeing that John and Robert Woodward, sons of our brother Nathaniel, should have house lots allotted to them. Further, the book of possessions shows by an entry in 1639 that "also a great lot be granted to our brother Nathaniel Woodward at Muddy River for three heads." (It is interesting to note in passing that Mr. Theron Royal Woodward of Chicago, who at the time of his death last year was engaged upon a genealogy of the Woodwards, was a descendant of Nathaniel the elder and his son Nathaniel just referred to.) This particular line of Woodwards is not the one, however, that is associated with the old Clyde street homestead. How they were connected, if at all, we do not now know, though it is natural to think that they were.
A dozen years after the grant of the great lot to Nathaniel, that is, in 1651, Thomas Woodward of Boston grants to Alexander Beck of Boston four and a quarter acres of land at Muddy River, bounded in part by land of Nathaniel Woodward, the deed being sealed and delivered in presence of John Angier and William Aspinwall; showing that Nathaniel and Thomas had been adjoining land owners in Muddy River.
In 1652 Thomas Woodward bought of Zaccheus Bosworth a lot of land occupying the southerly corner of Milk and Washington streets in Boston. It seems probable that the Woodwards of our present interest are descendants of this Thomas.
In examining the records of the first century of settlement we must bear in mind that up to 1705 Muddy River was part of Boston, consequently births, marriages and deaths were of record there. During the same period, and indeed until 1717, Muddy River inhabitants were parishioners of the Roxbury church, and baptisms and other church records will be found there. So intimate were the associations of Brookline and Roxbury, however, that entries properly belonging in Boston were made in the Roxbury town books; such an instance is the entry,-"14 January, 1659-60; born, Thomas Woodward, son of Thomas."
Boston birth records next show, 1663, Esther, daughter of Thomas and Esther Woodward of Muddy River. Next Roxbury church records show that Thomas Woodward joined the church there April 24, 1664. The next Sunday, i. e., May first, Thomas and Esther, children of Thomas Woodward, were baptized. It is one of the pictures of life-this joining by the father and his bringing his two children the next week. It clothes with flesh and blood the dry entries two and a half centuries old. We get a further touch of life concerning the mother of these children when we read,-"8 June, 1673, Esther, wife of Thomas Woodward, entered full communion." The next Boston entry is the birth on June 24, 1667, of Elizabeth, daughter of Thomas and Judith. (I think the entry of Judith as the mother's name is due to confusing the names of two Hebrew heroines.) Then, from Roxbury, "30 July, 1667, baptized Elizabeth Woodward, daughter of Thomas"; on the 13th of January, 1668, the birth of Mary, daughter of Thomas and Esther, and her baptism, at Roxbury, on the 17th of January of the same year; in 1670, the birth of Rachel, daughter of Thomas and Esther, and the baptism at Roxbury, November 27, 1670, of Rachel, daughter of Thomas. Next, the Boston record enters the birth of --,son of Thomas and Esther, Sept. 10, 1673, and the Roxbury church records give on October 19, 1673, the baptism of Robert, son of Thomas Woodward. The last Roxbury entry is the baptism, March 25, 1675, of Mehitable Woodward, daughter of Thomas, her name being omitted from the Boston records.
We get another glimpse of this family from the Roxbury church records, learning that in 1681, "23d January, Thomas Woodward Jr., Esther Woodward and Hannah Woodward with Sarah Devotion, all these take hold on the covenant." Thomas Woodward was then twenty-one years of age, and Esther seventeen; Hannah, I cannot identify- But in 1685, when also seventeen, Mary Woodward signed the covenant.
It is something noticeable that during this period of twenty five years, from 1660 to 1685, we do not find that Thomas Woodward held any offices in Brookline; for in those early days of scanty population almost every man was called upon to serve, and punished by fine if he did not. Perhaps some physical disability excused him. That he was here, nevertheless, is shown by the birth entry of Esther, 1663, given above, and by a tax list for 1674 printed in the Record Commissioner's reports, wherein Thomas Woodward of Muddy River is taxed three shillings for his "county rate" and the same amount for his "poor rate." The Roxbury church records enter his death Sept. 10, 1685, while the Roxbury town record gives the additional detail of "Thomas Woodward, Senior." We get our last glance at the first generation in the tax list of 1693, which contains the name "Widow Woodward."
We do not know precisely where in Brookline Thomas
1
senior lived; only that in 1651 he sold some land near the "cedar swamp," or in what is now Longwood.
Thomas
2
junior we can locate with more certainty and identify him as an owner of the property on Clyde street, by the succession of the deeds. The items on record regarding him after his joining the Roxbury church are as follows: In 1687 he is on the tax list for Muddy River as owning 6 acres of land, 2 cows, 1 heifer, 1 horse, 12 sheep and two buildings, and his total tax, including two polls (probably himself and hired man), was 5 shillings 4 pence; in 1691 and 93 his name appears on poll lists.
In 1694 his name first occurs in the town records, when he is chosen fence viewer. He held the usual round of local offices, serving most as tythingman, at intervals from 1707 to 1729. He seems to have been firmly set against serving as constable, being several times fined for refusing to serve, one of the fines being recorded as £4 4s. The record of his first election, made by Samuel Sewal, Jr., town clerk, is brief enough:- "Chose Thomas Woodward constable, Dropt him." The office of constable seems to have been generally unpopular from the chief duty connected with it, that of collecting the taxes. No doubt the people looked upon the constable much as the people of Thrums did upon Wearyworld, whom they elected policeman. This is the Thomas Woodward whose name is in the list of petitioners for the incorporation of the town in 1705.
I have found no record of Thomas
2
- Woodward's marriage. His wife's name was Tryphena. Roxbury church records of baptisms as printed omit 1688 to 1750, but Boston and Brookline birth records supply data regarding the children of Thomas
2
and Tryphena, as follows:-"16 May, 1690, Mary; 26 Sept., 1692, Thomas
3
; 30 Jan., 1694. Tryphena; 11 Sept., 1697, John; 9 Nov., 1699, Hannah; , Sarah; , Elizabeth; 18 June, 1709, Joseph."
Of these children, Sarah and Joseph died before 1729, while Elizabeth seems not to have been party to the division of the estate. Unfortunately Boston no longer kept our records, and Brookline death records do not begin until 1761.
We cannot be exact as to when Thomas
2
Woodward possessed the Clyde street property, but in 1699 he buys two parcels of land, one from Uriah Clark and a second from Joseph
2
White. These were recorded in Suffolk deeds. Vol. 19, pp. 306-9, but some vandal has cut from that book pages 283 to 340 and the descriptions are thus lost.
This Joseph
2
White, second son of John
1
senior, was grandfather to Deacon Joseph White, who later bought the house on Clyde street from Thomas
4
Woodward's grandson Thomas
4
. In April, 1702, Joseph Buckminster of Muddy River, tanner, and Martha, his wife, deed to Thomas Woodward of Muddy River, yeoman, twenty-two acres of land at Muddy River, bounded northerly by Josiah Winchester, easterly by Dorman Marean and Joshua Child, southerly by Thomas Woodward, and westerly by Jonathan Torrey-names associated with the southerly side of Brookline, between the present Clyde and Newton streets.
It now becomes of interest to notice the origin of Clyde street, where this old homestead was located. At the March meeting of 1714 it was voted, "That the southwesterly end of the Town have a way laid out for them by the said Town."
Up to this time there was no public way in the town connecting Newton street with the Sherborn road, and passage to and fro was no doubt over private ways. These were rude roads through the woods and meadows, similar no doubt to those charming cart paths which still exist in the wooded, rocky tract of the town behind the Country Club, toward Hammond street. They followed the surface of the ground with almost no attempt at grading, winding and twisting to avoid trees and ledges, with an occasional bridge where a brook must be crossed. Some of these ways developed into streets, as did Goddard avenue, but most of them disappeared with the changes of time. One such cross way left Warren street about two hundred feet west of its junction with Cottage street. Passing down the steep slope, it was carried over the little stream of spring water by the bridge of field stones which is still there, and the low, grassy dyke which crossed the meadow can also be plainly seen. This old way extended through to the Goddard farm. At the Warren street end was a gate, and just at the left as one entered was a deep well fitted with a great octagonal oak pump, with a heavy wrought-iron pump handle. The water of this well needed no ice in summer. (There are some of our number who can recall using this old cart way before it was closed, about fifty years ago.)
At the November town meeting of 1715 town clerk John Seaver records- "Voted, That there should be an open way laid out from the south part of Brookline, to wit, from the road that leadeth from Jamaica to Erossamond Drew's sawmill along by Joshua Child's house to the Country Road that leadeth from Roxbury to Newton through Brookline along by Leftenant Thomas Gardner's house." In October, 1717, the town voted, "That the New Way laid out between Isaac Child's and Thomas Woodward's be repaired and made feizable at the Town's cost."
We notice the change from Joshua Child to Isaac Child in these votes, two years apart. Isaac in 1717 was twenty-nine years of age, a son of Joshua. He had shortly before married Elizabeth Weld, and had no doubt established himself on land formerly his father's, and his house was located either where the "Hyde" house is now, on Newton street, or perhaps on the northerly side of the street upon the land of the late Mr. Willard Humphrey.
An entry printed on page 110 of Brookline Records recites the vote of 1715, and proceeds, "which accordingly was effected by the selectmen, viz., Capt. Samuel Aspinwall, Thomas Stedman and John Winchester, Jr., who have agreed with all the proprietors, and the Damage by running said way through their properties has been paid as appears in the Account Book of said Town of Brooklyn. The aforesaid Highway beginning as aforesaid near Isaac Child's house on the east of said house as it is staked out and running northerly through Isaac Child's land to the land of Samuel Newel and then turning a little, toward the east, running through the land of Joseph Dudley Esq'r then turning northerly and running through or upon part of Joshua Child's land, being part of Bowen's Farm so called, then entering upon the Land of Thomas Woodward to the Land of Joseph White, then turning a little toward the East, running to the land of the Heirs of Jonathan Torrey, Late of Brooklyn, alias Mudeyriver, Deceased. Then running Northerly to the Road or lane known by the name of Woodward's lane to the Road commonly known by the name of Sherbourn Road."
Twenty-seven years have passed since Thomas- Woodward made his earlier purchases of land. The sons are grown when we find (Suffolk Deeds, 56-156) that "11 Feb., 1726 Thos. & Tryphena Woodward convey a parcel of orchard and meadow land to their son John."
Thomas
2
Woodward, Sr., died about 1731, having made his sons Thomas
2
and John' executors of his will, with power to decide whether the portions of the four sisters should be paid in money or lands. They elected to divide the lands, as is shown by an indenture entered on April 26, 1731 (Suffolk Deeds. Vol. 56. p. 176). The real estate included the homestead of eleven acres and four other lots-the aggregate being forty-nine and one-half acres. One-half the mansion house, barns and out-buildings, with all moveables, and one-half the use of the lands were given the widow during widowhood, and to the three unmarried daughters the use of the best chamber, if agreeable. All the children were to share and share alike in the real estate, save that Thomas
3
, the eldest son, was to have a double portion as the Province Law directed. Six years were allowed for the settlement, and in April, 1738, the papers were signed and acknowledged before Samuel
3
White, Justice of the Peace.
We may note in passing that Mary Woodward married James Goddard in 1713; Tryphena married William Dyer in 1741; and Hannah died in Brookline, unmarried, in 1764. Thomas
3
died in Brookline, probably unmarried, in 1768; John
3
Woodward (Brookline Town Records, Vol. 3, p. 208; Vol. 4, p. 28) married Nov. 30, 1722, Mary Goldsmith of Wenham. They had children-Joseph, born Dec. 9, 1723, died Nov. 19, 1796; John, born Feb. 23, 1725; Thomas, born April 12, 1730.
John
3
held a number of offices in Brookline and died Feb. 15, 1770. His widow Mary died in April, 1779, aged 87 years. She was the giver, in 1770, of two cups for the communion service of the First Parish church. They are still preserved. As has so often been the case, the homestead passed to the youngest of the three sons of John
3
.
I have not found record of the marriage of Thomas
4
Woodward, but his wife's name was Mehitable, as appears from town records, deeds, etc. Their children were: Mehetable, born March 11, 1757; Sarah, baptized Aug. 27, 1758; , born April 23, 1760, died next day; Thomas, born June 5, 1762; Benjamin, born March 11, 1764; John Goldsmith, born Dec. 0, 1766; Elizabeth, born Feb. 15, 1769.
Of the father, Thomas
4
, it may also be said that he served the town in a number of capacities, as the records set forth.
At some date near 1770 the Woodward homestead passed from their possession by deed to Deacon Joseph
4
White of Brookline, and appears to have been bought for the use of his son Daniel
5
, since in 1771 Daniel White's name replaces that of Thomas
4
Woodward in the regular sequence of the Brookline tax and valuation lists. These manuscript lists in the town clerk's office, covering a number of years, are full of interest. For many years they uniformly began with the Griggs farm near Allston, and followed the line of Harvard street, side-stepping a little to take in the few who lived on upper Washington or on School street. Passing down to the "Punch Bowl" the list followed out the Sherborn road, i. e., Walnut street, and so along the side of Fisher's Hill to Heath street, with another offset to take in Col. Isaac Gardner's on Brighton street; thence up Heath street to the Newton line, whence a jump through the woods reached Drew's sawmill; from there down Newton street through Clyde to Warren, and so to the meeting house, thus completing the circuit of the town so far as habitations were concerned.
This is not the time to enter into much detail as to the Whites, who owned the house for some sixteen years. Deacon Joseph
4
White, born 1702, died 1777, was the eldest child of Deacon Benjamin
3
White and his wife, Margaret Weld. He lived just west of the present junction of Heath street with Penniman's Lane. He served the town in various capacities for fifty-three years and was deacon for twenty-one years. His estate comprised one hundred and seventy-one acres in Brookline, with seventy-six acres in Newton, as well as land in Needham. His wife was Sarah, daughter of Ebenezer Crafts of Roxbury, and all of their eight children lived to mature age. Two of his sons served in the early days of the Revolutionary War, Daniel
5
being second lieutenant in Captain Thomas
5
White's company, which marched on the Lexington alarm. The descendants of Deacon Joseph White are still numerous in this part of Massachusetts.
Lieut. Daniel
5
White was born in 1739 and in 1772 married Mary, daughter of Isaac Child, Jr., and Elizabeth Weld, and granddaughter of Isaac Child, Sr., and his wife Elizabeth Weld, he whose house was near the southerly end of Clyde street. The children were: Bartholomew
6
, born 1773, married in 1798 Hannah, daughter of Aaron and Hannah (Richards) Davis of West Roxbury. He lived many years in the old-fashioned house that is on the northeast corner of Weld and Corey streets. He died in 1855 and was buried in the old burying ground near Lagrange street on Center street, West Roxbury. Anna, born Oct., 1775, and Hervey, born May, 1781, were the only other children, and I have been unable to learn anything of their story further than that they lived to maturity at least. Daniel
5
White served the town from 1772, when he was chosen Surveyor of Highways, until 1785, when his last service was upon a committee, with Jonathan Dana and Benjamin
5
White, to consider and report on the matter of "selling spaces or spots on which to build pews in the meeting- house."
That Daniel
5
White ceased to live in the Clyde street house about 1780 is proved by an old contract of lease entered into that year between him and his elder brother Samuel
5
. This lease, found among some old papers by Dr. Walter Channing, has come into the possession of the Historical Society. The tax lists also indicate his removal to his father's homestead by the change in location of his name therein. Daniel
5
White died about 1813 or 1814, and Mary his wife in 1829.
By deed of April 2, 1785, Daniel and Mary White sold the property to John Corey. The earliest entry of John Corey's name in Brookline town records is for 1787, when he and Benjamin
5
Davis, grandson of Deacon Ebenezer
3
Davis, are elected hogreaves. He served in other capacities until 1703, when by a curious coincidence his last recorded service is again with Benjamin Davis, this time as highway surveyor. In what way, if any, John Corey was connected with the Coreys of Washington street, I have not ascertained, but it is suggestive that in 1807 Timothy and Elijah Corey are guardians for his minor children, after his death Oct. 6, 1803. He was born in 1759 or 1760, and married in Brookline Nov. 26, 1788, Elizabeth Corey. She died here Sept. 25, 1845. Their children were: Elizabeth, born 1789; Harriet, 1792; Anna, 1796; and Caroline, 1802.
The next transfer of the land is in 1819, when John M. Upham of Newton, in right of Anna, his wife, and Elizabeth Corey of Newton, spinster, for $1466.67 sell to Erastus Champney, housewright, two-thirds of a tract of fifteen acres of land with house and barn, in common with the undivided third owned by Caroline Corey, a minor. Harriet Corey, the fourth sister, had died in 1813. Champney at the same time mortgages the estate to John M. Upham, et al.
Erastus Champney was a native of Keene, N. H. His first wife was Sarah Sumner Winchester, daughter of Nathaniel Winchester and Sarah Davis. They were married by Dr. John Pierce Feb. 24, 1807, and their five children as shown by the church records were Nathaniel Winchester, baptized Jan. 1, 1809, died March 5, 1809; Erastus, baptized April 13, 1810, died April 21, 1810; Joseph Addison, baptized Aug. 4, 1811, died Oct. 21, 1811; Erastus, baptized Sept. 6, 1812; Sarah Ann, baptized Dec. 29, 1816, died Oct. 4, 1817.
The wife Sarah died in 1817, and he married second, March 15, 1819, Hannah Homer Hunting of Brookline. He married third. May 1, 1823, Abigail Prentiss of Roxbury. Erastus Champney was chosen tythingman in company with Robert Sharp Davis, Sr., in 1812, and was hogreave in 1820 and 1824.
In 1825 John M. Upham of Newton, yeoman, with Benjamin Richardson and Elizabeth (Corey) his wife, sells the estate described in the mortgage from Champney to Upham, et al., to hold subject to redemption, to Elisha Wheeler. The same day Caroline Corey of Roxbury, spinster, sells to Elisha Wheeler her undivided third of the estate descended from her father, John Corey. Erastus Champney, cabinet maker, also conveys at the same time to Elisha Wheeler his interest in two-thirds of the estate. Two days later, i. e., Oct. 24, 1825, Elisha Wheeler of Boston, trader, and Betsey his wife convey to Sarah Dunn of Brookline fifteen acres, formerly part of the farm of John Corey, descended to his three children, Elizabeth, Anna and Caroline. In April, 1830, John Dunn of Providence and Sarah his wife sell to John Kettle, merchant, the estate conveyed to Sarah Dunn by Elisha Wheeler. On May 14, 1830, John Kettle of Boston, merchant, quitclaims to Luke Baldwin of Roxbury, merchant, the estate for which he recovered judgment at Dedham in 1832 on foreclosure of a mortgage. On May 18, 1830, Luke Baldwin conveys the property to John Hunt of Boston, housewright, being the buildings and fifteen acres of land conveyed to him by John and Susan Kettle. In 1837 John and Sarah Hunt convey to George W. Goldsmith of Roxbury the estate conveyed to Hunt by Luke Baldwin. In his possession it remained forty-five years, to the time of his death, and in possession of his heirs for some twenty years more.
George Washington Goldsmith was born in Andover, March 29, 1808, son of John and Mary Goldsmith. He died Dec. 14, 1882, aged 74. He married first, at Roxbury, Dec. 23, 1832, Lucinda Hutchins, born June 17, 1806, at Bristol, Maine. She died Aug. 16, 1838, leaving one daughter, Emily Ann, born Sept. 16, 1837, died about Jan. 10, 1865.
Mr. Goldsmith married second, Aug. 18, 1839, Ruth Hutchins, also of Bristol, Maine, and, I infer, sister of his first wife. She was born July 17, 1808. Their children were: George, born March 5, 1840; Abby Jane, born Dec. 9, 1841, married Sept. 27, 1863, Levi Hastings of Ashburnham, son of Joseph B. and Adeline Hastings; Ellen, born Nov. 18, 1843, married Sept. 30, 1865, Edgar N., son of Seaman and Mary Lull, born West Stafford (or Stafford), Conn., a lawyer, resided in Tolland, Conn.; (male infant), born Feb. 13, 1846, died at once; Ruth, born March 23, 1848.
Mr. Goldsmith appears to have married a fourth time, as the town records give the birth in 1853 of his daughter Clara, with the note "dau. of Anna of England." Clara Goldsmith married Mr. George H. Cowan, the next neighbor to the north on Clyde street. The youngest child, Henry W. Goldsmith, now lives at Danvers.
In 1903 by settlement of the estate of George W. Goldsmith the title passed to his son-in-law, Mr. Hastings, and from him to the present owner, under whom the ancient house was torn down and the land divided for sale.
The demolition of this house gave opportunity to note in detail the framing and construction, and to measure and photograph these points. It was of massive hewn-oak timber, with a great central chimney. The body of the house measured outside 36 feet by 18 feet, with the old-fashioned lean-to on the rear, giving the picturesque long slope to the roof at the back. The framed walls were interlined with brick laid in yellow clay, which was also used to lay the bricks of the chimney below the roof. The small amount of cross partition, which with the huge chimney divided the rooms, was made of paneled work of white pine. The long kitchen in the lean-to had a large fireplace and brick oven, while each of the four principal rooms had a fireplace. Portions of the frame and panel work were removed to Aspinwall hill and incorporated in a manner to be readily seen in a building there.
Thus passed one of the last, but not the very last, of the Brookline homesteads which had seen almost two centuries of the town's life.