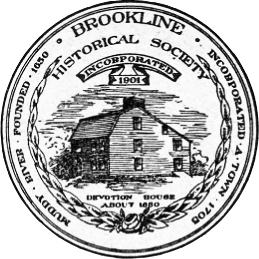 PROCEEDINGS
OF THE
B

ROOKLINE

H

ISTORICAL

S

OCIETY
AT THE
ANNUAL MEETING, JANUARY 22, 1908
BROOKLINE, MASS.
PUBLISHED BY THE SOCIETY
MCMVIII
BROOKLINE HISTORICAL SOCIETY
SEVENTH ANNUAL MEETING.
Members of the Brookline Historical Society
: -
Ladies and Gentlemen,
We are met at this seventh annual meeting of our Society to take into account some of the occurrences of the past year, hear reports of the officers and committees, and elect officers for the year 1908. The Society in the year past has held regular stated meetings, at which the following papers were read: -
January 23, The President's Annual Address.

February 27, The Woodward House, Clyde St.; a study of its construction, with drawings and some account of its occupants from 1715 to 1900, by Miss Ellen Chase and Charles F. White. Read by Charles F. White.

March 27, "Early Predecessors of the Heath School," by Michael Driscoll.

April 24, "Rebecca Nourse," by Miss Louise Howe. Read by Miss H. Alma Cummings.

May 22, "The Settlement of Massachusetts Bay Colony under Roger Conant, 1623-1628," by Mrs. Sarah S. Bartlett.

October 30, "The American Revolution: Its Causes and Commencement: The Royalist's View," by James H. Stark.

November 27, "Charles James Fox: The Colonies' Friend in Parliament," by George S. Mann.

December 18, "The French Neutrals," by Miss Louise Flagg.
THE MEMBERSHIP
of the Society has increased materially during the past year, largely by means of a circular letter addressed to citizens of Brookline by the Committee on Membership. There are at present 177 members in the Society, of which four are benefactors and twenty-three are life members.
This result proves that the people of our town are disposed to assist the Society in its work of studying the history of Brookline and preserving its antiquities.
THE MEMBERS DECEASED
during the past year were four, as follows:
ROBERT THAXTER SWAN
Record Commissioner of Massachusetts, who died at his home, Beacon St., Brookline, July 26, 1907, aged 64 years. He was born in Dorchester, Mass., and there became clerk of the Municipal Court; later, in 1882-83, was elected to the General Court, and still later was appointed Record Commissioner, a position he held at the time of his death. He was well and favorably known to the community at large.
MRS. MARY LOUISE STEVENS
died at her home on Columbia street, Brookline, Sept. 17, 1907, aged 67 years. She was the widow of our former member, Frederick Thayer Stevens, and joined the Society with him in 1903. They were much interested and regular attendants on the meetings of the Society until his death and her illness prevented.
MRS. MARY CAROLINE ATKINSON
widow of Edward Atkinson, a native of Brookline, in which she had always resided, died at her home Dec. 12, 1907, aged 77 years. She and her late husband joined the Society shortly after its organization, and, although not able to attend its meetings, took a deep interest in its affairs.
ALBERT ALONZO FOLSOM
who had been actively interested in the welfare of the Society and had served acceptably on its committees, died at his home in Brookline, Dec. 24, 1907, aged 73 years. Capt. Folsom was born in Exeter, N. H., in 1834, and came to Boston early in life and became a newspaper reporter on the Atlas and the Bee, and later on the Journal.
In 1854 he entered the service of the Boston and Providence R. R. Co., and became its general ticket agent. In 1860 he became the head of transportation, with his office at Providence, in 1864 he was made assistant superintendent and in 1867 superintendent of the road, in which position he remained until the road was merged in the New York, New Haven & Hartford R. R. Co. Capt. Folsom was a prominent member of the Ancient and Honorable Artillery Co.; he was a Mason of high respect, having served as Master of Columbian Lodge, was a Knight Templar, and had been Deputy Grand Master of the Massachusetts Grand Lodge. He was deeply interested in historical matters, and a member of various historical organizations. He possessed a retentive memory for historic dates, was a good conversationalist, an agreeable acquaintance, and a warm and devoted friend.
THE TOTAL DEATHS OF RESIDENTS OF BROOKLINE
in 1907 were 380, of whom 109 had reached, and in most cases, exceeded the bound of three score and ten, and 73 had exceeded 75 years; 30 were between 75 and 80; 26 were between 80 and 85; 10 were between 85 and 90, and 5 had exceeded the limit of 90 years. The 5 above 90 were Samuel Hall, 92; Joseph K. Hayes, 95; Nancy P. Gibbs, 90; Samuel G. Leavitt, 91, and Thomas E. Quimby, 90. Those between 85 and 90 were Charlotte E. Varney, 88; Mary Mitchell, 87; Mary A. M. Faxon, 89; Mary Lyons, 88; Edward Russell, 86; Elizabeth Postawka, 86; Anne Loring, 86; Elizabeth F, Porter, 86; Edwin 0. Marston, 87, and George Brooks, 87. Those between 80 and 85 were Annie E. Bowman, 82; Isaac L. Cox, 80; Rebecca W. Prescott, 80; Anaretta F. Leighton, 81; Elizabeth S. Wilbor, 80; Catherine E. Rametti, 80; Nancy C. Farwell, 83; Thomas H. Talbot, 83; Hannah S. Nettleton, 80; Mary A. Proctor, 84; Mary E. Hall, 83; Marcia A. Patten, 84; Fanny Cohen, 80; Nathaniel H. Furness, 81; Andrew J. Huey, 84; James G. Wiswell, 80; Susan Lucas, 84; Eneas Smythe, 81; Caroline Stern, 80; Rachel Bowes, 84; Angelina P. Tufts, 80; Elizabeth S. Folsom, 80; Sterne Morse, 83; Anne Boland, 80; Mary L. Talbot, 81, and Matilda C. Dexter, 83.
THE YEAR 1907
proved to be one of many historical celebrations in our state, and not only in the state but in our country, beginning with the Jamestown Exhibition in honor of the settlement of Virginia. In August there was a celebration at Falmouth, Mass., in memory of Bartholomew Gosnold's visit to the shores of that town in 1602. On August 15th there was unveiled at Gloucester, Mass., a bronze tablet in memory of the men who, at the instigation of Rev. John White, came from Dorchester, England, in 1623, and made Gloucester the first settlement in the Massachusetts Bay Colony.
On August 20th occurred the great celebration, with an address by President Roosevelt, in connection with laying the corner stone of the Pilgrim Memorial Monument at Provincetown, Mass., in honor of the first harbor made in America by the Mayflower and the first landing of her passengers on American soil.
Historical leaflets of great value relating to those several periods commemorated by these observances were published in the Old South Leaflets series. First is the account of Gosnold's settlement at Cuttyhunk, written by Gabriel Archer, who accompanied Gosnold on his expedition in 1602. The third centennial of that event was held in 1902, when the corner stone of a Gosnold Monument was laid at Cuttyhunk, which was completed and dedicated in 1903. The Falmouth people were behindhand in their celebration; Gosnold sailed from Falmouth, Eng., March 25, 1602, and sighted the coast of New England on May 14th, then skirted the shores of Cape Cod and came to Martha's Vineyard and the Elizabeth group of islands, to both of which he gave their names. His settlement at Cuttyhunk was the first in New England, and Archer's account of it is actually believed by some to have supplied Shakespeare with local color for his "Tempest."
In Bradford's "History of Plymouth Plantation" we find the account of the voyage of the Mayflower, and the signing of the famous compact in Provincetown harbor at the end of the voyage. Bradford's historic manuscript is preserved and exhibited in the State Library and lies open at the place where the compact is worded.
Near the time that the Pilgrims were signing the compact in the cabin of the Mayflower at Provincetown harbor, Rev. John White of Dorchester, England, was planning for a settlement farther north on the New England coast as a headquarters and refuge for fishermen resorting to these waters, out of which sprang the settlement at Cape Ann in 1623.
"White's Plantation Plea," published in London a few years later, played an important part in the history of the settlement of Massachusetts. It is an interesting portion of this which is printed in the Old South Leaflets. The people of Dorchester, Mass., have placed a tablet to White's memory in the church at Dorchester, England. The celebration at Gloucester fittingly calls attention anew to Rev. John White, who has been called "the father of the Massachusetts Bay colony."
Another New England celebration in 1907 worthy of mention here was the one held at Bath, Me., in honor of the building of the first vessel in New England by the Popham colony of Maine in 1607.
The centennial observances of John G. Whittier's birth and others during the year past have served to make 1907 a year of historic anniversaries worthy of record.
BROOKLINE ONCE A SHIPBUILDING TOWN.
Many citizens of Brookline have been merchants, ship-owners, shipmasters and engaged in mercantile affairs in Boston, but it is not generally known that shipbuilding was once carried on within the limits of the town. Joshua Magoun, a shipwright from Pembroke, Mass., and Francis Turner, from Scituate, under the firm name of Magoun & Turner, established a yard for building vessels on the Charles River in Brookline in 1832, at or near the site of the Cousens Coal Wharf, on what is now Commonwealth avenue. In 1832 they there built and launched the barque "Brighton," of 337 tons, owned by Rice & Thaxter of Boston, and the schooner "Concert," of 68 tons. In 1833 they built the barque "Burlington," of 406 tons, for Rice & Thaxter of Boston, which vessel was struck by lightning and burned in the North Atlantic while on her way from New Orleans to Havre with a cargo of cotton, in March, 1840.
In 1833 Magoun & Turner also built the ship "Marathon," of 382 tons, for William Eager of Boston. In 1834 they built the schooner "Silver Spring," of 67 tons, for Stephen Sawyer and others of Charlestown, the schooner "Abigail," of 89 tons, for John Manson of Scituate, and brig "Caribbean," of 173 tons, for Andrew Cunningham of Boston. The "Caribbean" was wrecked and a total loss at Carlescrona, in November, 1836, while bound to Boston with a cargo of wheat, rye, feathers, etc.
In 1835 they built the schooner "Gustavus," of 93 tons, for Charles Cole and Nehemiah Manson of Boston, and the schooner "Blue Rock," of 69 tons, for Stephen Sawyer and others of Charlestown, and also the brig "Oak," of 177 tons, for Rice & Thaxter of Boston. The brig "Oak" was lost Nov., 1853, on Maccaros Shoal on the voyage to New Orleans from Rio de Janeiro.
Joshua Magoun was elected a measurer of wood in Brookline in 1832, and again in 1835.
About the year 1836 Messrs. Magoun & Turner removed their shipyard from Brookline to Charlestown Neck, where in the next twenty years they built some fifty vessels. Francis Turner was a representative to the General Court from Charlestown in 1842. He died in 1851, and his partner, Joshua Magoun, in 1856.
Thus it is seen that at least ten vessels were built in Brookline between the years 1832 and 1835, inclusive, by Magoun & Turner.
The late Benjamin F. Delano of Chelsea informed the writer some years ago that he as a young man came from Duxbury, his native place and worked as a carpenter for Magoun & Turner, upon the first vessels which they built in Brookline.