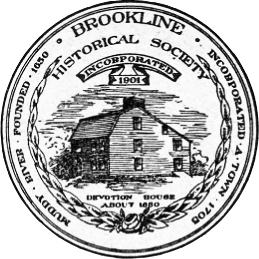 PROCEEDINGS
OF THE
B

ROOKLINE

H

ISTORICAL

S

OCIETY
AT THE
ANNUAL MEETING, JANUARY 23, 1907
BROOKLINE, MASS.
PUBLISHED BY THE SOCIETY
MCMVII
Members of the Brookline Historical Society
: -
Ladies and Gentlemen,-Time strides on unimpaired in energy and with unerring regularity,
"Onward ever, halting never in his pace,"
and with his march we have reached the sixth annual meeting of our Society and here meet to elect officers for the year 1907, and to briefly consider events which have passed into history.
The year 1906 was memorable in occurrences which will be handed down in history to future generations, the destruction of San Francisco and Valparaiso by earthquake and fire, with the loss of hundreds of lives and millions of property, being among the most noticeable. It was the most appalling calamity that ever took place in America, and awakened a wider sympathy than any other known in ancient or modern times, and demonstrates that human sympathy and generous aid in time of great emergencies and need are at this age not confined by national boundaries or races, but are worldwide, making of all peoples one family, and uniting them in the bonds of brotherhood.
The foregoing had scarcely been written when the world was again startled by news flashed over the wires that Jamaica, still nearer our homes, had suffered in like manner on January 14, 1907, and that the city of Kingston had been by earthquake and fire destroyed, with great loss of life and property, and that United States war vessels under command of Admiral Davis had been ordered from Cuba and were on the way to Kingston to render any needed assistance. Just how great was the loss of lives and property is not known at this writing, but it is acknowledged to be very great, as details will doubtless confirm.
Your President extends thanks to officers, committees and members of the Society for aid given him in the discharge of his duties in the year past, and for all efforts put forth for the advancement and growth the Society has attained. Through these efforts the Society has accomplished good work, and by their continuance more will be accomplished in the year upon which we have entered and in other years yet to come.
EIGHT PAPERS HAVE BEEN READ
before the Society in the past year. In January, the President's Annual Address; in February, "The Myth of Mary Chilton," by Samuel Arthur Bent; in March, "Reminiscences of the War of the Rebellion," by Charles F. Read, prepared by E. F. Reed; in April, "Up the Amazon and Madeira Rivers," by Franklin A. Snow; in May, "Reminiscences of the Old Readville Camp," by Augustus S. Lovett, Commander of C. L. Chandler Post 143, G. A. R., of Brookline; in October, " Personal Experiences in Rebel Prisons," by William Finney, member of G. A. R., Post 143; in November, "A Short History of Pierce Hall and Personal Reminiscences Connected Therewith," by Charles H. Stearns, Vice-President of this Society; in December, "The Old Worcester Turnpike, or Boston to Worcester by Packhorse, Stagecoach and Trolley," by Edward Wild Baker, Secretary of the Society.
THE PUBLICATIONS OF THE SOCIETY
in the past year consisted of the Proceedings, the President's Annual Address, "The Old Walnut street Burying Ground," a paper read before the Society in December, 1901, by the Clerk, Edward Wild Baker, etc., all in one volume.
THE MEMBERSHIP OF THE SOCIETY
In 1905 was 153, and additions in 1906 were 36, carrying the number to 189. Five deaths occurred during 1906, and there were 22 lapses and withdrawals, leaving a net gain of 11, and the present number at 162.
The special effort made during the past year to increase the membership was successful, and as a result a net gain of 11 was made, two of whom were Benefactors, paying $50 each as membership fees, and three Life Members, at $25 each.
It is to be hoped that the present year will witness as good if not better results, which ought to be easy of accomplishment in a town of 25,000 people. Let each of us try to bring in a member, and thus double our membership roll by the end of the year.
Every resident, whether native or born elsewhere, owes to the town of his domicile something that will forward the town's and his own interest. That can be done to some extent by joining this Society, thus helping to make it strong and a power in an historical sense. There are many persons, doubtless, who would be glad to join if the subject-matter and its advantages were set before them by an interested member. Try it, and see what the result will be. No one knows until the trial has been made.
THE FIVE DECEASED MEMBERS
were, first, Miss Lucy S. Davis, a native of the town and a descendant of early settlers. She was the daughter of Robert Sharp and Mary Shannon Davis. She died in Brookline, where she had always resided, on May 19, 1906. She became a member of the Society at its formation in 1901, and showed much interest in it by attending its meetings until declining health prevented. She was retiring and unassuming in her demeanor, though always interested in her native town and in the affairs of life. The second name upon the roll was that of
WILLIAM TRACY EUSTIS,
born on Prince street, Boston, September 29, 1822; died at his home on Beacon street, Brookline, October 11,1906, aged 84 years and 12 days. He was seventh in line of descent from William Eustis of Rumney Marsh, now Chelsea, Mass., who was residing there in 1659, through William
2
, Joseph, Joseph
4
, William
5
; and Joseph
6
, the latter born June 13, 1794. His mother was Eleanor St. Barbe Eustis, daughter of Nicholas, and granddaughter of Nicholas Tracy of Newburyport; she was born June 13, I799. The Tracy family to which she belonged came to New England from Wexford, Ireland, date not ascertained.
William Tracy Eustis first attended school in the basement of Hollis street Church, Boston, now Hollis street Theatre, and continued in the public schools of that city until 1835, when he removed to Portland, Me., where he finished his school education in 1840. Upon leaving school he was employed in the millinery business; later by the house of Cartwright & Thayer in the commission business; still later he was with Sturtevant, Baker & Ahearn in the refining and sale of oil, and lastly with Governor Henry J. Gardner and Col. J. W. Wolcott in note brokerage and other financial matters. He married Martha Gilbert Dutton, daughter of Henry Worthington Dutton, founder of the Boston Evening Transcript, who bore him two sons and five daughters; one of the latter died in infancy, the others survive. Mrs. Eustis died June 26, 1900, in her 72d year.
Mr. Eustis upon retiring from business devoted his leisure to the study of genealogy and history, and had written genealogies of his family and of families of his friends, in which he accomplished much creditable work. He was a member of the First Corps of Cadets, and a member of the Independent Corps of Cadets Veteran Association. He was stationed for a time during the late Civil War at Fort Warren in Boston Harbor. He was a member of the Old Schoolboys of Boston, and of the Bostonian Society. He was familiar with the history of his native city by study and by observation, and was interested in it to the end of his life. In 1886 he was elected a resident member of the New England Historic Genealogical Society, and for the twenty years of his connection therewith devoted much time and labor to its interests. He was a member of the committee on the reorganization of the society in 1893; was twelve years a member of its committee on finance, 1893 to 1904; three years on the library committee, and liberally donated money for the purchase of books, from which seventy-eight volumes were added to the library by purchase in the last few years. He also offered $1,000 to the building fund for a new building; was nine years a member of the council, and in these and in other ways showed his interest in the work of the society.
Mr. Eustis removed from Boston to Brookline in 1894, and here continued his residence up to the time of his death. When this Society was organized in 1901 he became a member and, through his influence, also five of his children. He took a deep interest in the Society from the first. He presented it a bookcase and about a hundred volumes of books, was punctual in attendance at its meetings, prepared and read papers before it, served upon its committees, and always had a good word to speak in its behalf.
In his death the Society lost a benefactor, its members a valued friend whose example is worthy of commendation and emulation, and this memorial of him deserves an abiding place upon the Society's records.
FREDERICK THAYER STEVENS,
a member of this Society, and third on the roll of deaths for the year past, died at his home, 39 Columbia road, Brookline, October 13, 1906, aged 67 years. He was born in Boston, and educated in the schools of that city, where he continued to reside until his removal to Brookline in 1901. He was engaged in banking and was for some years cashier of the Globe National Bank of Boston, continuing such until its failure by the reckless speculations of its president. He became a member of this Society in 1903, took an interest in its meetings and in historical affairs generally. He was an affable, gentlemanly person, and well liked by all with whom he came in business or social contact.
WILLIAM LIONEL BAKER
was the fourth member of this Society to pass away from life, which occurred at No.6 Columbia road, Brookline, November 2, 1906, at the early age of 31 years 2 months and 21 days. He was born in Syracuse, N. Y., in 1875, and there received his education. He came to Brookline upon leaving school, studied law, and was admitted to the Massachusetts Bar, before which he practiced, and had gained a growing reputation. He was a member of Bethhoron Lodge of Masons, and its senior deacon at the time of his death. He was of a sunny disposition, and easily won and held the friendship of persons with whom he came in contact. He was elected a member of this Society in 1902, and although he had no time to give to it, he was interested in its objects and had a pleasant word to say in its behalf.
JOHN FRANK PERRY,
a member of this Society, was the fifth to fall before the destroyer in 1906. He died December 5, 1906, at Hotel Lenox in Boston, where he and his family had engaged rooms for the winter. He was born in New Bedford, Mass., July 23, 1850, and was 56 years 4 months and 12 days old at the time of his death. He was educated in the Friends' School of his native city, and became a resident of Brookline in 1891. He was interested in politics and active in town, county, state and national affairs as a Republican, and had many friends. He became a member of this Society in 1902, and although not active in its affairs was interested in its welfare and maintenance.
THE WHOLE NUMBER OF DEATHS
reported in the town for 1906 was 367, of which 310 died within the town limits and 57 elsewhere; an increase of 22 over the previous year. Of that 367 there were 36 males and 57 females who had passed the limit of three score and ten. There were 35 who were between 70 and 75; 26 who were between 75 and 80; 15 between 80 and 85; 11 between 85 and 90; and 6 were upwards of 90.
Those above 90 were Ann Deveny, 90; Sarah A. Harris, 91 years and 5 months; Nathaniel D. Whitney, 90; Reuben H. Andrews, 92 ; Daniel H. Holland, 96; and Marantha A. Libby, 97 years 3 months and 10 days; -three males and three females. Of the 93 who were over three score and ten, 62 per cent were females and 38 per cent males, with a combined age of 556 years and 8 months, and an average age of 92 years 9 months and 10 days. Of the 93 persons above 70, their combined age was 7570 years 11 months and 4 days, an average of 81 years 4 months and 26 3/4 days, if my computations be correct.
CHANGES OCCUR IN THE TOWN
from year to year and must continue to take place; some attract the attention of residents, such as the building of a block, house, or other structure observed with the eye, and the death of friends and acquaintances, but even they pass unnoticed in the lapse of time. Many seemingly minor changes occur which pass unseen or unheeded, and leave no impression upon the mind of even the observant citizen, but when enumerated surprise us all. Some of these changes are made apparent by the study of statistics, and by the comparison of one period with another.
FIRST LET US TAKE THE POPULATION
of Brookline for the year 1875 and compare it with that of 1905. In the former year the State census gave the town 6675, and in the latter approximately 25,000, showing an increase nearly fourfold. That gives one standard of comparison; now let us take the voting lists. In 1876 there were 1185 registered voters in town, and in 1906 there were 4436, an increase of 3251, or nearly fourfold. Of the 4436 in 1906 there remained on the list of those registered in 1876 only 162, showing that 1023 had been dropped, and 4274 had been added between those two dates! The person who voted on both dates, by study of lists found 161 beside himself who were at the election in 1876, and 4274 unknown to him on the former occasion, provided all voted at the elections named. The inference is that 1023 had died, or perhaps a few were still living elsewhere, while more than four times as many had become voters by arriving at voting age or having moved into town.
The older citizen and voter from study of these figures would doubtless be surprised, feel more or less lonely in his new alignment and realize he was living in a place of change, and likely to continue in changes.
THE TAX LISTS OF THE TOWN
show that in the year 1876, the centennial year of our nation, there were 1786 persons assessed a poll tax, and that in 1906 there were assessed 6910, an increase of 5034, or nearly fourfold. The value of personal property assessed in 1876 was $10,686,300, and in 1906 it was $28,918,700, an increase of $18,232,400, or about one and three-fourths. The value of real property in 1876 was $16,804,000, and in 1906, $69,363,900, an increase of $52,559,90, or about two and thirty-five hundredths. The total value in 1876 was $27,490,300, and in 1906, $93,282,300, an increase of $65,792,000, or about two and four-tenths.
BROOKLINE BEING A NEARBY SUBURB
of Boston, in the line of that city's overflow of population, within easy and convenient distance by steam and trolley, its fine streets, sidewalks, schools, water, police, town government and low rates of taxation, all have contributed to the changes we have been considering. And though the old residents may lament that the town has lost its former rural charm; that apartments and apartment hotels have robbed it of its former desirability as a place of residence; that its population is not what it used to be, -the changes have come and are to march on until its streets in the future will be faced with continuous blocks of buildings, become metropolitan in character and indistinguishable from the neighboring city in external appearance, even if it preserves its municipal independence, as most good citizens of the present hope it may. Regret such changes as one may, it seems inevitable for them to occur, and all must bow and accept them with grace, the current being too strong to be stemmed or turned aside.
We of this Society have no disposition to find fault with occurring changes. We note them as a part of the town's history, and welcome old residents and later comers to join our organization and aid us in our work.
THE BICENTENARY OF THE TOWN.
This Society was instrumental in calling attention to the bicentenary of the town's incorporation, in having a committee appointed to formulate a plan of the celebration and to carry it into execution, also in procuring an appropriation for it. The anniversary was observed with appropriate exercises, and a balance of the appropriation amounting to over $1,500 remained unexpended. The committee sought to secure about half of the unexpended balance by re-appropriation, to publish the report of the exercises. There was an article in the warrant for the annual March meeting of the town in 1906 which was favorably reported upon by the committee on articles in the warrant, but which failed of passage by a small majority vote; and there the matter rested so far as action on the part of the town was concerned.
Some members of this Society and others interested have secured a guaranty fund with the hope of publishing the proceedings in a volume of about 250 pages, bound in cloth, at $2.50 per copy, limited to subscribers. No extra copies will be printed, and persons desirous of possessing the work can secure the same by filling out subscription blanks for the copies they wish and forwarding same to the committee at an early date, paying for the copies upon delivery. Those who do not receive blanks through the mail can procure them upon application to the committee which will shortly be announced in the papers of the town.
The book will contain the opening address of the Chairman, Moses Williams, Esq.; the address of Hon. Henry Cabot Lodge, United States Senator from Massachusetts, orator of the day; the exercises and address for the school children of the town; the dedication of the bowlder and tablet to the signers of the petition for the town's incorporation, etc.; extracts from the Sunday sermons preached in the churches of the town bearing upon the subject; the exercises, toasts, and speeches at the dinner in the Town Hall concluding the celebration; orders of exercises; programs, menus, illustrations, etc., such as the committee on publication may deem advisable.
The volume will be printed on durable paper, and will be a unique memorial of the celebration, worthy of the occasion and of preservation, and also worthy of being handed down to future generations. While the publication will be in charge of a committee of members of this Society and possibly others, the Society will in no way be responsible for its financial success, that being covered by the subscriptions and guaranty. The work, it is believed, will be a credit to its sponsors, and become more and more valuable as time rolls on. "Historical Sketches of Brookline," by Miss Woods, published at $3 per copy, now brings $12 to $15, when copies can be had, and there is reason to believe that this volume in the lapse of years will command approximate prices, especially as no copies will be for sale outside of subscribers.
The publication of this book is in the line of work for which this Society was organized in accordance with its charter -"the study of Brookline history, the collection and preservation of its antiquities, the maintenance of a library, and the publication of information relating to the same as shall be deemed expedient." In this work all good citizens of the town are cordially invited to assist, and to become members of the Society.
THE DEVOTION HOUSE
which we hoped to secure for the home of our Society and a depository for our antiquities, that they might be placed on exhibition for the benefit of the public, remains in the condition described a year ago. It is in the custody and care of the Selectmen, who have given us no intimation that they desire even an interview with this and the patriotic societies of the town, which petitioned more than a year ago to have it put in order and placed in their charge at a nominal rental. We hope yet to secure it, and by the united action of members of this and of the other societies we may at some time in the future. I would recommend that such action be taken, and if done with united purpose, feel that the Selectmen and the town might give it into our custody for the purposes named.
THIS SOCIETY IN THE SIX YEARS
of its existence has accomplished commendable work along the lines for which it was chartered, in papers read before it, in its publications containing historic data, in historic manuscripts, books, and antiquities collected, some of which for lack of a building or rooms in which to make them available, are now stored, and should be placed where they could be seen and made available by the Society, in an historic building or rooms under its own control and custody.
Let us all work actively and harmoniously together to bring that about,and cease not in the present nor in the future in our efforts to advance the Society's interests until the Society shall be acknowledged an ideal one among the many in this old, historic Commonwealth founded by our Pilgrim and Puritan ancestors, and having its home in this old, historic, idealistic, and beautiful town Of Brookline.