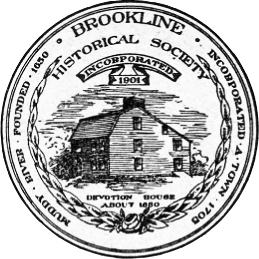 PROCEEDINGS
OF THE
B

ROOKLINE

H

ISTORICAL

S

OCIETY
AT THE
ANNUAL MEETING, JANUARY 27, 1904
BROOKLINE, MASS.
PUBLISHED BY THE SOCIETY
MCMIV
BROOKLINE HISTORICAL SOCIETY
THIRD ANNUAL MEETING.
The third annual meeting of the Brookline Historical Society was held in the G. A. R. Room, Town Hall, Brookline, Mass., on Wednesday, January 27, 1904, at 8 P. M., in accordance with a notice mailed to every member. President Rufus G. F. Candage was in the chair.
The records of the last monthly meetings were read by the clerk and approved.
The President then read his annual address.
Members of the Brookline Historical Society
: -
Ladies and Gentlemen,- It is with pleasure that I meet and greet you on this third annual meeting of our Society and to thank one and all for the aid and support you have given in the year past to make the Society's success what it has been. I am pleased to report that the year past has been a prosperous one to the Society, and that our membership has slightly increased, it now being 152, a gain of six during the year. There have been added ten, one has died, and three have resigned. The death was that of William Emerson Cox, who became a life member soon after the incorporation of the Society. He was born in Boston in 1851, and came to Brookline in 1891, where he continued to reside until his death in November 1893, aged 52 years.
While Death has dealt leniently with our members, he has reaped a harvest of 300 persons in the town during 1903, 77 of whom had passed the allotted age of 70 years.
Of that number 21 were between 70 and 75; 24 were between 75 and 80; 19 between 80 and 85; 5 were between 85 and 90, and 8 were above 90.
Those ages speak well for the health conditions of the town, and recommend it as a place where length of days may reasonably be expected by those who reside within its limits and observe the ordinary rules which govern health. The eight persons who died in 1903, who had reached 90 years and upward were, Delia Holbrook, 91 years and 9 days; George R. Root, 90 years and 9 months; Albert L. Lincoln, 92 years; Georgia M. Webster, 94 years, 5 months and 1 day; Thomas Cahill, 92 years, 1 month and 19 days; Curtis Judson, 92 years, 7 months and 18 days; William Taffe, 93 years and 8 months; and Luther F. Beecher, 90 years, 8 months and II days.
The five between 85 and 90 years of age were, Katherine Miller, 87 years 8 months and 18 days; Martha E. W. Emerson, 86 years; Samuel Strong Lyon, 86 years, 2 months and 26 days; Hepseybeth F. Barker, 87 years and 25 days, and Martin Parry Kennard, 85 years, 3 months and 19 days. Those who were between 80 and 85 years of age were, James Elliot Cabot, 84 years, 9 months and 15 days; Delia O. Holbrook, 81 years, 6 months and 28 days; Cynthia Thompson, 80 years, 4 months and 13 days; Harris Harding Dimmock, 83 years, 6 months and 26 days; Mary Mealy, 80 years; Ward L. Foster, 80 years and 2 months; Ellen Sullivan, 84 years; Tirzah Snell Emerson, 84 years, 9 months and 15 days; William Foley, 83 years; Michael Fahey, 82 years; Catherine Holloran, 80 years; Ann Keefe, 80 years and 11 months; Margaret E. White, 80 years, 2 months and 21 days; Frederick Law Olmstead, 82 years; George G. Hook, 84 years, 11 months and 9 days; Nancy J. Thompson, 81 years, 5 months and 27 days; Susan Fuller, 81 years; Eliza O. Pierce, 82 years, 3 months and 12 days; Louis B. Schwarz, 82 years, 4 months and 27 days; and Thomas Denehy, 80 years.
Those who were between the ages of 75 and 80 were, Henry Harrington, 77 years, 1 month and 16 days; Alfred Bicknell, 78 years, 5 months and 20 days; Bridgett McManus, 79 years; Sarah Stone Crosby, 76 years, 8 months and 7 days; Martha B. Shackford, 77 years, 2 months and 16 days; Sarah B. Estabrook, 75 years, 5 months and 30 days; Sarah I. Rogers, 77 years; Elizabeth C. Hill, 75 years, 5 months and 2 days; Thomas Bartlett Hall, 78 years, 8 months and 3 days Annie M. Weis, 77 years, 7 months and 8 days; Nancy H. Watson, 76 years, 10 months and 5 days; Marcia E. Emery, 75 years, 11 months and 15 days; Rebecca White, 75 years and 5 months; James S. Savage, 75 years and 10 months; John McKey, 77 years, 10 months and 12 days; Martin Flanagan, 75 years; Anna L. Parker, 79 years, 10 months and 16 days; Harriet L. T. Wolcott, 78 years and 13 days; George H. Monroe, 77 years, 1 month and 18 days; Hugh Dunne, 76 years; Lois C. Waitman, 76 years, 5 months and 17 days; Margaret Roach, 75 years; and Horatio S. Burdett, 76 years, 3 months and 19 days.
Of those between 70 and 75, the most prominent were John W. Shapleigh, Charles U. Cotting, and Rear Admiral George E. Belknap, U. S. N., retired.
Hon. John W, Candler, a citizen of the town for many years, an ex-Representative to Congress, ex-Representative to the Massachusetts General Court, ex-President of the Boston Board of Trade, at one time active in Brookline town affairs, died at Providence, R. I., in 1903, aged 75 years. His funeral was held and largely attended at the First Parish Church, this town, with which he had long been identified.
PAPERS READ BEFORE THE SOCIETY
were eight during 1903, besides the President's Annual Address, and were as follows : -

February 25, "John and Hannah Goddard," by Rev. Wm. H. Lyon, D.D.

March 25, "The Times of the Bay State Province," by Rev. Anson Titus of Somerville, Mass.

April 22, "Jolin White of Muddy River," by Charles F. White of Brookline.

April 22, "Construction of the Mill Dam," by W. Tracy Eustis of Brookline.

May 27, "Recollections of Brookline," by Mrs. Henry V. Poor of Brookline.

October 28, "First Parish of Roxbury, etc.," by Rev. James DeNormandie of Roxbury.

November 18, "Brookline Volunteer Fire Department," by Edward W. Baker of Brookline.

December 23, "One Hundredth Anniversary of Blue Hill Academy, and Connection of its Trustees with Brookline and Boston," by R. G. F. Candage of Brookline.
PAPERS PRINTED BY THE SOCIETY
in 1903, were the Annual Proceedings and President's Address for 1903; " The Goddard House, Warren St., Brookline, its Owners and Occupants," by Miss Julia Goddard; " The Sewall House," by Charles H. Stearns; " Recollections of Brookline," by Mrs. Henry V. Poor; " Elhanan Winchester," by John Emory Hoar; " Portrait and Biographical Sketch of John Emory Hoar," by R. G. F. Candage; and "Brookline Village, 1865 to 1902, from notes of Martin Kingman."
Papers heretofore printed by the Society have been well received and complimented not only by its members, but by competent authority, and have been the means of bringing the Society's work prominently before citizens of the town and the public.
It will be the aim of the Society's officers in the coming year to continue publishing at least a part of the papers read before it.
THE SOCIETY'S LIBRARY
has been increased in the past year by gifts of books and pamphlets, and by the gift of a bookcase to keep them in, from our fellow member, Mr. W. Tracy Eustis, who has also been a liberal donor of books to the library itself. The bookcase has been placed in a room below this, in the Town Hall, where the books it contains can be conveniently consulted, and to the collection it is confidently expected other additions will be made during the present year.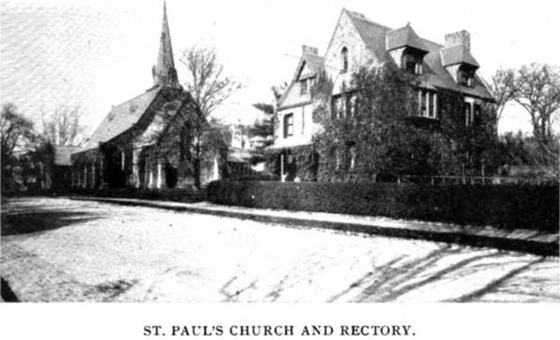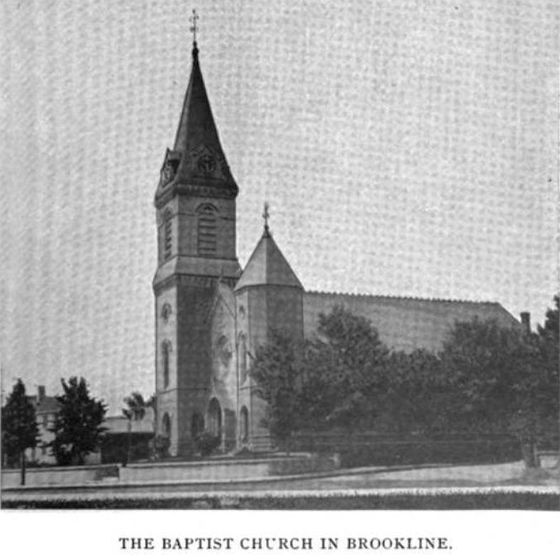 THE FIFTIETH ANNIVERSARY OF THE FOUNDING
of St. Paul's Church, Brookline, occurred in 1899, and on December 2, 1900, Rev. Leonard Kip Storrs, D.D., its rector, preached an historical sermon to the people of his Parish upon his twenty-five years of labor among them. In 1902 he preached an historical sermon on the fiftieth year of the consecration of the church edifice, which, with his twenty-fifth annual sermon has been printed in pamphlet form and is a valuable contribution to the church history of the town.
THE SEVENTY-FIFTH ANNIVERSARY OF THE BAPTIST CHURCH
of Brookline, was celebrated June 5, 1903, by exercises in the meeting-house of appropriate character, including an historical address by the president of this Society, on " The Town in 1828 and Changes that have since taken place"; "An Account of the Past Deacons," by George Brooks, Esq., the senior deacon of the church; and " Some of the Women of the Church," by Miss Henrietta A. Nevers. A dinner was served in the Town Hall, at which Rev. Avery A. Shaw, the pastor, presided, and short addresses were made by former pastors, by Rev. Leonard K. Storrs, D.D., of St. Paul's Church of Brookline; by Rev. Wm. H. Lyon, D.D., of the First Church, Brookline; by Rev. Reuen Thomas, D.D., of Harvard Church, Brookline; and others, which were highly enjoyed.
On Sunday, June 7, 1903, Rev. A. A. Shaw, the pastor, preached an historical sermon, taking for his subject "Our Heritage and Our Responsibility." The sermon and exercises were interesting to the large audience in attendance, and as an historical occurrence in the town, worthy of record by this Society. A report of the addresses and sermon in the church has been printed by the committee on the celebration, a copy of which may be found in the library of this Society.
THE OLD BAPTIST CHURCH AND PARSONAGE
built in 1828, are both yet standing, the latter next to the present church on the south. It was first used as a chapel, afterwards as a parsonage, and then was sold, and has for many years been a private dwelling.
The old meeting-house stands in a conspicuous place on the corner of Harvard street and Harvard Square, shorn of a part of its original proportions by the widening of Harvard street, and at this time is an unprepossessing sight to the beholder.
The late widening of Harvard street from School street to Harvard Square, not yet fully completed, and in places unsightly, which was deemed to be necessary to accommodate the trolley cars and other travel, marks an era in the improvement of the centre of the town.
THE BROOKLINE NATIONAL BANK BUILDING
opposite the old meeting-house on the corner of Kent and Harvard streets was remodeled and finished in 1903. In it are now located the spacious quarters of the bank, a large and convenient Post Office -so superior to anything the town has ever before had that 'tis worthy of special mention the Chronicle press and office, the beautifully fitted and furnished rooms of Beth-Horon Lodge of Freemasons, and other rooms and offices. In its changed and improved condition it is a conspicuous structure, centrally located, convenient for all who have business to transact therein, a credit to the town, and satisfactory to those who use and patronize the business interests therein centered.
THE WILLIAM AMORY HOUSE
which has stood on that prominent location on the corner of Beacon and Powell streets for nearly sixty years, has been demolished, and it deserves a few words of notice by this Society before all traces of its existence have been extinguished, and its being and history shall have been forgotten.
David Sears, at one time a prominent and opulent merchant of Boston, was, fifty or sixty years ago, one of the largest landholders in Brookline. He owned more than a hundred acres of land, a part of which was known as the Sewall farm.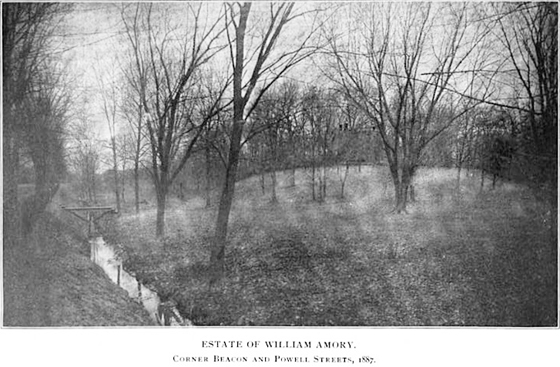 One of the loveliest sights of that large estate was a hill and grove of beautiful oaks, on what is now Beacon street and which bordered on Powell and Freeman streets, three miles from the State House in Boston.
On the most elevated spot of that undulating and charming estate, there was until 1845 to be seen the ruins of an ancient Indian fort, alluded to by Rev. John Pierce, D.D., in his printed address at the dedication of the (then) new Town Hall, delivered in October, 1845.
Mr. William Amory, a merchant of Boston, married Anna, daughter of David Sears, and that spot of hill and dale, grove and meadow, of about twenty-five acres, was given to the bride and the fine mansion-house was built on or near the site of the Indian fort.
William Amory was a gentleman of the old school, tall, graceful, exceedingly courteous and polite, dignified yet always approachable by his neighbors. He was a cousin of the late James S. Amory, who lived for many years in a charming, low-roofed cottage on what is now the Schlesinger place, Warren street.
Mr. William Amory spent his summers in his new home on Powell street, and his winters in his house on Beacon Hill, Boston, adjoining the home of his father-in-law; the latter for many years has been the home of the Somerset Club.
A great deal of time and money was spent by Mr. Amory upon his Brookline home. What is now the beautiful meadow east of the house was formerly known as the " Cedar Swamp," an almost impenetrable thicket of bushes and briers.
The grove had been thinned from time to time, but always kept its sylvan appearance. The avenue to and from the house was along what is now Powell street, winding its way among the trees, and following the ridge of land in graceful curves. That was long before Beacon street was laid out and built, and the way out from the grounds was through Freeman and Pleasant streets.
Mr. Amory died in 1888, aged 84; his widow in 1895, aged 82. His sons, William and Charles, continued to live in the house until about 1890, when they removed to Boston, and the place has since been leased to tenants.
In the summer of 1903 the town bought a portion of the meadow for a park. The land has been laid out for a street to be built from Freeman street to Beacon street, nearly parallel with Powell street, the Amory heirs retaining the front on Beacon street between the Park and Powell streets. The town's purchase was about eight acres, which includes a part of Hall's Pond, the dreaded hole and terror of youngsters, who believed it to be bottomless.
Shortly after that sale to the town, the owners of the rest of the estate began cutting down the trees and leveling the beautiful hill, and the larger part, at this writing, has been cut down. The house has been demolished, the grove has gone, and little of its former beauty now remains.
To the thousands who on electric cars have ridden past it on Beacon street in summer, the green meadow, sparkling waters of the pond, and graceful, spreading branches of the trees of the grove, have been a refreshing sight, quite in contrast with narrow lots and brick blocks of the neighboring city, and the changed conditions will be lamented by such and by all lovers of natural scenery.
But such changes have been going on in the town for some years and must necessarily continue, however much the fact may be deplored, until Brookline shall have lost all or nearly all of its pristine beauty.
The widening of Beacon, Harvard, Washington and Boylston streets, and the laying out of new streets and ways, have changed the rural features of the town which are fast becoming metropolitan. In a score of years past, brick blocks, apartment houses, family hotels and modern dwellings have been built, and present a striking contrast to the former modest houses surrounded with trees and ample grounds of the past, and have robbed the town of its old-time rural appearance and beauty.
THE CHARLES STEARNS HOUSE AND PAUL DUDLEY MILESTONE.
The Stearns house was built by Charles Stearns, Sen., grandfather of the vice-president of this Society, in 1825. It stood upon its original foundation until 1903, nearly 80 years, and was then moved from the corner of Sewall avenue and Stearns road, to make way for a modern apartment house, to No. 34 north side of Stearns road and opposite Littell road, and set upon a new foundation, put in order for a dwelling, and there it is hoped it may remain undisturbed for another 80 years.
The door-step of that house, supposed to have been in use as such, from its building in 1825, was none other than a Paul Dudley milestone, once occupying a site on the easterly side of the " Old Cambridge Road," now Harvard street, in the year of the date upon its face " 1729." As a door-step it was placed face down, probably at the time the house was built, and there remained until all traces of its once having been a milestone had been lost.
Many years ago in making repairs to the house, the stone was taken up and its origin was revealed. (See paper read before this Society by Charles H. Stearns, on the ''Old Sewall House.") It was restored to its original location on the east side of Harvard street.
In 1902, on the corner of Harvard street and Stearns road, where the milestone stood, an apartment house was projected, and the stone being in the way of the cellar, it was removed by the lot owner to Marion street, with the intention of building it into the wall of the new building. That fact coming to the attention of this Society, through it, notice was brought to the Selectmen of the town, who had the stone transferred to the Town Hall, where it lay in safety for nearly a year. During 1903, through the efforts of this Society, and the action of the Selectmen, consent of the Harvard Church was obtained, and it was re-set opposite to its old site, in the grounds of the church, where it is to be hoped it may evermore remain. Could the old stone narrate an account of some of the scenes that have transpired in the town since 1729, one at least would doubtless have been the march of Washington's army along the "Old Cambridge Road," on March 17, 1776, to the tune of "St. Patrick's Day in the Morning," the watchword and countersign being " St. Patrick," to take possession of Boston, that day evacuated by the British forces, and now annually celebrated as Evacuation Day in that city.
CHANGES IN POPULATION AND VALUES.
In the year 1883 there were only 1,280 dwellings in the town, while in 1903 there were 3,515; showing an increase of 2,235, or 275 per cent. Nor do these figures tell the whole story, for in 1883, the 1,280 dwellings were nearly all for one family each, while in 1903 a large number were apartments, tenements, and family hotels, accommodating many families.
In 1883 the number of polls assessed in the town was 2,201, in 1903 they had increased to 6,134; 3,930 more than in 1883, or an increase of 250 per cent. Personal property assessed in 1883 amounted to $10,898,300, in 1903 it was $27,207,100; an increase of $16,308,800, or about 250 per cent.
Real estate assessed in 1883 amounted to $14,924,600, and in 1903 it was $59,965,800; an increase of a little over 400 per cent. Real estate values in that period were swelled by the value of the 2,235 new buildings, which was a large sum, and by the increased value of land upon which they stand, with the general rise in land values in the town.
In 1883 the estimated population of the town was 9,270, and in 1903 at 25,000; an increase of 15,730, or 280 per cent. The total taxable value of all property of the town in 1883 was $25,822,900, which in 1903 had risen to $87,172,900, or an increase of about 235 per cent.
These figures conclusively exhibit at a glance the great changes that have taken place in Brookline during the past twenty years, and from which reasonable deductions may fairly be made in forecasting its conditions in 1923, twenty years from now.
THE BOSTON AND WORCESTER STREET RAILWAY
began running its trolley cars in 1903. They first ran from the Brookline and Newton line on Boylston street, through Newton to Wellesley and Natick, and later the line was completed and put in operation to South Framingham, to Westboro, and finally all the way to Worcester. A few months after the opening, the eastern terminus of the route was shifted to Brookline Village Square, and later through the town to Park Square, Boston, over tracks of the Boston Elevated Railway Co. That completed the route between Boston and Worcester, the cars running through the lower end of Washington street, and the entire length of Boylston street in Brookline, closely following the route of the old Boston and Worcester turnpike, laid out in 1808. The route enables passengers to be transported between the two cities in about two and a quarter hours, at fares of 40 cents, and to intermediate stations in proportionate time and at proportionate rate of fares.
The country through which the cars of the line pass proved attractive to many excursionists and pleasure seekers, in addition to the regular patrons of the route, who, during the summer took advantage of it for a holiday or outing to escape the close atmosphere of the city, and to enjoy the scenery and purer air of the country. The line started under favorable conditions and immediately became popular with the masses, and bids fair to be successful, and an accommodation to a large portion of the travelling public in its vicinity.
THE COVERED RESERVOIR
built upon Fisher Hill by the town in 1903, for the improvement of our supply of pure water, has been completed at a cost of $75,000. It is built wholly of concrete, and is one of a few of its kind in existence. It was planned to hold 7,000,000 gallons, and with it added to our water supply system, it is not too much to say that Brookline now has a water supply and system second to none in the country.
THE 2OOTH ANNIVERSARY OF THE INCORPORATION
of Brookline as a Town, will occur on November 13 (o. s.), 1905. In furtherance of a proper celebration of that occasion, this Society should lend its efforts, in fact take the initiative, by petitioning the Selectmen to insert an article in the warrant for the annual town meeting in March of the present year, " To see if the town will appoint a committee of 25 or more citizens, a part of whom to be ladies, to take into consideration this subject, arrange a programme, estimate the expense, suggest as to the manner of raising the necessary funds to carry out the celebration, and report in print to the town at a meeting not later than the annual meeting in March, 1905."
There can be no doubt but that the citizens desire the town to properly and wisely celebrate that important event, and it is none too soon to take the subject up by the appointment of a committee such as is here suggested. In order to make such a celebration worthy of the town and of the occasion, care and time should be devoted to the study of how it should be done to insure success with a reasonable outlay.
The duty of said committee would be one of investigation and recommendation, and upon its report the town would be in position to act advisedly and understandingly.
There is a large field of labor and usefulness for the occupation of this Society in the town and community. It has the stand to do what can reasonably be expected of it, and thus far it has done well. But should we feel satisfied with what it has accomplished and relax our individual efforts? For one, I am satisfied that such a course would neither meet with approbation, nor be deemed wise. Therefore, let us strengthen the Society where it may be found to be weak and needy.
Let us add to its membership, for there must be many persons in this town of 25,000 people, who would be glad to join if the subject were properly brought to their notice. Let us strive to add to the books in our library until we shall have accumulated a valuable collection, in which the local biographer and historian may find a source of information such as he may desire, near at home.
Let each, as he may be able to do so, prepare a paper on some Brookline ancestor of his, or upon some historical event, to be read before the Society, and be printed for future reference. And not the least of all, let us speak of the work of the Society to those not now identified with it, that they may become interested in it.
That the Society may become what is earnestly desired, a centre of usefulness, and a repository of historical data connected with the town in which we live and which it is both a duty and privilege to honor, let us carry cheerfully forward the work set before us, in confidence and love, and in the faith that results will justify work undertaken in that spirit.
The harvest is waiting to be gathered by this Society, and there is need of harvesters and gleaners, willing to work, not for immediate reward but for the good of their fellow men, who shall reap the reward of their labors when the worker's life shall have ceased.
Every member of this and other historical societies should be a harvester and gleaner, and if he gathers and stores but a single fact of importance, he has aided the organization of which he is a member, and has made the world his debtor. One tiny coral zoophyte did not build up the huge submarine mountain from ocean depths, and uprear its surface crown to become in time a fertile island. That was the work of myriads of zoophytes and of ages of time, and yet the work of the one was important in that undertaking.
And so in the work of this Society the need is, aid and cooperation of all its members, and knowing them, I feel sure of their aid and cooperation.