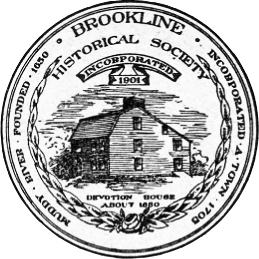 PROCEEDINGS
OF THE
B

ROOKLINE

H

ISTORICAL

S

OCIETY
AT THE
ANNUAL MEETING, JANUARY 28, 1903
BROOKLINE, MASS.
PUBLISHED BY THE SOCIETY
MCMIII
The committee appointed to nominate officers of the Society for 1903 made the following report : -
For Clerk and Treasurer,
Edward W. Baker.
For Trustees
,
Rufus G. F. Candage,
Miss Julia Goddard,
Mrs. J. C. Kittredge,
Charles H. Stearns,
Mrs. Susan V. Griggs,
Charles White,
Edward W. Baker.
(Signed)
Albert A. Folsom,
W. Tracy Eustis,
Charles F. Read.
The report was accepted and it was voted to proceed to ballot. The ballot was taken and the candidates nominated were unanimously elected.
Voted
, That the Society print the President's annual address. Treasurer's report, by-laws, list of officers and members, and such papers as have been read before the Society as the Committee on Publications may select.
Edward W. Baker,
Clerk
.