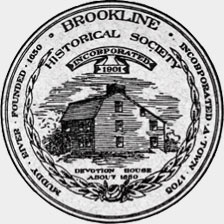 PROCEEDINGS
OF THE
BROOKLINE HISTORICAL SOCIETY
AT THE
ANNUAL MEETING, JANUARY 28, 1902
BROOKLINE, MASS.
PUBLISHED BY THE SOCIETY
MCMII
The committee appointed to nominate officers of the Society for igo2 made the following report : -
For Clerk and Treasurer,
Edward W. Baker.
For Trustees
,
Rufus G. F. Candage,
John Emory Hoar,
Miss Julia Goddard,
Miss Harriet Alma Cummings,
Mrs. J. C. Kittredge,
Charles H. Stearns,
Edward W. Baker.
(Signed)
Tappan E. Francis,
W. Tracy Eustis,
Albert A. Folsom.
The report was accepted and it was voted to proceed to ballot. The ballot was taken and the candidates nominated were unanimously elected.
Voted
, That the Society print the papers on the Devotion family, together with the President's address, Treasurer's report, by-laws, and list of officers and members.
Edward W. Baker,
Clerk
.